Dedicated teacher is truly a class apart
Share - WeChat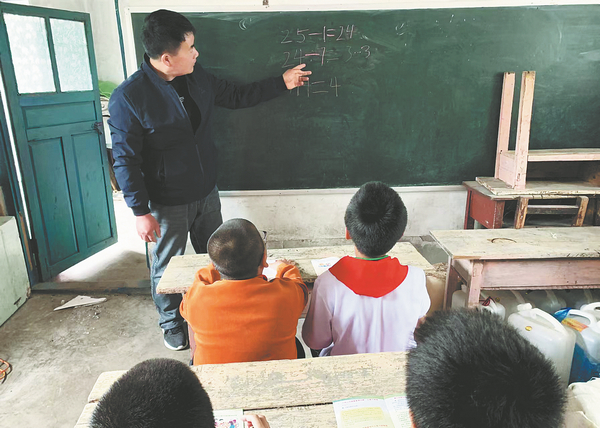 Educator overcomes various challenges to put his students first, report Zhou Huiying and Liu Mingtai in Changchun.
Over the past 37 years, Zhuang Yuanjun has been devoted to his position working in the rural area of Linjiang city in Northeast China's Jilin province, where he has helped more than 200 students leave the remote mountain region.
Born into a rural family in Luannitang village of Liudaogou township in Linjiang in 1963, Zhuang was appointed to teach at the village primary school after his graduation from senior high school in 1986.
Zhuang was the only teacher at the school and, from then on, his life has been tightly linked to his students.
"I wouldn't exactly call it a school," he says. "There was only a small room, which was used as both a classroom and the teacher's office. All the students of different grades had to have lessons in the same classroom."
He divided the blackboard into different sections for students from different grades and alternated lessons between them.
During his spare time, Zhuang tried to improve conditions at the school.
"The schoolhouse was so shabby that I asked my relatives to help fix the walls and build two latrines with wooden boards," he says. "To save coal in the winter, sometimes I took my students to pick up fallen tree branches in the mountains after school."
In 1991, when Zhuang got the opportunity to work at the township government, he hesitated.
"To be honest, it was really tough to teach at the village school, but if I left, there might not be anyone to teach the students," he says. "Finally, I decided to give up the opportunity and stayed."
In 2006, as the number of students attending rural schools in the township had seen a continuous drop, some village schools were closed, including Zhuang's. His students were integrated into Liudaogou township's central primary school.
Meanwhile, a school in the township's Xiangyang village was reserved for first and second grades, but, following the retirement of a stand-in teacher, there was no one to fill the gap.
After hearing of the opening, Zhuang applied for the position in Xiangyang and became, once again, the only teacher at the school.
At that time, Zhuang lived in a township 18 kilometers from the school.
Without any public transportation, Zhuang had to ride to work on a motorcycle every day, no matter how bad the weather was.
"The mountain path was quite steep and it took me at least one hour each way," he says. "I couldn't remember how many times I fell from the motorcycle and got hurt.
"However, there was no other choice — the children were my responsibility," he adds.
Besides Chinese language and math, Zhuang also gave fine arts and music classes to the students, into which he put a great deal of time and preparation.
Furthermore, he put a focus on student health.
Due to the tough working environment, Zhuang developed serious arthritis and heart disease.
Today's Top News
Editor's picks
Most Viewed