Promotion of intangible cultural heritage to enhance tourism
Share - WeChat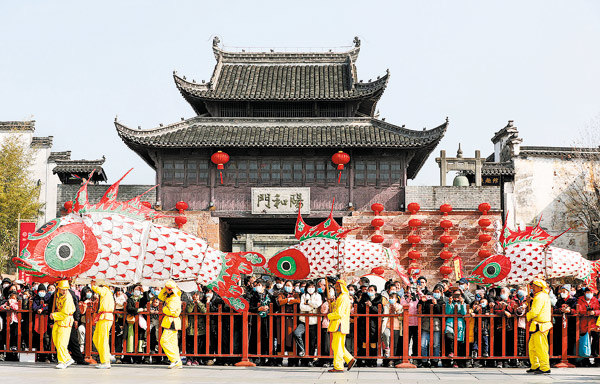 The Ministry of Culture and Tourism has called for efforts to promote the integration of intangible cultural heritage into the tourism industry on a wider scale and to a higher level.
The ministry also stressed that such integration must only apply on the condition that cultural heritage is effectively protected, said a circular issued by the ministry, published on Feb 22.
The circular listed eight primary tasks, including tourist product development, cultural ecology protection, fostering tourist routes with relevant features, and personnel training.
The circular encouraged the integration of ICH or relevant elements into tourist sites, including theme parks and hotels.
The ministry also said it would select several popular ICH sites and venues with distinctive characteristics as national-level bases for related experiences.
ICH signals the achievements in a nation's culture and history, and reflects cultural diversity. Its combination with tourism provides a key approach to melding culture into tourism, Wang Xiaofeng, president of the China Intangible Cultural Heritage Protection Association, said at a tourism forum in late February in Hangzhou, capital of East China's Zhejiang province. The international forum is among a series of dialogues initiated by the World Tourism Alliance founded in 2017.
It has gained wide acceptance in the international tourism industry that travelers better experience local culture via participation in activities in destinations, while the destinations, in turn, tap into local cultural resources to improve the quality of tourist experiences, he said.
ICH and tourism dovetail nicely with each other and have a natural bond, so their combination is beneficial to both, Wang added.
"Any type of ICH is an outgrowth of its environment, so it bears the unique hallmarks of the specific space where it hails from," he noted.
Of China's ICH items, more than 80 percent are named after the regions or ethnic groups from which they come, according to Wang.
They provide tourists with a reservoir of local customs, craftsmanship and performing arts. Compared to hidden jewels that need to be discovered, the strong local flavor of these ICH items adds to the appeal of the travelers' cultural exploration journeys.
There are some 14,000 scenic sites rated A or above across the country. Their supportive facilities include hotels, bed-and-breakfast businesses, and holiday resorts, as well as tourism-focused towns and blocks. All these provide important venues to showcase and promote cultural products, including ICH, Wang said.
"The best protection of ICH is to incorporate it into people's modern lives. An influx of tourists brings a greater need for ICH, which improves its ecosystem and gives it a new lease on life," he said.
"Preservation and rational utilization are the key to the sustainable development of ICH and tourism," he said. "Encouraging and guaranteeing inheritors to gain economic benefits and personal dignity via the integration of ICH and tourism provides a crucial engine to drive the sustainable development of both."
A growing number of ICH items and their inheritors stepping into tourism areas are enriching tourist experiences, he added.
Zhang Yan, head of the ICH division of the Zhejiang Provincial Department of Culture and Tourism, told China Tourism News that the province has presented rich ICH-featured tourism offerings, including 167 scenic sites, 18 B&B establishments and 16 tourist routes, as well as 300 provincial-level tourism products released on a yearly basis.
Last year saw Central China's Hunan province advance the development of ICH workshops, as well as villages, towns and blocks, all with cultural heritage features, which gave a strong boost to the growth of tours in suburban and rural areas, Wang Peng, an official from the province's cultural and tourism department, told China Tourism News.
As a key type of tourism resource, ICH is one of the most dynamic and most conducive areas to integrate culture and tourism, Wang said.
"Nowadays tourists are no longer content with just sightseeing on their journey, but rather in the pursuit of ICH experiences where they can interact with inheritors, learn about ICH and enrich their own lives," China Tourism News quoted Sun Jie, CEO of Ctrip.com Group, as saying. The group is enhancing cooperation with tourist destinations across the country to help create popular destinations featuring the combination of ICH and tourism, Sun said.