Grapes give villagers bunch of options
Share - WeChat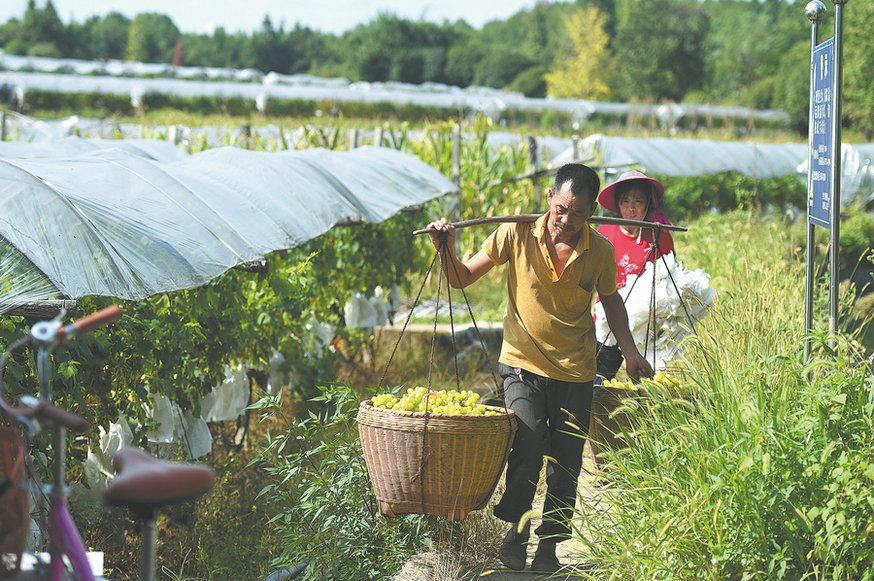 NANNING — As spring approaches, villager Wang Deli pays close attention to the weather, waiting for agricultural experts' instructions regarding his grape field.
Wang is from Maozhushan village in Guilin, South China's Guangxi Zhuang autonomous region. He plants about 1 hectare of grapes, earning around 100,000 yuan ($14,700) annually. He also earns an income from migrant jobs in his spare time.
Maozhushan is a mountain village with 46 households. In 2002, several villagers took advantage of suitable local soil and climate conditions and began growing grapes. Over the years, the grape-growing industry has attracted more villagers to participate, bringing the total growing area to over 21 hectares.
To improve the grape quality, Maozhushan has, in recent years, improved farmers' technical training by working with agricultural scientific research institutions and inviting agricultural experts to guide grape-planting.
"We are expanding the high-standard farmland area. In the past, water and fertilizer were sprayed from the ground to the air through pipelines, which lacked accuracy, with high cost. The newly installed drip irrigation equipment has saved a lot," says Wang.
The village has also worked with telecom operator China Mobile to build a digital platform to conduct real-time monitoring of grape growth, diseases and insect pests.
Since 2021, the village has also started planting high-quality grape varieties.
"The income of planting 1 hectare of the new grape variety is equivalent to planting 5 or 6 hectares of traditional grape varieties," says Wang.
Thanks to the current measures, "Maozhushan grape" has become a brand, and more and more tourists come to the village, especially during the grape harvest season.
Villager Wang Xinjian smelt a business opportunity. He quit his job away from his hometown and returned to Maozhushan to open a farmhouse offering accommodation and dining, accommodating 120 tourists.
"As the pace of rural revitalization continues to accelerate, rural tourism and leisure-agriculture business are burgeoning, significantly increasing the locals' income," he says.
Like him, more and more young people with ideas and skills, called "new farmers", are returning to their hometowns to start businesses.
Two years ago, Wang Jia quit her job at a tourism company in Guilin and became an e-commerce livestreaming anchor to expand online sales channels for local grapes.
"Rural revitalization cannot be achieved without the participation of talented youths. I chose to return and contribute my strength to my hometown's development," says Wang Jia.
"We will continue to upgrade the village's business from integrating the grape-growing and tourism industries to provide a broader stage for 'new farmers' to pursue their dreams," says Wang Xinmin, Party chief of Maozhushan village.