Security meeting differs on Russia-Ukraine conflict
Share - WeChat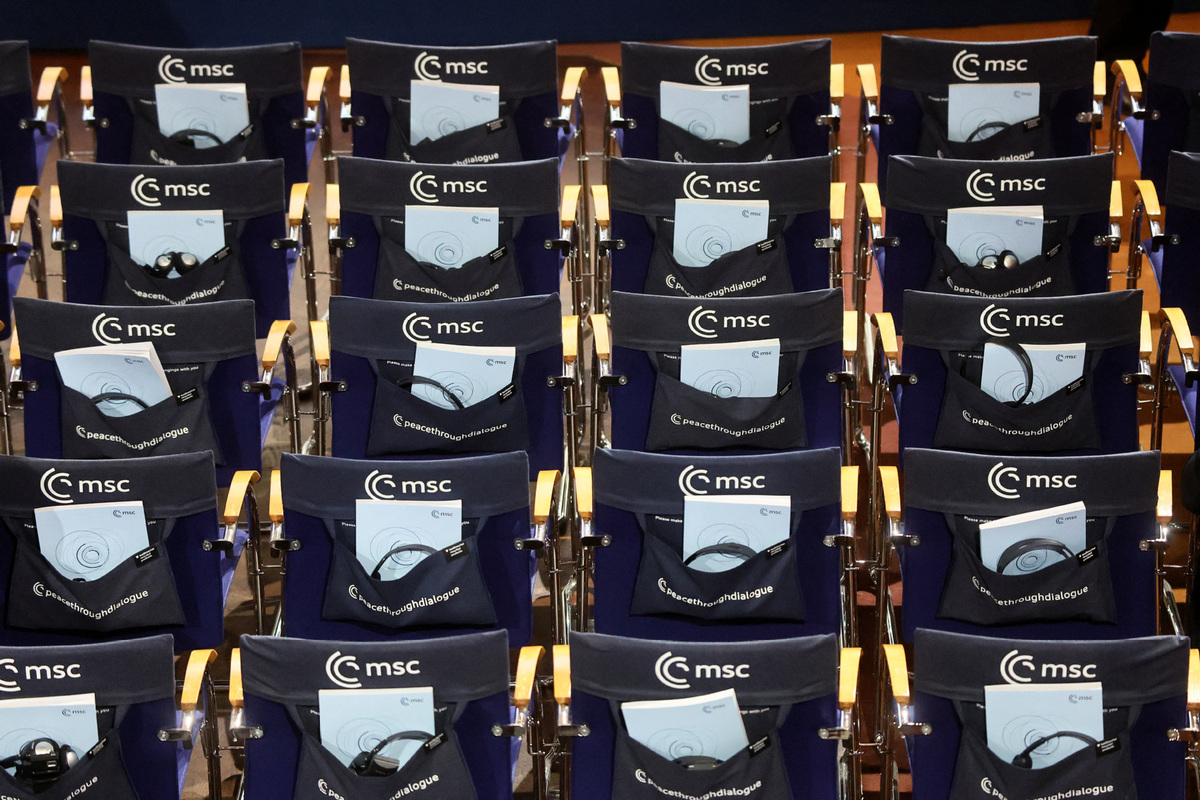 Western leaders at the 59th Munich Security Conference in Germany have pledged to ramp up political and military support for Kyiv while those from the Global South have urged diplomacy to solve the Russia-Ukraine conflict.
The annual meeting, held from Friday to Sunday, focused on the yearlong conflict, with most representatives coming from NATO members and some leaders from the Global South.
German Chancellor Olaf Scholz told the conference that Germany will soon be able to deploy its first Leopard tanks in Ukraine.
It was "wise to prepare for a long war" and to show Russian President Vladimir Putin that Germany and its allies would not give up on Ukraine, he said.
French President Emmanuel Macron said Europe had to be ready for a prolonged conflict. The hour of dialogue had not yet arrived, he said.
European Commission President Ursula von der Leyen called on countries to "speed up and scale up" production of the standardized products desperately needed in Ukraine. "For example, standardized ammunition," she said. "We cannot wait months and years until we are able to replenish (stocks) and until we are able to deliver that to Ukraine."
British Prime Minister Rishi Sunak called on world leaders to send the most advanced weapons. Now was the time to "double down" on military support, he said.
Kamala Harris, the United States vice-president, quoted President Joe Biden as saying that the US "will support Ukraine for as long as it takes. We will not waver".
Brazilian Foreign Minister Mauro Vieira said his country stands by its decision not to supply tank ammunition to Ukraine but is ready to help broker an end to the conflict.
"We have to try to make a solution possible," Vieira said. "We cannot limit ourselves to talking about the war. I am not referring to immediate negotiations. We would have to go step by step, perhaps first create an environment that makes a negotiation possible."
Saara Kuugongelwa, the prime minister of Namibia, cited national reconciliation in her country and other African states as examples of seeking a peaceful solution. "We want to solve the problem. We don't want to find the culprit," she said.
The Munich Security Report 2023 noted a global divide on the conflict. While most of the world, measured according to GDP, has condemned Russia's actions, countries that are neutral or Russia-leaning are home to most of the global population.
Paul Rogers, emeritus professor of peace studies at Bradford University in the United Kingdom, said one thing that is missing in the Western mainstream media's coverage of the conflict is the sense of attitudes across the Global South.
"While it may seem to be a straightforward 'good guys versus bad guys' scenario, even a cursory look shows a very different interpretation in much of the world. There simply isn't the universal support for the West and opposition to Russia that many Westerners assume," he wrote in an article posted on open-democracy.net.