Turkiye starts probing contractors
Share - WeChat Arrest warrants issued over construction of buildings as quake toll passes 35,000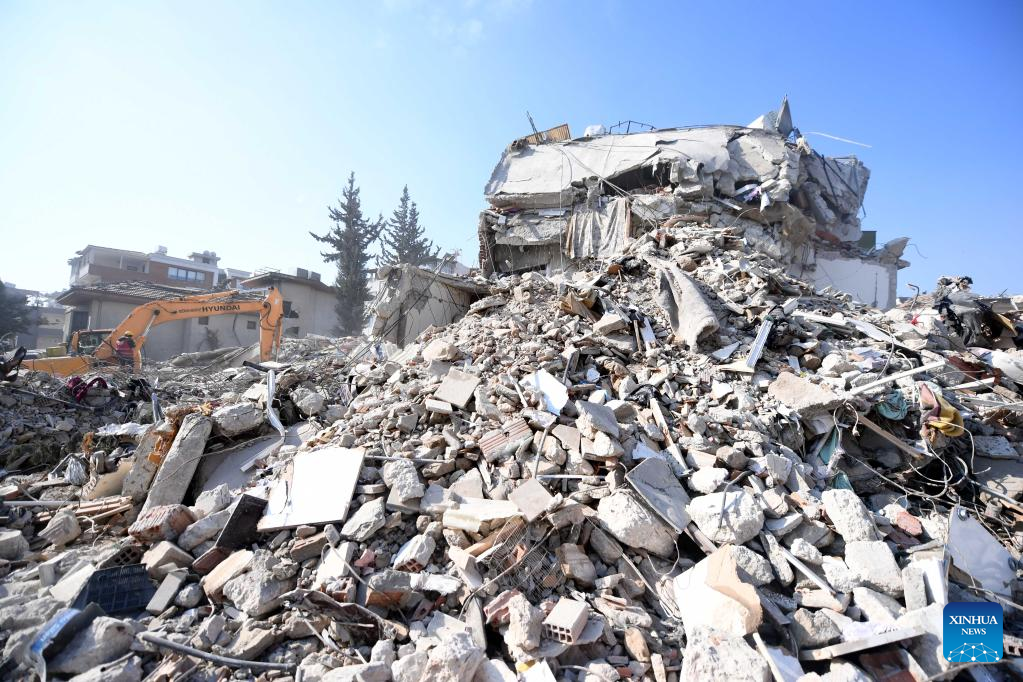 Arrest warrants have been issued to contractors in Turkiye allegedly linked with buildings that collapsed in the powerful Feb 6 earthquakes that also struck Syria.
Turkish officials told the Anadolu news agency that more than 130 warrants had been issued in connection with the construction of buildings, with 12 people already taken into custody.
The death toll from the earthquakes was estimated on Monday to have passed 35,000, with more than 80,000 injured. The United Nations has reported that five million people may be homeless in Syria.
Thousands of buildings collapsed during the earthquakes, and the focus in Turkiye is now turning to who is to blame, with questions being raised that human failings may have worsened the outcome, reported the Associated Press news agency.
It has been reported that many in Turkiye blame poor enforcement of construction regulations for multiplying the devastation.
The government is reported to have authorized earthquake investigation units to probe contractors, surveyors and other experts connected to devastated buildings and make sure they do not flee or destroy any evidence.
The Financial Times reported that some experts have urged officials "not to quickly clear the rubble in order to collect evidence against property developers".
AP reported that the government agency accountable for construction regulation enforcement acknowledged in 2019 that over half of all buildings in Turkiye, some 13 million apartments, were not in compliance of code.
Turkiye's DHA news agency and other media reported that two contractors held responsible for the destruction of several buildings in Adiyaman, southeastern Turkiye, were arrested Sunday at Istanbul airport while trying to leave the country.
DHA quoted one detained contractor, Yavuz Karakus, as saying his "conscience is clear". "I built 44 buildings. Four of them were demolished. I did everything according to the rules," he said.
Turkiye's Minister of Justice Bekir Bozdag said last week that "all those who had negligence and fault will be held accountable".
Turkiye's President Recep Tayyip Erdogan faces increasing discontent over the quality of building construction in the devastated region. Erdogan's government, already struggling with an economic downturn and high inflation, faces parliamentary and presidential elections in May.
On Saturday, the president promised a massive reconstruction effort, pledging to erect hundreds of thousands of seismically safe buildings within a year.
He said: "We will not leave any of our citizens, dead or alive, under the rubble. Then we will quickly begin removing debris and rebuilding activities. We are making plans to rebuild hundreds of thousands of houses of buildings and infrastructure, or rather, to establish anew our cities that were destroyed in the earthquake. God willing, we will complete the construction and restoration work within a year."
Highlighting the situation in the Syrian capital, Damascus, the head of the World Health Organization, Tedros Adhanom Ghebreyesus, called the disaster an "unfolding tragedy that's affecting millions", news agencies reported.
Tedros said the WHO had been told the impact in northwestern Syria is even worse and that experts were still waiting to enter the country.
He said "the compounding crises of conflict, COVID-19, cholera, economic decline and now the earthquake have taken an unbearable toll".
The UN Under-Secretary-General for Humanitarian Affairs Martin Griffiths said Syrians were "looking for international help that hasn't arrived".
Speaking on a visit to the Turkish-Syrian border on Sunday, Griffiths said: "We have so far failed the people in northwest Syria. They rightly feel abandoned. My duty and our obligation is to correct this failure as fast as we can."