Vibrant tourism rebounds in Gansu's Tibetan county
Share - WeChat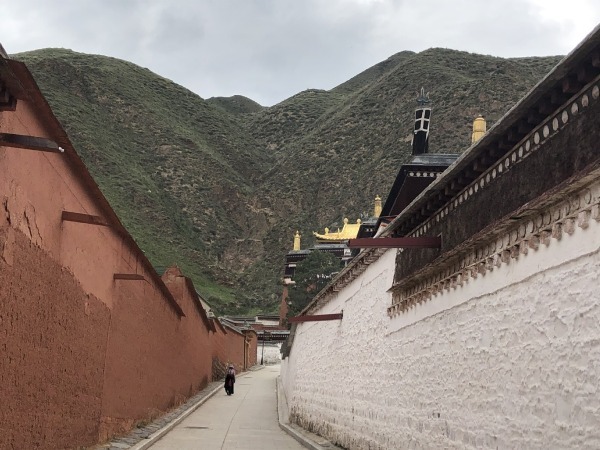 Xu Liang, a tourist from Beijing, nestled amidst the throng of elegantly attired Tibetan people, as he was completely lost in the fervent rhythm of a religious dance performed by lamas at Labrang Monastery in Xiahe county of Northwest China's Gansu province.
"The Tibetan-style dance and the music impressed me a lot," said Xu, who visited the county during the Spring Festival holiday with his wife and daughter.
This was his second visit to Xiahe, a county dominated by Tibetans. There are more than 10 ethnic groups in the region, including Han and Hui people.
Despite the chilly weather, Xiahe, tucked away at a picturesque altitude of 3,000 meters, had become a hub of activity during the spring festival, resounding with the lively chatter of visitors flocking to experience its timeless charm.
Labrang Monastery, which was built in 1709, is one of the six main temples of the Gelug Sect of Tibetan Buddhism. During the first month of the Chinese Lunar New Year, the monastery held a series of folk-custom activities, among which, a religious ceremony, known as the "sunning of the Buddha," attracted more than 76,000 tourists from home and abroad.
Kunkyl Tsering, director of the county's cultural and tourism bureau, said that the flurry of activity and buzz of excitement indicate a promising beginning for the tourism industry this year.
With the warming tourism market, hostels and restaurants in Xiahe also saw a surge in customers. "My hostel was fully booked during the holiday," said Zhang Yucheng, a local hostel owner.
Zhang prepared a winter travel experience for tourists during the festival, with activities such as bird-watching on the iced lake, grassland hiking and visits to Tibetan herders' homes to experience their nomadic on the itinerary, which gained popularity among visitors.
For young tourists, tasting local delicacies is an indispensable part of travel. Naren and her friend from Inner Mongolia waited in a very long queue in front of a Tibetan restaurant to grab their meal. "The restaurant enjoys significant online popularity. This place features Tibetan-style decoration, and the food has a flavor of Tibetan characteristics," Naren said.
More than 80 percent of the customers were from outside of Xiahe, with many coming from major cities such as Beijing, Shanghai and Guangzhou, said Kunphel, owner of the restaurant, adding that their revenue during the first week of opening reached more than 70,000 yuan (about $10,311).
"We have devoted a great deal of effort to the creativity and fusion of the meals, and as a result, their popularity has increased," Kunphel said.
Official data showed that the county received around 254,000 visitors from Jan 21 to Feb 5, generating about 92.71 million yuan in revenue.