Live performances back in business
Share - WeChat Audiences return following optimization of COVID-19 measures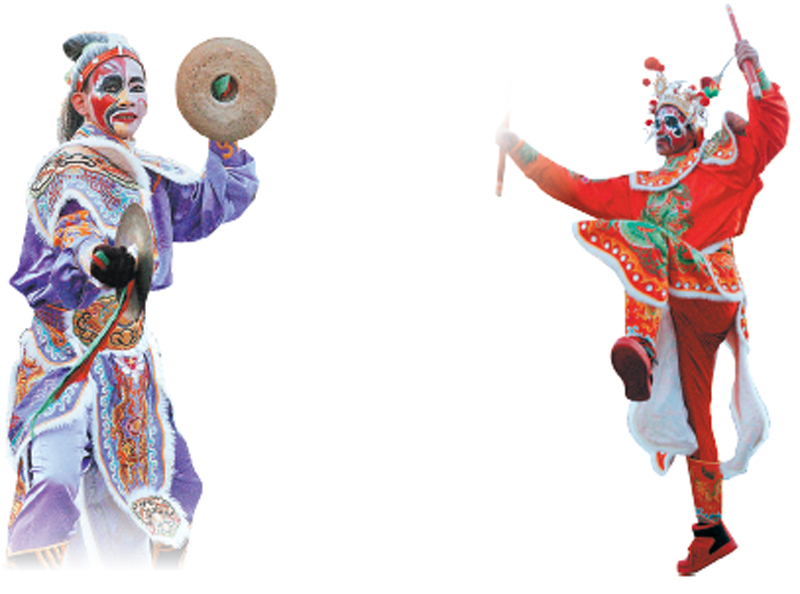 A group of 22 young people gathered at the airport in Shantou, Guangdong province, at 8 am on Jan 22, the first day of Chinese New Year, for a flight to Beijing, more than 2,000 kilometers from their hometown.
That afternoon, they took a four-hour bus journey from the Chinese capital, arriving at their destination, Aranya, a popular coastal resort in Qinhuangdao, Hebei province, just before sunset.
Members of a Yingge dance troupe, the group gave three shows on Jan 23 and 24, with each performance lasting about 20 minutes. This type of dancing is intended to drive away evil spirits and bring good luck and peace.
Yingge dance troupes performing during Spring Festival typically attract large crowds to watch an art form that dates to the Ming Dynasty (1368-1644).
The performers usually hold two short sticks, jump up and down, and sing to powerful rhythms. They also wear makeup to indicate different characters.
Zhang Shaoqun, leader of the troupe, who also performs Yingge dance, said: "It was the first time the troupe had performed in a city in northern China. We started preparing for the shows at 4 am, and the first performance began at 10 am.
"It was very cold outside and the performers wore thin costumes. The audience members were very kind — giving us gloves to keep us warm. It was an unforgettable experience for all of us."
It was also a new experience for audiences to watch Yingge dance, one of the oldest and most popular folk arts in Guangdong, which combines dancing, martial arts and Chinese opera. The visitors clapped, cheered and took photos and videos of the performers.
China celebrated the first Spring Festival since optimizing its COVID-19 control measures.
Zhang said that when a wave of infections led to a sharp decline in the performing arts market, the troupe remained inactive for about three years.
"In addition to Spring Festival, we are hired to give shows for newly opened businesses, such as shopping malls and restaurants. However, all these activities were halted due to the pandemic. Now, our lives are gradually returning to normal, and our shows are returning," Zhang said.
"Since Jan 22, we have given a series of shows. The troupe is fully booked until the end of this month. We are all tired but extremely happy to perform for crowds."
Zhang, 34, who was born in a small village in Shantou, became interested in Yingge dance as a child. He said it is highly popular in his hometown, and because of the "good message that it delivers", his family supported him in learning the art form.
After eight years serving as a soldier nationwide, Zhang joined an established Yingge dance troupe in 2017 after retiring from the army.
The troupe was formed in 1953, and when it was decided to launch a new one to train more young performers, Zhang was made leader of this group.
The new troupe, the Hao Men Yingge Dance Troupe, comprises 36 official members and 36 reserves. With an average age of 20, the youngest member is only 7.
An all-female Yingge dance troupe is now being prepared, and Zhang said that to cater to audience needs, it will perform in a different style to the Hao Men Yingge troupe.
"We have big plans for this year, and we long to offer the universal and collective experience we provided before the pandemic emerged," Zhang said.
Zhou Meng, project manager at Aranya International Culture Development Co's operating center, said the resort has offered Spring Festival entertainment programs since 2016. When the pandemic emerged in early 2020, the company had to cancel all plans made for the holiday.
"During the weeklong Spring Festival vacation this year, we had an average of 15,000 visitors a day, and the numbers reached new highs on Jan 23, 24 and 25 — higher than our peak period during the summer holiday," Zhou Meng said.
Programs staged at the resort ranged from sports and music, to dance and folk arts, with some 200 artists taking part.
"It felt like a full return. I watched the smiling faces of families and friends who came to the resort. It was a very happy moment," Zhou Meng said, adding that plans made by the venue for the coming months include staging a drama festival, screening films, and hosting classical music concerts.