Notre Dame to reopen by late 2024
Share - WeChat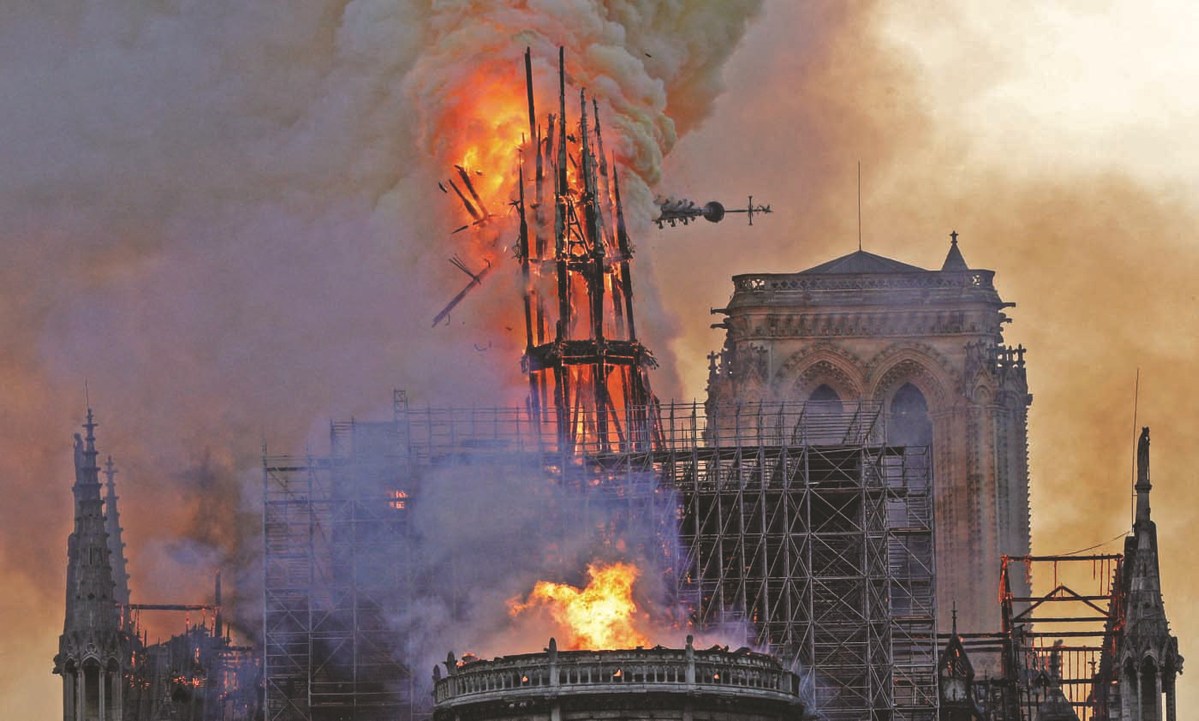 Paris's Notre Dame cathedral, severely damaged by fire in 2019, will have its spire back in place by the end of this year, and there is optimism that the iconic building will fully reopen before Christmas 2024, according to France's culture ministry.
It means the cathedral is unlikely to be open in time for the 2024 Olympic Games, being held in Paris from July 26 to August 11, 2024, which is something President Emmanuel Macron had previously pledged.
The culture ministry said reconstruction is on course for completion by the end of next year, reported the Agence France-Presse news service. "The site is progressing at a good pace," a spokesperson said. Authorities have previously targeted Dec 8,2024, the Catholic holy day of the Feast of the Immaculate Conception, as a possible completion date.
Restoration works on Notre Dame were suspended in March 2020, due to the novel coronavirus outbreak, and French renovation teams set the task of finishing a new-look cathedral by 2024. Before the fire, Notre Dame welcomed some 2 million visitors each year.
The blaze almost destroyed the 12th-century church and millions worldwide witnessed the cathedral burning live on television. The collapse of its wooden spire was one of the most dramatic moments of the fire that burned for 15 hours until it was brought under control.
Soon after the blaze on April 15,2019, Macron promised the cathedral would be "rebuilt, more beautiful than before, and I want it to be finished within five years". He later insisted he wanted it to look exactly as it was before, rejecting calls for a modern spire in place of the 19th-century one.
AFP reported that an identical version of the spire has been made from the same original materials: 500 tonnes of oak wood for the structure and 250 tonnes of lead for the cover and ornaments. The ministry said that the completed new spire, which will reach 100 meters high, will be in place by the end of this year.
Cleaning of the cathedral's interior walls has now been completed. Last year, conservationists expressed concerns that cleaning of interior stonework would cause it to become "artificially bright".
Speaking to The Times newspaper, Philippe Villeneuve, the chief architect of French national historic monuments, said that once completed the cathedral would be "luminous".
The cleaning process involved the application of a latex paste to the interior stonework, the newspaper reported.
"When the cathedral reopens, you will see it as you have never seen it before," said Jean-Louis Georgelin, the army general put in charge of the restoration project.
The cathedral was built between 1163 and 1345 and became popular worldwide due to Victor Hugo's 1831 novel Notre Dame de Paris, better known in English as The Hunchback of Notre Dame.