Common, comprehensive and cooperative
Share - WeChat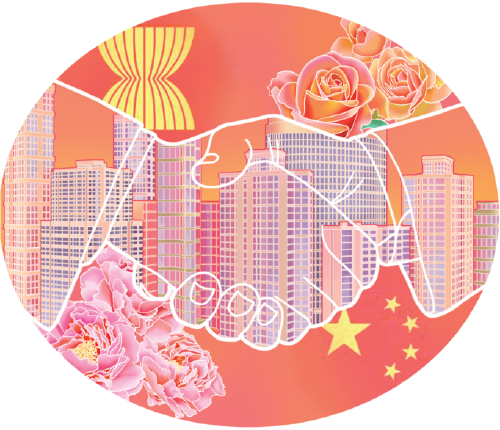 In Southeast Asia and beyond, the security of countries is interconnected, interdependent and indivisible
The world is obviously at a critical juncture as multiple complex crises are posing unprecedented threats to the very foundations of peace, stability and the progress of humanity in different parts of the world.
The international security environment is becoming increasingly complex, uncertain and fragile as geopolitical rivalries have led to armed conflicts and tensions in some places, compounded by the looming global economic recession and the climate crisis.
The formation of geopolitical fault lines and bloc politics, the strategic trust deficit, and sharply increased geoeconomic fragmentation have put strain on the multilateral system and global governance. In other words, multilateralism is in decline and protectionism and populism on the rise.
The World Economic Forum's Global Risks Report 2023 voices concern over the rising geopolitical fragmentation that heightens the risk of multi-domain conflict. Global security issues are becoming more multidimensional with cross-border implications.
Like the fight against the COVID-19 pandemic, no one is safe unless everyone is safe. We need to acknowledge that our security and well-being are intrinsically intertwined. The escalating hostilities in Ukraine, heightening geopolitical rivalries, soaring food and energy prices, and the climate crisis are among top global security issues that require unprecedented international cooperation and partnership.
In the Asia-Pacific region, the US-China competition is structurally complex in tandem with the global power shift from the West to the East. The United States, since 2016 when Donald Trump came to power, has taken an assertive approach to check the rising power of China in order to maintain the US' supremacy.
US-China competition has led to heightened tensions in the Taiwan Straits, the South China Sea, and to some extent the Mekong region. Making things worse, the US' zero-sum game mentality and the formation of security blocs aimed at containing China are among the main disabling factors in the region.
Things are getting black and white as the grey area is shrinking. Some countries have opted to choose sides either through a formal or informal alliance system. Some countries have been forced to bandwagon against their legitimate interests. Some are struggling to stay independent and neutral.
Against this backdrop, there is a need to search for wisdom, strengthen international cooperation, and promote strategic trust to address the multidimensional, entangled global issues and challenges. In 2022, China introduced the Global Security Initiative to promote common, comprehensive, cooperative and sustainable security.
In Southeast Asia, countries are striving to maintain regional peace and stability through the promotion of open and inclusive multilateralism and rules-based international order. The Association of Southeast Asian Nations is compelled to develop innovative and effective solutions to deal with regional and international issues.
To navigate such uncertain and turbulent times, ASEAN is working hard to maintain a culture of dialogue and trust building by providing safe, open, and constructive platforms for dialogue and trust building.
Speaking at the ASEAN Defence Ministers' Meeting Plus in Siem Reap in November 2022, Cambodian Prime Minister Hun Sen proposed the concept of "harmonious security" which refers to viable, inclusive and sustainable security.
Hun Sen said that five elements are needed to realize harmonious security in the region, namely strengthening ASEAN unity, centrality, and effectiveness; promoting an open, inclusive and rules-based regional security architecture; strengthening people-centric and trust-based security cooperation; embracing comprehensive security; and nurturing cooperative security.
The philosophical foundations of harmonious security rest on three concepts: common security, comprehensive security and cooperative security.
Common security refers to the shared understanding and assessment of security risks and threats between countries. Instead of using "deterrence "to protect national security, states should adopt confidence-building measures. In other words, security is indivisible, interconnected and interdependent.
Comprehensive security is gaining more relevance as the non-military risks are increasing. Climate security, public health security, cybersecurity and water-food-energy security are all major security risks.
Cooperative security is based on the consolidation of shared norms, values and interests. The Treaty of Amity of Cooperation, for instance, provides crucial norms to govern international relations in Southeast Asia and beyond. The key norms include mutual respect for independence, sovereignty, equality, territorial integrity and the national identity of all nations, and the right of every state to lead its national existence from external interference, subversion or coercion.
Harmonious security might sound unrealistic to some, but the world needs a constructive strategic narrative to influence decision-making and state behavior. If all states perceive and approach security from the perspective of promoting harmony, peace will prevail. Experiences from Southeast Asia can be a source of inspiration and wisdom for the world.
ASEAN and China should inject more momentum and resources to implement the ASEAN Outlook on Indo-Pacific and China's Global Security Initiative. These two initiatives are compatible and mutually reinforcing.
The author is the president of the Asian Vision Institute, an independent think tank based in Phnom Penh. The author contributed this article to China Watch, a think tank powered by China Daily. The views do not necessarily reflect those of China Daily.
Contact the editor at editor@chinawatch.cn
Most Viewed in 24 Hours
China Views