King will not feature on new Australian banknote
Share - WeChat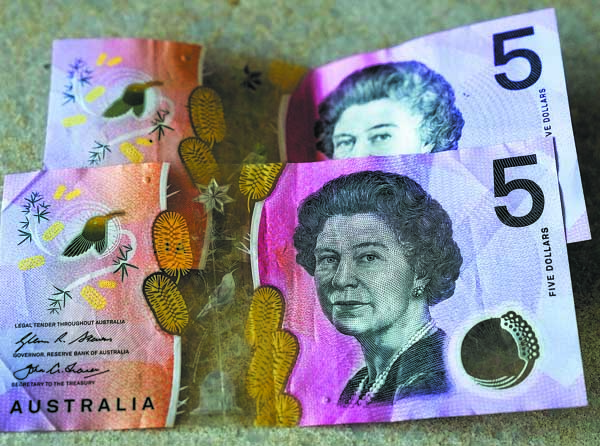 In a move that breaks with tradition and that could be seen as a snub to the British royal family, Australia has said it will not feature King Charles III on its A$5 note.
The nation's central bank — the Reserve Bank of Australia, or RBA — said it will instead use an image that honors "the culture and history" of indigenous Australians.
Currently, the A$5 note carries a picture of Queen Elizabeth II, who died on Sept 8 and who was replaced on the throne by her son. The A$5 note is the only one in Australia's range of banknotes to feature a monarch.
Australia is one of 14 nations outside the United Kingdom that recognize the British monarch as their symbolic, mainly ceremonial, head of state. But in recent years calls for the nation to ditch its royal links, which many see as a hangover from colonialism, have grown louder.
The RBA said its decision should not be interpreted as an attack on the royal family.
"This decision by the reserve bank board follows consultation with the Australian government, which supports this change," the bank added, saying it will "consult with First Australians in designing the A$5 banknote".
"The new banknote will take a number of years to be designed and printed," it said. "In the meantime, the current A$5 banknote will continue to be issued."
The bank said the existing design will be recognized long after the new design enters circulation, so people need not rush to change money they have at home.
Australia will feature an image of Charles on its coinage.
Sky News quoted Jim Chalmers, the RBA's treasurer, as saying: "The monarch will still be on the coins, but the A$5 note will say more about our history and our heritage and our country, and I see that as a good thing."
While there are no reports of the king's reaction to the move, Aboriginal groups representing people who are descendants of those who lived on the continent before it was colonized — referred to as First Australians or First Nations — welcomed it.
Lidia Thorpe, a senator and member of the DjabWurrung Gunnai Gunditjmara First Nation, told the BBC: "This is a massive win for the grassroots First Nations people who have been fighting to decolonize this country."
Critics of Australia's links with the royal family have called for another referendum on whether the country should sever its ties with the monarchy.
The last referendum, held in 1999, recorded around 11.5 million votes, with 45 percent favoring a shift to a republic and elected president, and 55 percent voting to keep the monarch.
Barbados ditched the monarchy and became a republic in 2021, and Jamaica is widely expected to make the transition in the coming months.