Ancient fireworks town gets the French touch
Share - WeChat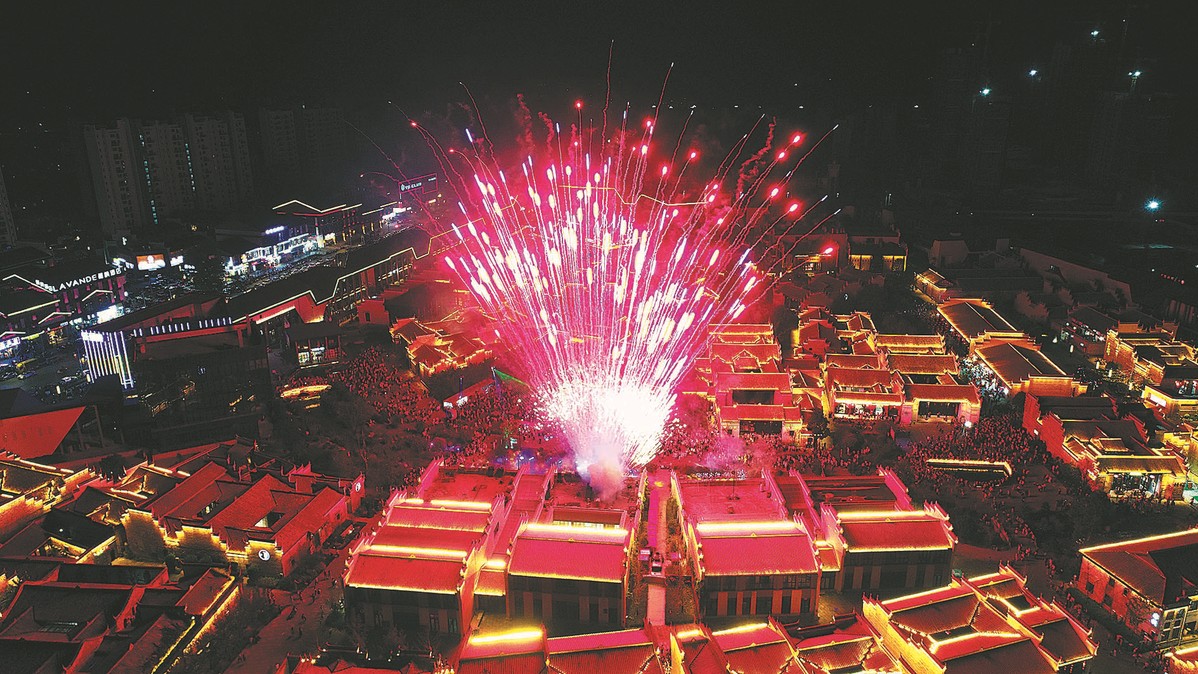 NANCHANG — In dim moonlight, hundreds of people gathered in a square to enjoy the Love of Fireworks, a special display that takes place in the skies above Wanzai ancient town in Jiangxi province.
It is the work of Sophie Poirier, a French woman who could be seen swaying to the music and who easily stood out from the crowd.
During her preparations for the show, Poirier mixed a little French romance with traditional Chinese culture, creating gorgeous displays that highlighted Eastern and Western aesthetics. She has been obsessed with Chinese culture since she was a child and often fantasized that she was a Chinese princess in a cheongsam (a traditional dress), waving a silk fan and humming Peking Opera melodies.
In 1983, she was able to fulfill her dream of studying Chinese when she was accepted to the Institut National des Langues et Civilisations Orientales in Paris. Three years later, she came to China with her grandmother to experience the charm of places such as Chongqing, Shanghai and Beijing. It was the breathtaking scenery she saw during the trip that made her decide to work in China.
As a designer at ECA2, the well-known French large-scale event production company, Poirier brought her first dreamlike laser water curtain film to audiences at the Beijing Amusement Park in 1991. She also participated in the opening ceremony for the 2008 Beijing Olympic Games as a member of the international design team.
Poirier has designed performances for many well-known tourist destinations including the Hengshan Mountains in Hunan province, the Changbai Mountains in Jilin province and Hailongtun ancient town in Guizhou province.
Though she has extensive experience in performance design on a large scale, she said she fell in love with the small stage that Wanzai — a sleepy ancient town with a nearly 1,400-year history of producing fireworks — presented following an invitation from Zeng Ming, general manager of the Wanzai Kaleidoscope Culture and Tourism Company to work together.
Zeng's company supplies fireworks to Disneyland as well as Universal Studios, and is also the discharge operator at Window of the World, a theme park in Shenzhen, Guangdong province, featuring reproductions of famous world sites. The company sells around 600,000 boxes of fireworks to the United States every year, supporting relatively stable development and industry in Wanzai.
To boost local tourism and vitalize the ancient town's economy, Poirier teamed up with Zeng's company in March to develop the show, which blends fireworks, aspects of local culture and new media to create a distinctive cultural statement for the scenic spot.
Poirier has even adopted modern lighting settings and special effects to blend live-action effects of rain, snow, wind, fog and light into the performance, creating an immersive art experience for the audience. Her innovative production once attracted 50,000 tourists, and to date, her Love of Fireworks show has been performed almost 200 times, becoming a major magnet for visitors to Wanzai.
It's also fueling local makers. Currently, Wanzai produces around 4,000 varieties of fireworks, selling its products to over 100 countries and regions and making up to $200 million in exports a year, according to the local firework and firecracker industry service center.
Chinese fireworks were once rare in Europe, but now they can be seen at many large-scale competitions and events.
"I am looking forward to creating more splendid shows in the future and to lighting up the night skies of more countries," Poirier added.
Xinhua