Noting the beauty of history
Share - WeChat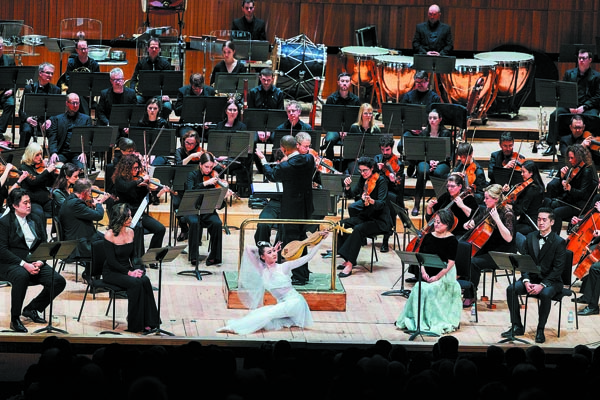 Celebrated composer Tan Dun's symphonic composition, Buddha Passion, inspired by the ancient murals of Dunhuang, makes its British debut, Wang Linyan reports in London.
Tan Dun still remembers the deep thrill he felt when he first set foot in the ancient Mogao Caves during a visit to Dunhuang in 2012.
The famed composer stayed in the caves for five hours, and thought it would be fascinating to transcribe the wonderful stories from the murals into music and perform them with a modern-day symphony orchestra.
"Director of the Dunhuang Academy, Fan Jinshi, joked with me, 'Could you transform those paintings into music?'" recalls Tan, who received an Academy Award for his brilliant soundtrack in the film Crouching Tiger, Hidden Dragon.
"We can't carry those cave paintings around, but we can move an orchestra and musicians around to be a bridge that links the past and the future, carrying ancient culture, ancient China, to the world."
It took Tan six years to create Buddha Passion, which had its world premiere at the Dresden Music Festival in Germany in May 2018.
On Jan 22, Chinese Lunar New Year's Day, the London Philharmonic Orchestra performed the UK premiere of Buddha Passion, with five vocal soloists, a double choir and traditional instruments. The London Philharmonic Choir and the London Chinese Philharmonic Choir, which totaled 135 singers, were conducted by Tan. The performance won a longstanding ovation.