Taking the initiative
Share - WeChat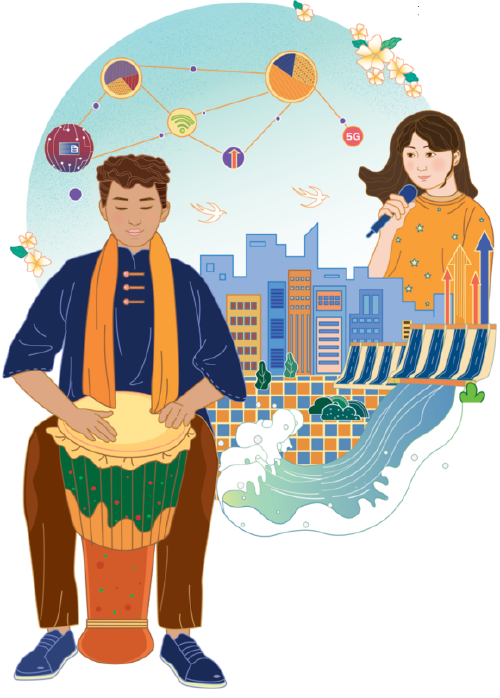 Partnering with China to advance the Belt and Road is a strategic choice made by African countries
With 10 years of progress, the Belt and Road Initiative has transitioned from a blueprint for shared development to concrete infrastructure projects and business contracts, and it is being raised to a higher level.
Africa is an important participator in the initiative. Among the 53 African countries that have diplomatic relations with China, 52, plus the African Union, have signed cooperation documents with China under the framework of the initiative. The COVID-19 pandemic has had severe impacts on the African economy. The continent needs to expand global collaboration to boost its economy and return to the rapid growth track.
Thus, joining the Belt and Road Initiative is a strategic choice made by Africa. China and Africa jointly advancing the initiative has its root in the traditional friendship and comprehensive cooperation of the two sides forged over the past decades, and today their cooperation is being expanded with new features.
First, green energy has become a new field of China-Africa cooperation under the Belt and Road Initiative. To tackle global warming, China is playing its role as a responsible major country by helping African nations seek a green development path that is energy-saving and resources-efficient, and different from the traditional development paradigm adopted by the West. China has also pledged to stop building energy-intensive and high-emission coal-fired power plants overseas, and it is vigorously supporting Africa in developing renewable energy.
Africa boasts abundant renewable energy sources, such as hydro, solar and wind energy. China is joining hands with African countries in harnessing local sources of renewable energy, with hydro power projects in Angola, Burundi, Mali, Guinea, Ethiopia and Tanzania, wind farms in South Africa, Ethiopia and Kenya, and solar power plants in Algeria, Nigeria and Morocco. These new energy projects are providing strong support for the African economy. The Caculo Cabaca Hydropower Project in Angola, the Adama Wind Farm in Ethiopia and the 233-MW photovoltaic solar power plant in Algeria are some of the landmark projects, and respectively the largest hydro, wind and solar projects on the continent.
Second, China and Africa are jointly promoting the building of the Digital Silk Road. Since Africa has not fully participated in the new round of global technological and industrial revolution that sees rapid development of information, digital and smart technologies, China is helping African nations build digital infrastructure to improve their digital service capacities and fostering new sectors in digital fields, thus bridging the digital gaps between Africa and the rest of the world and enabling African countries to better integrate into the increasingly digitized global economy.
Since 2000, China has helped Africa build a communications backbone network of 150,000 kilometers and a network service covering nearly 700 million user terminals. Chinese enterprises have played their roles in improving Africa's communications network. Nearly 80 percent of the 3G network on the continent was built by Huawei and ZTE, and about 70 percent of the 4G network was built by Huawei. Currently, the two companies are helping Africa construct its 5G network. China's mobile phone brand Transsion has gained immense popularity in Africa and grabbed nearly half of the continent's market thanks to its affordability and quality.
In addition, China's digital technologies are giving a boost to the African economy. The Electronic World Trade Platform, established by Chinese e-commerce giant Alibaba in Kigali, the capital of Rwanda, is Africa's first eHub. The platform enables local businesses to export specialty products to China through cross-border e-commerce and livestreaming. At an online promotion event in 2020 organized by Alibaba and the Rwandan embassy in China, 1,500 kilograms of coffee beans were sold out in less than a minute.
China's digital enterprises are also changing the payment methods of African people. China's leading mobile payment services WeChat Pay and Alipay have launched operations in countries including South Africa and Nigeria, bringing greater convenience to local consumers.
China's digital technologies are benefiting various industries of Africa. For example, smart farms have been built in Mozambique and Ghana with the help of digital and drone technologies from China. The country is also cooperating with Rwanda on a demonstration project for smart fishery. In the future, such programs can be promoted throughout Africa.
Third, China and Africa are exploring a new way of trade and economic cooperation. As China upgrades its industrial structure and the costs of production factors rise, a number of manufacturing industries such as textile and building materials are moving to Africa, where labor costs are lower, and the market potential is huge. China has established 25 trade and economic cooperation zones in 25 African countries, including Zambia, Ethiopia, Nigeria, Egypt and Mauritius. These countries have undertaken the industries transferred from China, and attracted a large number of enterprises from China and other countries, which have brought substantial tax revenues and job opportunities to the host nations.
The Oriental Industrial Park in Ethiopia now hosts 83 enterprises, among which 75 are from China. They create $75 million in tax revenue for the country annually, and have created 15,000 jobs. More than 580 Chinese companies have settled in the 25 trade and economic cooperation zones in Africa, with a total investment of $7.3 billion. China is also carrying out vocational training programs in Africa, such as the 14 Luban Workshops in Egypt, Morocco, Madagascar and Kenya, which have fostered a large number of young technical professionals for Africa and injected new vitality to the industrialization of the continent.
Fourth, third-party market cooperation has become the new pattern of participating the Belt and Road Initiative. The inclusive development initiative welcomes all parties to take part in the cooperation. The China-Africa partnership under the Belt and Road Initiative is open to any third parties. China and France have set an example in third-party market cooperation by building a batch of cooperation projects in Africa.
To give a few examples, China Development Bank, the French Development Agency and the Ministry of the Economy, Planning and Cooperation of Senegal are jointly building a wastewater treatment plant in Hann Bay in Dakar. The project is expected to greatly improve the marine ecosystem and living conditions of local residents, and reduce infectious diseases caused by wastewater, thus benefiting hundreds of thousands of people.
China Harbor Engineering Co, French industrial giant Bollore Group, CMA CGM company and the government of Cameroon are cooperating in the construction and operation of the Kribi Deep Seaport. The annual handling capacity of the port is expected to reach 1 million TEUs (twenty-foot equivalent units) by 2024, which will make it one of the major ports in West Africa, and better connect Cameroon with the rest of the world.
China General Nuclear Power Corp Europe Energy, Electricite de France and InnoSun have jointly developed a 500 MW solar and wind power project in Namibia, providing clean energy to the country.
The author is the director of Innovation and Development Department and a researcher at the China Center for International Economic Exchange. The author contributed this article to China Watch, a think tank powered by China Daily.
The views do not necessarily reflect those of China Daily.
Contact the editor at editor@chinawatch.cn
Most Viewed in 24 Hours
China Views