Rabbit year celebrated with events in Australia
Share - WeChat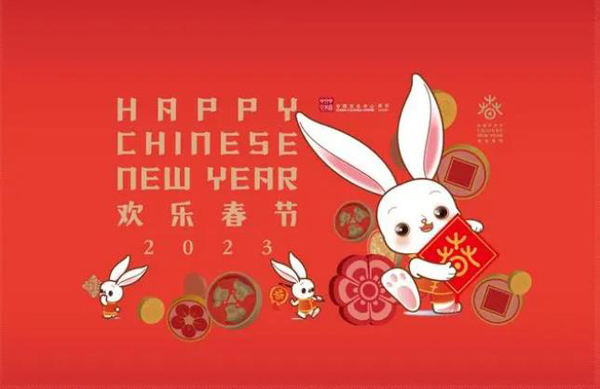 SYDNEY — While lion dances heated up the festive mood in Melbourne's Chinatown, a memory-keeper of Australia's Chinese community offered a tranquil corner for visitors to explore histories, traditions, mythical stories and mouthwatering cuisines related to Spring Festival, one of the most important dates for Chinese people.
This year, bunnies leaped into the level-one gallery of the Museum of Chinese Australian History. A Lucky Rabbit temporary exhibition was held here to observe Lunar New Year, which would run until March 14.
With red lanterns raised high, yellow lion dance costumes sitting straight, and written tags hanging down from a wishing tree, visitors walked into a familiar setting of Chinese New Year celebrations after being welcomed by a rabbit print at the entrance.
For Claire Martinez, who dropped by the exhibition during her midday break, some traditions and cultural taboos that she read on the display boards were already nothing new to her.
Though Martinez has never been to China, celebrating Chinese New Year is a family tradition starting from her childhood.
"We always came as a family to (celebrate) Chinese New Year when I was growing up. I'm the youngest of four. My parents would always bring us to the Chinese New Year celebrations," Martinez says.
Raised by her parents who "embrace all sorts of cultures", Martinez and her siblings grew up absorbing a mixture of Chinese, Croatian, Spanish and Irish customs.
When Martinez noticed the "unlucky things to do" section at the exhibition, a sense of deja vu pulled at her heartstrings. "My sister always reminded me of not cleaning the house and not showering. I just was refreshing my memory," she says.
Moving through the gallery with one hand often resting on her belly, Martinez was drawn to the Lucky Rabbit exhibition not only for her long-term interest in Chinese culture, but also for the reason that her baby will be born in the Year of the Rabbit.
"I'm 28 weeks pregnant, and I have a baby rabbit. So I really wanted to come here and put a wish in the wishing tree for the baby," says the mother-to-be.
Only days after the exhibition kicked off on Jan 22, the wishing tree was already loaded with wish tags for a promising new year, mostly written in Chinese and English.
Two of those tags came from a couple in their 20s, Leanne and Derrick, who migrated to Brisbane from Malaysia.
"We celebrated the day (Chinese New Year) while we were in Malaysia. We ate 'Yee Sang'," says Leanne, whose great-grandparents moved to Malaysia from China.
"It's made out of a lot of stuff, like ginger and some other dishes, and then we just put them in one corner, one corner in one plate. After that, we will mix it together with chopsticks again and shout out some nice words and wishes like 'good health,'" Leanne says.
For Leanne's partner Derrick, the Year of the Rabbit is a bit different from others. "My zodiac is the rabbit," says Derrick. "It's pretty interesting to see things especially about the race and how the zodiac came to be."
From the past when his Chinese grandparents settled down in Malaysia to the present when his parents moved to Australia, reunion still remains a critical part of the New Year celebrations in Derrick's family. Before heading to Melbourne, Derrick just had a family gathering in Canberra.
Most Popular