Cruise tourism comes alive in new year
Share - WeChat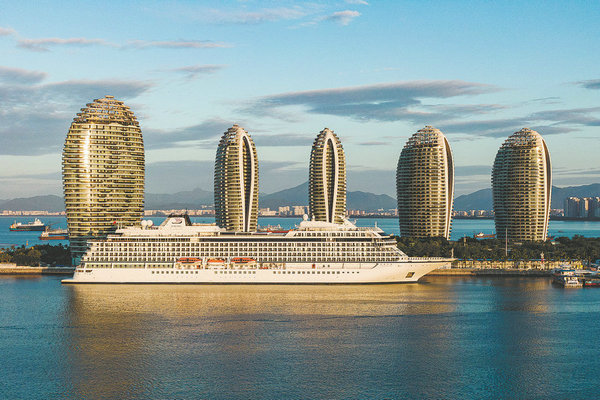 After China started to progressively ease COVID-19 controls in December, the domestic tourism market, including the cruise segment, rebounded rapidly, particularly during the New Year's holiday. Favorable policies and a growing number of experience-seeking middle-income consumers have boosted the confidence of cruise line operators.
The local unit of Norwegian cruise line operator Viking Cruises,Viking Cruises China, which also operates a joint venture with China Merchants Group that holds a controlling stake, said it would try to meet the growing demand this year. It will also continue to promote travel product innovation in the China market. It plans to launch more tourism routes to satisfy the wide-ranging demand and contribute to the high-quality development of China's cruise tourism sector, it said.
China Merchants-Yidun,launched in 2021, provided Chinese consumers with the country's first domestic coastal cruise with several routes. One of its popular voyages is the eight-day charm of the southern sea route departing from and returning to Shenzhen, Guangdong province, after stopovers in Sanya, Hainan province and Hailing Island of Yangjiang, Guangdong province.
As a port and a coastal tourism center, Sanya has attached great significance to the development of the cruise business. The city hopes to build a homeport for international cruises, and facilitate the healthy and sustainable development of cruise tourism.
"Sanya has rich, distinctive tourism resources, and good foundations that support the local cruise industry, making it one of the best destinations to operate our domestic routes. We offer a curated selection of included and optional shore excursions that give guests a unique cultural experience at each destination," said Wee-Hoon Tan, senior vice-president of product development and marketing at China Merchants Viking Cruises.
In late December, CM-Viking launched cooperation with Shenzhen Duty Free Group to attract travelers aged 16 and above to cruise trips. They can go for offshore duty-free shopping when they depart from Hainan by CM-Yidun. With the launch of this initiative, it also signifies that CM-Viking has become the sole cruise line operator in China that provides offshore duty-free shopping services.
"With China opening its doors wider, we are also working on opportunities for CM-Yidun to bring Chinese guests to explore exciting destinations beyond the Chinese mainland. Our relatively small ship size is an advantage as it enables us to sail into ports that larger cruise ships cannot access. This in turn means we can offer different and niche destinations for Chinese travelers to explore," Tan said.
China is the second-largest cruise passenger source market after the United States. In 2006, China launched its first route from Shanghai. Cruise tourism grew rapidly in the past decade and extended to the upstream industrial chain,according to the Cruise Lines International Association.
COVID-19 has had a negative impact on global cruise tourism,but the sector is on a recovery track.It is expected to fully recover this year. Passenger traffic in 2024 is foreseen to exceed the 2019 level,when there was no pandemic. The long-term growth trend of the cruise tourism segment remains unchanged, the CLIA said.
China will promote the development of cruise tourism in coastal cities such as Shanghai, Tianjin,and Shenzhen and Guangzhou in Guangdong province, Xiamen and Fuzhou in Fujian province, Qingdao in Shandong province and Dalian in Liaoning province, according to the document released by the Ministry of Industry and Information Technology and four other departments in August.
Qingdao launched China's first cruise talent training plan in November. The city is committed to building a leading platform for high-level cruise talent education in Shandong by sharing educational resources between different colleges, secondary and vocational schools. Besides, the city plans to build internship and practical training bases together with cruise line operators.