Climate change eroding Arctic sea ice, report says
Share - WeChat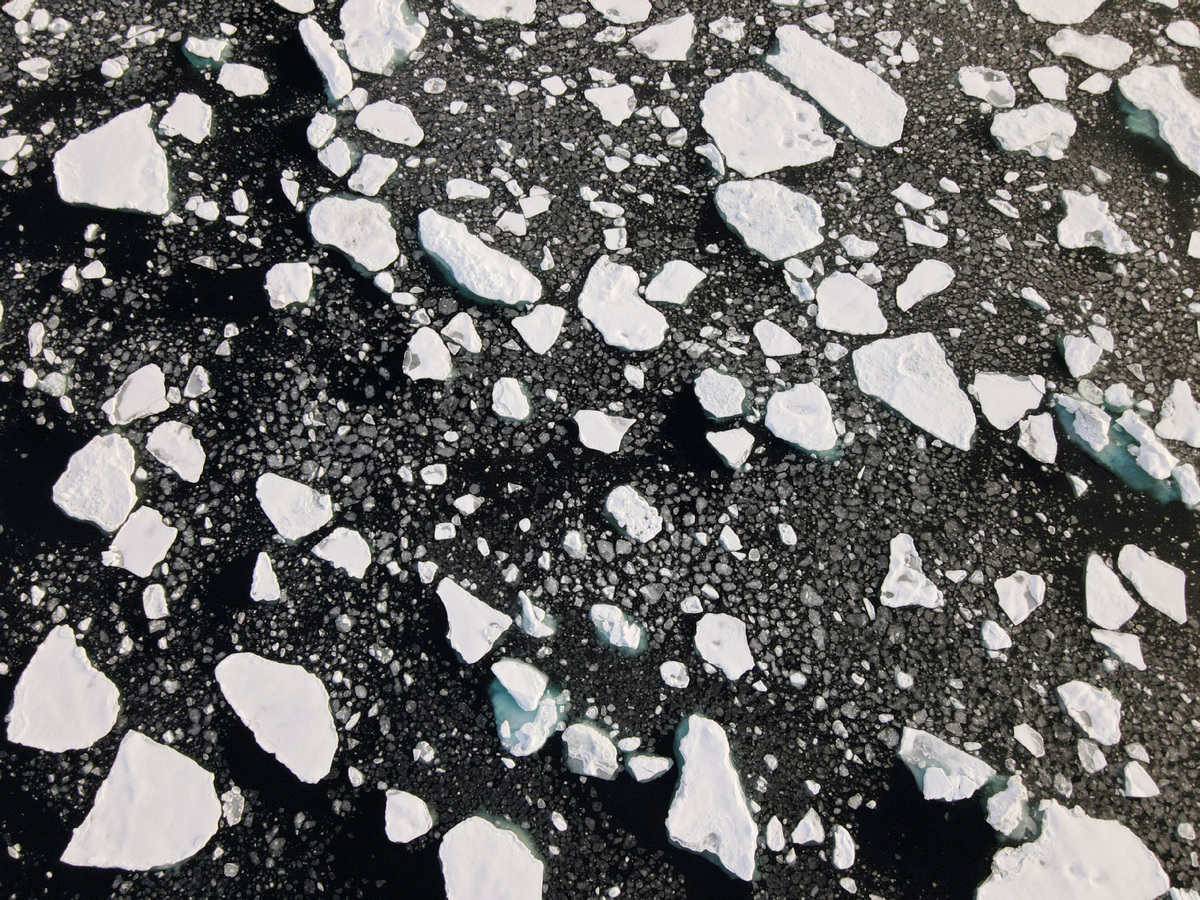 The Arctic region lost over 2 million square kilometers of sea ice from 2002 to 2021, leaving around 3.96 million sq km of sea ice as of September 2021, according to a report by the National Remote Sensing Center of China, an institution affiliated with the Ministry of Science and Technology.
The Arctic, one of Earth's key ecosystems and home to over 4 million people, is experiencing rising temperatures, accelerating ice melt and increased vegetation growth due to climate change, the report found.
From 2002 to 2021, multilayer ice — sea ice that persists in the ocean from year to year — was disappearing at a rate of 127,000 sq km per year. Although this type of ice typically reappears in the winter, the overall coverage of multilayer ice has been decreasing at a rapid rate.
The consequences of melting sea ice are complex. On one hand, sailing through Arctic shipping channels has become more convenient due to having less ice blocking key waterways, but on the other hand, the habitats for many Arctic animals such as polar bears and seals are being threatened.
Zhao Jing, the director of the National Remote Sensing Center of China, said the report not only showcases China's remote-sensing technologies, but also represents the country's contribution to the international scientific community on tackling climate change.
Zhou Chenghu, a noted geologist and an academician of the Chinese Academy of Sciences, said the impact of climate change on the polar regions is closely related to human life, especially those living in coastal regions.
"Environmental changes in the Arctic region are a key indicator of climate change, and this is why the international scientific community is paying close attention to it," he said.
In November, an international report said Arctic sea ice is melting at increasing rates far faster than scientists had expected, and summertime Arctic sea ice could vanish by 2050.
Zhou said scientists are still debating when summertime Arctic sea ice would be gone, but it is clear that the international community should be galvanized to safeguard this distinct environment to prevent climate catastrophes.
Huang Huabing, a professor of remote sensing at Sun Yat-sen University, said the Arctic region has been a focus of climate research due to the effect of Arctic amplification, a complex phenomenon that saw the region warming over twice as fast as the rest of the planet.
Due to rising temperatures, from 2002 to 2021, about 77.4 percent of the Arctic's land surface saw an increase of vegetation coverage, totaling nearly 5.5 million sq km, or the entire area of the Amazon rainforest, he said.
However, the greening of the Arctic region is extremely fragile and heavily influenced by temperature, seasonal snow fall and human activities. In areas where there are many human activities, some of the newly emerged vegetation has already been damaged.
Liu Zhichun, the deputy director of the National Remote Sensing Center of China, said climate change in the Arctic region would affect the entire oceanic ecosystem.
In order to achieve the United Nations' Sustainable Development Goal 13 on tackling climate change, Liu said it is vital that scientists establish a robust and systematic mechanism to monitor and preserve the Arctic region.