Bomb disposal expert always puts public first
Share - WeChat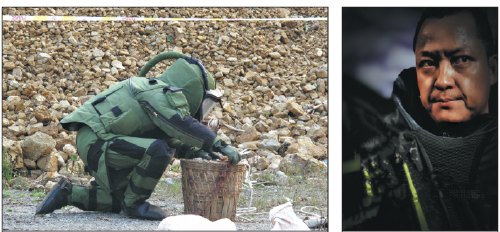 Officer has won many commendations for his work over nearly 25 years
Unlike the male lead in the movie The Hurt Locker, who defuses bombs on the battlefield, He Liyuan, an explosives police officer in the southwestern province of Yunnan, works in the city to keep the public safe.
Since becoming a police officer in August 1998, the 45-year-old's motto has been: "Keep the public safe even if I am killed." He is captain of the explosion prevention and security check brigade with the Kunming Public Security Bureau in Yunnan's capital.
Over the past 24 years, he has taken part in the dismantling of the first mercury-triggered bomb ever seen in China and attended more than 700 explosives-related missions, recording zero errors and casualties.
This way, he has made an outstanding contribution to the protection of people's lives and property.
Shortly after He joined the force, his superior officer asked him if he was willing to attend explosives-clearing training, and suggested that he go home and ask his family for advice.
However, He agreed to undertake the training without asking his family, as he thought it would provide him with more skills.
Being a bomb disposal officer requires mastery of theoretical knowledge, operational techniques, safety requirements and on-the-job experience, he said.
In 1999, he dealt with the first alert of his career. A device had been left on the counter of a store, so He and his superior officer rushed to the scene quickly after receiving an alert.
"There was no one within the 200-meter cordon. The scene was silent, and I was short of breath and felt as though I was going to vomit. I heard my heart beating loudly for the first time," he recalled.
He was brought back to reality when his superior officer twice yelled, "He Liyuan, bring me the toolbox." Then, he moved toward the officer slowly. As he got closer, he found that his hands were shaking so much he could not even open the toolbox.
The device was quickly removed, and his superior explained that it was a fake bomb. Despite his relief, He was depressed for several days after the experience.
"Tension, frustration and many other emotions were going through my mind. I had earned my explosives-clearing certificate, but I was scared by a fake bomb," he recalled.
Later, he attended many different scenes with colleagues and his supervisor, gaining a great deal of practical knowledge from them.
In 2003, the team received a report that an explosive device had been found in a residential community.
The bomb had a mercury trigger, but at the time there was no national precedent for manually defusing such a device.
"It's very special. Mercury is fluid, which means that if such a device is shaken, however slightly, or damaged in any way during disposal, it could explode," he said.
He and his supervisor were responsible for defusing the device. Disaster could have struck at any second and with every slight movement, but they succeeded in making the bomb safe.
In April 2006, an explosive device was found in a crowded mall in Kunming, encased in an explosives containment shell.
He arrived at the scene and gently put the bomb on the ground after observing it closely, noting that it was a time bomb. He could hear the sound of the clock, but he was unable to find the display, which meant he had no idea how long it would be before the device exploded.
Moreover, the distance between the mall and the transfer site was long, so there would be severe consequences if an accident occurred during the transfer process.
He quickly reported the situation to his superiors, and after receiving approval, he began to disarm the bomb. After about 30 minutes of careful work, he managed to separate the clock, which was hidden in tape and packaging, from the bomb and defused the device.
When he removed his explosive ordnance disposal suit, he was drenched in sweat.
His brigade has new recruits every year, and He is always strict when teaching and training the young officers.
"In front of the enthusiastic and eager young faces, I feel as though I can see myself about 25 years ago and feel the weight of responsibility on my shoulders. We can come back if we miss in training, but we cannot make any mistakes in practice, as we only live once," he said.
He has written more than 20,000 words for research articles and participated in the preparation of several explosion prevention and security check work standards, as well as formulating a "safety first" work mode, which has played a major role in promoting explosion-prevention work in the province.
He has won many national and provincial honors. Last year, He was awarded the title of Model Civil Servant by the Communist Party of China Central Committee and the State Council, China's Cabinet.
yangzekun@chinadaily.com.cn