Ensuring a safe Spring Festival travel rush
Share - WeChat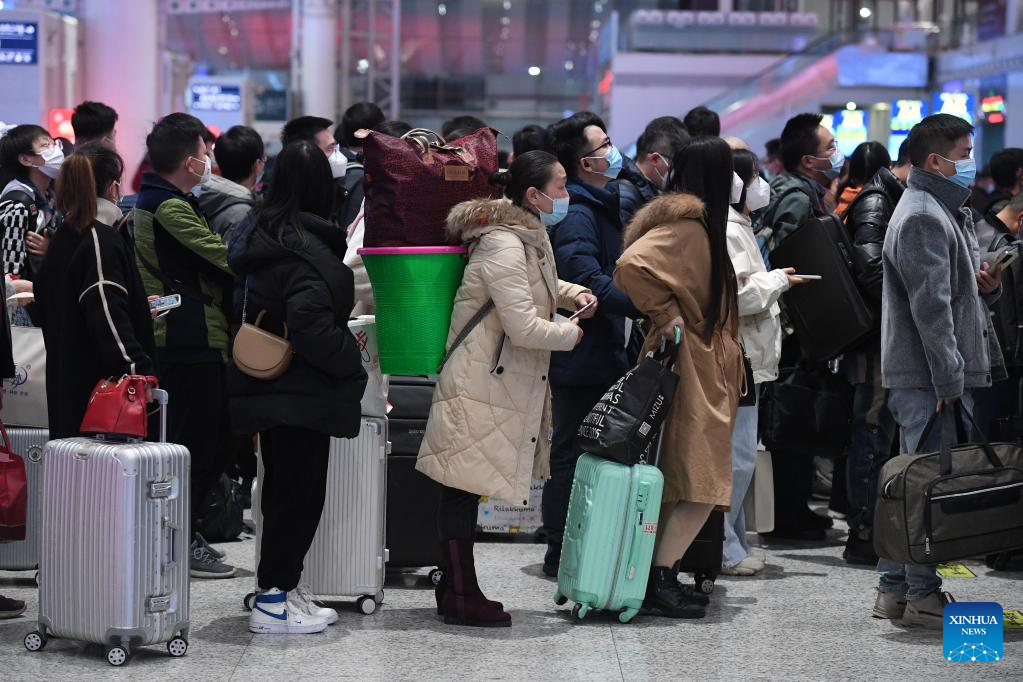 Thanks to the easing of COVID-19 prevention and control measures, this year's Spring Festival travel rush (Jan 7-Feb 15) will be the most special since the outbreak of the novel coronavirus three years ago.
To begin with, the flow of people across China during Spring Festival is expected to significantly increase and the spatial distribution of passenger flow is likely to become more complex, increasing the uncertainties and difficulties for the transportation sector.
The scale and intensity of traffic in cities and urban agglomerations will be markedly higher than in the previous couple of years, and cross-provincial and cross-border tourist flows may see a rebound, increasing the challenges and pressure for both passengers and transport operators. It can be safely said that this year will see the first Spring Festival travel rush in the true sense of the term since the pandemic broke out.
All this mean China's transportation industry faces a tough test during Spring Festival. No wonder the government has made the orderly flow of passengers and flights, trains, buses and cars its top priority, followed by pandemic prevention and control, disaster prevention and management. Achieving the above goals is an arduous task by any standard and requires careful organization, efficient operation and coordinated action.
Based on the analysis of the Spring Festival travel season in the past and the special characteristics of this year, "safe Spring Festival travel" is subject to two factors. One is weather, because facilitating the smooth flow of road, rail and air transport, and responding to emergencies depend on the whims of the weather. The second is the impact of rising infections due to the lifting of the strict anti-pandemic restrictions.
Although it is necessary to take measures to prevent infections on buses, trains and flights during Spring Festival for a different, specific reason, given the changed situation this year, there are some common unfavorable factors. For example, how to scientifically control large-scale infections at bus and train stations, airports and other places of passenger concentration? Or, how to quickly provide medical aid for a person who has contracted the novel coronavirus while he or she is traveling?
These are some of the new challenges for the authorities during the Spring Festival travel rush this year, but they will provide valuable experience for the transportation industry to establish an effective epidemic prevention and control mechanism.
To cope with these problems, the authorities have to first improve the basics of safe travel and strengthen traffic rules in order to realize the goal of safe Spring Festival travel.
There is also a need to minimize and mitigate the impacts of natural disasters on transportation and prevent secondary disasters, for which the authorities have to strengthen the linkage between transportation, meteorology (especially weather forecast), emergency support and other departments, and improve the overall traffic emergency plans, by paying special attention to key areas such as mountainous roads, long bridges and tunnels.
Besides, if there is a sudden and massive spike in infections during the Spring Festival travel season, it could affect social stability. Therefore, the transportation department should cooperate with the National Health Commission to deploy more personnel and fully stock emergency medicines and medical equipment to prevent infections in long-distance buses, trains, ships, aircraft, and transport hubs, and make detailed emergency plans to deal with sudden infection outbreaks, including providing proper medical treatment for infected persons, especially the critically ill.
Also, it is necessary to establish multiple-departmental coordination to ensure the smooth supply of commodities and medicines, quickly respond to emergencies including natural disasters, and better share travel service information with the public.
Better sharing transport information means not only sharing with the public the layout, passenger capacity, availability of tickets and facilities in expressway service areas, but also informing people about road conditions, accidents, area-wise epidemic situation, cross-regional and cross-modal transportation situation, and accurate weather forecasts.
Further strengthening multi-modal coordination, and different ministries and commissions making joint efforts to optimize transportation services to guarantee unhindered supply of commodities are also necessary.
Using the modern transportation network, which is an efficient integration of various modes of transportation, the authorities should make efforts to create a special Spring Festival transportation network so as to provide smooth and convenient transportation services for the public during the Chinese Lunar New Year travel season.
There will be many uncertainties in terms of passenger and cargo flow this year. While the spatial distribution of cross-provincial passenger flow will likely be more complex, the transportation demand in cities is expected to be high.
Therefore, it is necessary to balance supply and demand in the transportation sector, especially during the Spring Festival travel rush when freight, too, is expected to peak. So transportation departments at all levels should make all the necessary arrangements to meet the passengers' demand for high-quality travel experience, and ensure the supply of materials to prevent price rises. They should also strengthen overall coordination with the public security, emergency, and health departments.
That expressways are toll-free during the Spring Festival travel rush means heavy traffic and congestion, and crowded inter-provincial checkpoints, which will increase the risk of epidemics.
So the transportation department should work with other departments to prevent secondary public health crises and derivative disasters, and the authorities should attach greater importance to improving overall sanitation to prevent infections and be prepared to deal with medical emergencies, quickly launch rescue and relief operations in case of disasters, and build a professional collaboration platform comprising the transportation department and the epidemic prevention and emergency support authorities.
The transportation department also needs to establish an emergency command and dispatch mechanism that can meet the demands of the post-epidemic era, and further strengthen the emergency support capability of all modes of transportation.
Jia Yuanhua is a professor of transportation engineering at the School of Traffic and Transportation, Beijing Jiaotong University. Li Jian is an associate professor at the University of Emergency Management. The views don't necessarily represent those of China Daily.
If you have a specific expertise, or would like to share your thought about our stories, then send us your writings at opinion@chinadaily.com.cn, and comment@chinadaily.com.cn.
Most Viewed in 24 Hours
China Views