Cross-border land ports bustling again as restrictions lifted
Share - WeChat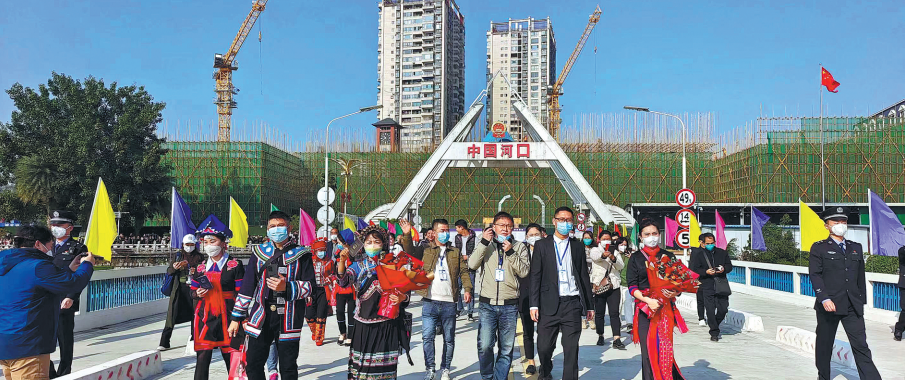 Officials, businesses welcome return of travelers and goods
At 8 am on Sunday, Yan Feng arrived at the land port of Manzhouli, Inner Mongolia autonomous region, on a cross-border bus from Russia. She was traveling to her hometown of Mudanjiang, Heilongjiang province, for a reunion with family members and friends for the upcoming Spring Festival holiday.
Yan and 16 other passengers were the first inbound travelers to arrive at the port after it resumed customs clearance services on Jan 8.
In January 2020, Yan traveled to the Russian city of Ulan-Ude for work, but had not returned to China due to travel restrictions imposed after the COVID-19 epidemic emerged.
"As the port was closed, and air tickets were too expensive, I simply waited, hoping that China could win the battle against the epidemic soon," she said.
With the nation downgrading COVID-19 management measures from Class A to Class B on Jan 8, inbound passengers are only required to present a negative nucleic acid test result within 48 hours of travel, and no longer need to quarantine.
Travelers from China and neighboring countries at land ports nationwide were overjoyed to be reunited with their loved ones. Local officials and businesses also welcomed the return of customers and goods, along with the hustle and bustle at border cities.
Yan said: "I am very excited. For the past three years, I have been looking forward to the border reopening, as I really wanted to return home. I have been so sad not to have been with my parents and children."
Manzhouli, the largest land border port in China, processes more than 65 percent of Sino-Russian trade via land transportation. In 2019, the port handled 32.59 million metric tons of cargo and 1.9 million trips by travelers, according to figures from the facility.
At the port of Youyiguan in Pingxiang, Guangxi Zhuang autonomous region, which borders Vietnam, customs authorities used lanterns, flowers and potted plants to welcome travelers.
Some 2,800 passengers and 1,500 trucks passed through the port on Sunday, according to local authorities.
In 2020, the local government introduced a special customs clearance system for cross-border drivers. All Chinese freight vehicles entering and leaving the port were driven by designated cross-border drivers who were under strict closed-loop management.
Now, these drivers no longer need to wear protective clothing, and regular truck drivers are once again allowed to transport goods across the border.
Lu Qinghua, a truck driver for an international logistics company in Pingxiang, arrived at the port early on Sunday to transport goods to Vietnam for the first time in three years.
"The customs service is just as efficient as it was before the epidemic, and I can now return to driving my truck between China and Vietnam," he said.
Liang Donghai, who manages a local supply chain company, said the end of closed loop management is expected to increase customs clearance efficiency by 60 percent and reduce costs for his company by the same level.
"Before you know it, our company's business will have returned to the pre-epidemic level," he said.