Young group puts past and future into words
Share - WeChat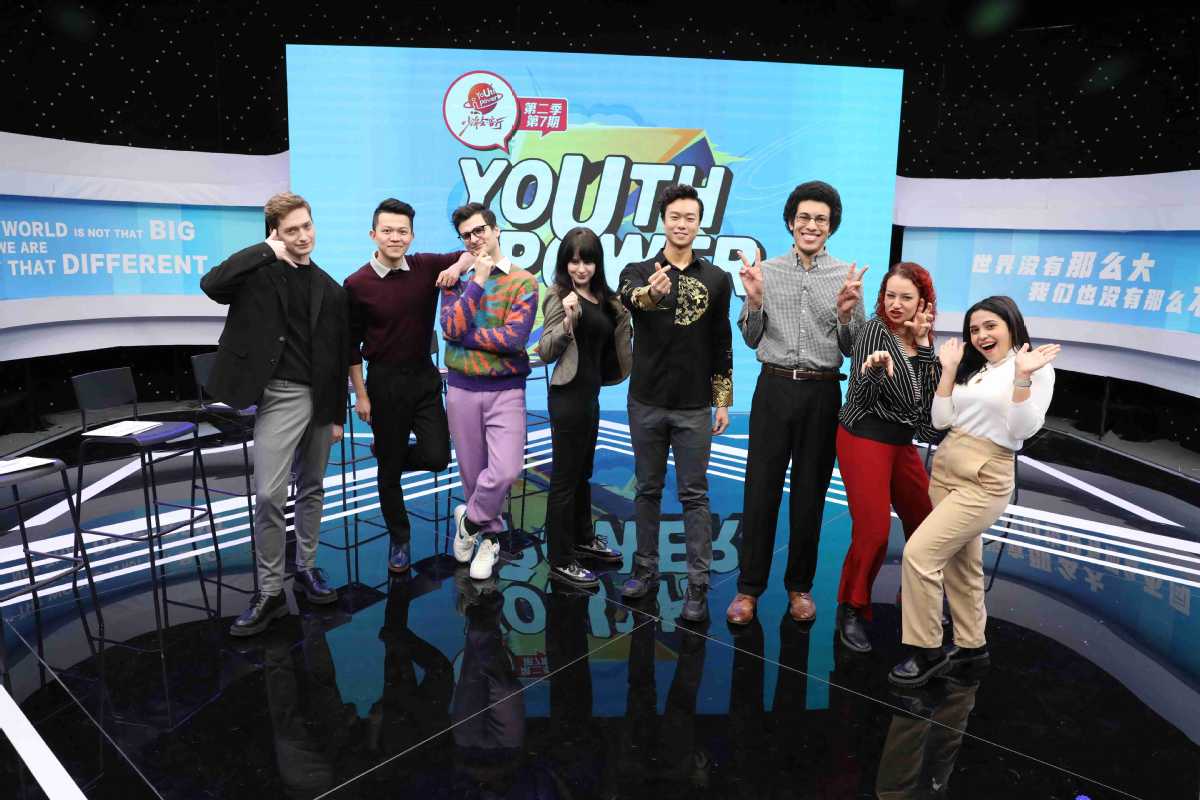 Students and others describe their lives in China, hopes for year ahead
Young people from China and several other countries have been looking back at the past year and ahead to what awaits them in 2023.
To describe their lives in China over the past 12 months and their visions for the future, they each chose three words.
The group, members of Generation Z, appeared in the latest episode of the China Daily series Youth Power, titled "Your Year, Your Word", which was broadcast online on Dec 30.
Generation Z refers to those born in the late 1990s or early 2000s, who are perceived as being familiar with the use of digital technology, the internet and social media from an extremely young age.
Matthew Kelly, who is from Ireland and studying Chinese language and Chinese culture at the Confucius Institute in Dublin, chose the word "rewarding" to sum up his life last year.
Three months ago, Kelly had the opportunity to travel to China for the first time through a scholarship program for study at Peking University, one of the country's top universities.
"It's been such an amazing experience. I think the biggest reward for me has been the connections I've made in China, and the friends that I've made through learning Mandarin," he said.
For Han Shuyuan, a Tsinghua University student attending a visiting undergraduate program at Harvard University in Boston, United States, "adventure" was the best word to describe her experiences over the past year.
She said visiting Harvard is adventurous because it is the first time she has studied overseas with other students from a wide range of cultural backgrounds, each of them holding different views of the world.
"This is not only an adventure to learn more from the professors during lectures and seminars, but also an adventure to learn more about the outside world," Han said.
Gap year
Gabriella Madombwe from South Africa chose "explore", "choice" and "self-trust" to describe the past 12 months, as she had just graduated from high school and taken a gap year to decide what she wanted to do with her life.
She took new courses, including one on cybersecurity, and was given choices such as whether to pursue a nursing degree or learn practical skills like those used by a locksmith or a welder. In the process of studying Chinese, Madombwe also regained trust in herself.
"I'm now more confident, as I know myself better and what I like and dislike. I feel my future has many possibilities, and that I'm in a much better place than when I started the gap year," she said.
For a keyword to describe China, Joshua Brown, who comes from the US and works for a funding company, chose "dynamic", in a reference to China's pandemic control policies.
Last year was the third year since the emergence of the COVID-19 pandemic, which has had a huge impact on life around the world, and during which China has responded to the ever-changing situation regarding the disease by updating its policies accordingly.
Jennifer Holstein, a journalist from the US working in Beijing, agreed. "In 2022, China learned that the Omicron variant is less deadly and is relatively mild compared with earlier variants of COVID-19. It makes sense now to ease the restrictions," she said.
Enoch Wong, who comes from Hong Kong and works for CGTN, said the word "believe" best depicted China during the past year.
Wong cited several examples, including China's successful space missions, the launch of a number of national parks, and the nation's contribution to the UN Climate Change Conference in Sharm-el-Sheikh, Egypt, in November. She also referred to Beijing becoming the world's first "dual Olympic City" when it hosted the Winter Olympics in February, in addition to staging the 2008 Summer Olympics.
Wong attributed all these factors to the firm belief among China's 1.4 billion population to stay together for a shared future.
"I think it's a belief from the past that has made us who we are today, and a belief that will shape what we become in the future," Wong said.
Nation prospers
Alexandre Guery, who comes from France and has just graduated from Nankai University in Tianjin, chose "transition" and "prosperity" to best describe China. He said that even though the nation is experiencing a period of change, it made significant achievements in the past year and will continue to flourish in the next 12 months.
"Everyone knows that China was the first civilization. Last year, the nation remained prosperous, and life went on. People are working hard and the country is doing well," he said.
Jood Sharaf, a student from Bulgaria studying at Tsinghua University, recently arrived in China for the first time. She chose the word "shocking" — not to describe China, but to refer to the way in which it is shockingly different from the impression that she and her friends back home used to have of the country.
She also said it was shocking for her to realize how deeply they had been influenced by the Western way of understanding China.
"Everything that we've done so far in terms of politics and theories has been based on a Western perspective and a Western way of seeing and viewing the world and interacting with each other. I think that what we have right now here (in China) can offer a different perspective, a different way of developing and moving forward," Sharaf said.
Asked to choose a word to describe their hopes for 2023, the group came up with a variety of choices.
Raz Galor from Israel, who launched Why China, a video show depicting foreigners' lives in China, said "embrace" best summed up his experiences last year and his hopes for 2023. In the past year, he has seen many changes in his life and those of people close to him. However, instead of feeling upset and resentful, he chose to embrace these changes, and plans to continue doing so in the coming year.
"I hope to help shape the changes that I see in the world. I see myself as an active participant, but I also try to change things for the better. No matter where we're from, no matter what we do, if we are sympathetic and empathetic to others, we're going to live in a better world," Galor said.
Sarah Khattab from Egypt, who is studying at the University of International Business and Economics in Beijing, opted for "peaceful" as her word for 2023, because last year there was too much chaos, including wars, in different parts of the world. Holstein also opted for the same word.
"You can't fight hate with hate. You have to fight hate with love. I really hope that in this chaotic world, everybody can find a modicum of peace and happiness," Holstein said.
Tang Kaiming, a student from China at Shanghai International Studies University, said "connection" best summed up last year and her hopes for 2023.
In the past year, Tang decided she wanted to help connect China and the rest of the world. She started to improve her language skills by taking part in as many English speech competitions as possible. Tang also learned more about China's diplomatic approaches, including the Belt and Road Initiative, so that she can introduce them to people from other countries.
"As a student majoring in Spanish, I want to be the bridge that connects China and Spain, their peoples and their cultures," she said.