Hotpot festival celebrates Chongqing's spicy cuisine
Share - WeChat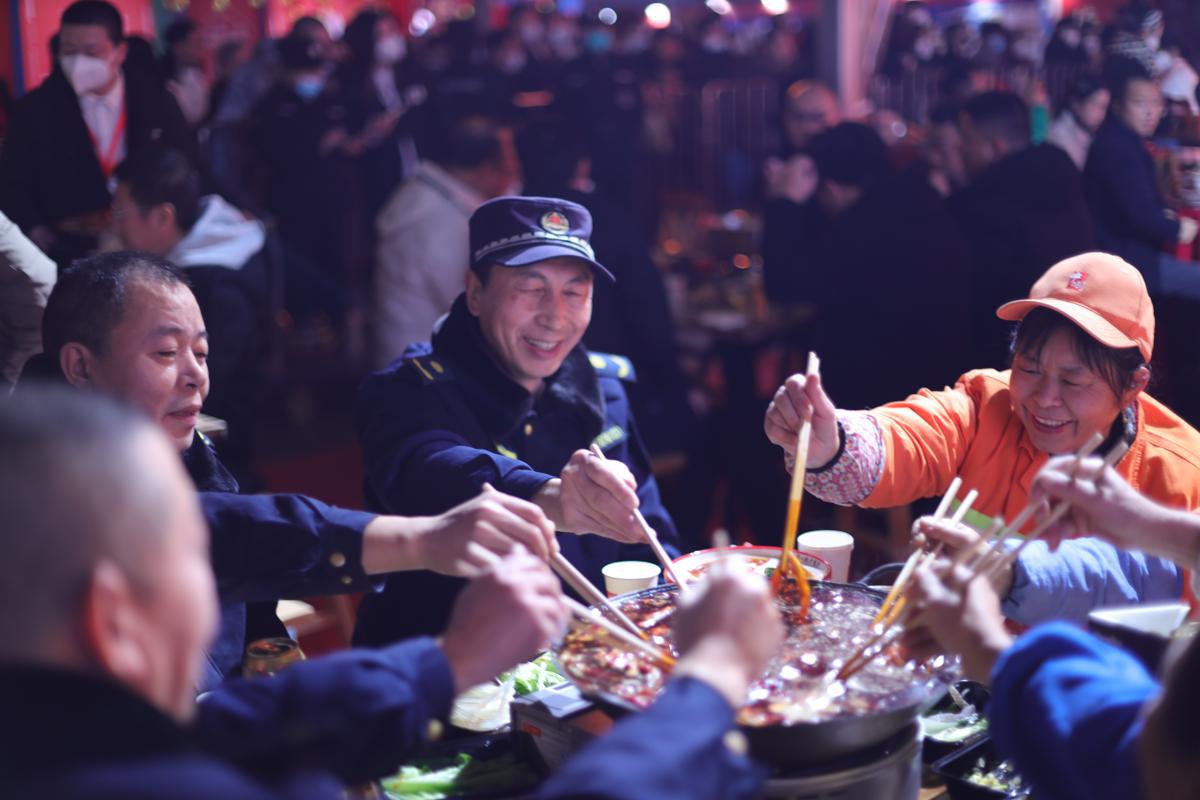 The 2023 Chongqing Hotpot Festival and Rural Revitalization Specialties Exhibition kicked off at Yangjiaping pedestrian street in Chongqing's Jiulongpo district on Friday. The three-day event attracts a tremendous amount of enterprises and foodies alike to celebrate the city's most famous spicy cuisines.
On Friday night, after the opening ceremony, a grand outdoor hotpot feast for a thousand people was held at the hotpot booths, which were jointly put up by 20 local hotpot brands, including Qinma, Little Swan and Liu's Hot Pot Chongqing.
The exhibition showcases a wide range of specialties and agricultural products related to hotpot, including local chili peppers, prickly ash berries, edible fungi, hotpot soup base as well as prefabricated dishes, from industry chain merchants in nine districts and counties in the city.
"Exhibition and sales activities relating to the hotpot industry play an important role in displaying the city's rural revitalization achievements and distinctive cultures in districts and counties, promoting local industries and products and coordinating production and sales," said Liu Jianyuan, official from Chongqing Rural Revitalization Bureau.
"Hotpot, a big industry which boosts a whole industry chain including rural vitalization in breeding and planting, as well as the catering service industry, plays an important role in economy," said chairman of the Chongqing Hotpot Association Chen Guohua.
He said the event could promote work and business resumption in the hotpot industry, to help relevant companies tide over difficulties and stimulate consumer spending.
Notably, the event also has on exhibit a 60-meter-long giant sketch, depicting the origin and development of Chongqing hotpot.
The organizing committee said to boost consumption and help industry recovery, multiple hotpot online promotion activities, such as consumption coupon distribution, will run until February 5 — the Lantern Festival in the coming lunar new year.
The event is hosted by the Chongqing Hotpot Association and the commission of commerce in Jiulongpo district, and supported by the Chongqing Municipal Commission of Commerce, Chongqing Rural Revitalization Bureau and the local government of Jiulongpo district.
Boasting both the best and largest number of hotpot restaurants in the country, Chongqing was named "China's hotpot city" by the China Cuisine Association in 2007.