On the trail of the elusive snow leopard
Share - WeChat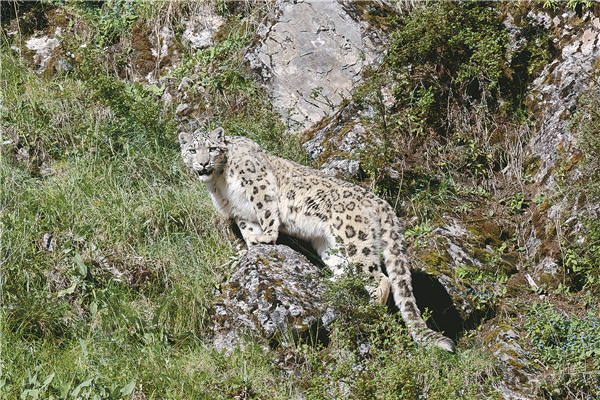 Rarely seen creature is being observed and studied in its natural habitat of the Qilian Mountains in Qinghai province, Xu Haoyu reports.
The predator known as "king of the snowy mountains" is being watched and studied. This is taking place far from the lofty peaks of its habitat. It is being conducted in Tianjun county, Qinghai province's Haixi Mongolian and Tibetan autonomous prefecture, more than 400 kilometers away from the Laohugou Ecological Management and Protection Station, Menyuan Hui autonomous county of Qinghai.
Wang Dajun, PhD, a wildlife research and protection expert from Peking University's School of Life Sciences, is fascinated by the "big cat", the snow leopard, which resides in the Qinghai area of the Qilian Mountain National Park.
The snow leopard is the apex predator and dominating species of its high and cold environment, playing an irreplaceable role in maintaining the ecosystem. Mainly found on bare rock at altitudes of between 2,000 and 5,000 meters, it is a secretive species with a low population density.
"Monitoring snow leopards is like a 'game', a process of communication and mutual understanding between people and the natural world," says Wang.
Monitoring the species in the Qinghai area of the Qilian Mountains began in the middle of the 1980s, with sporadic snow leopard surveys based on interviews conducted on parts of the Shule Nanshan Mountain from 1996 to 1998.But few systematic and comprehensive field surveys and monitoring programs have been carried out in other areas.
After 19 years, the Qilian Mountain National Park pilot construction program was officially started in 2017, and comprehensive and systematic snow leopard monitoring and assessment is underway.
In five consecutive years of snow-leopard monitoring, an area of 4,172 square kilometers in the Qinghai area of the Qilian Mountain National Park has been discovered as potentially the main habitat of the creatures, with 95 reproduction and breeding points found and 105 snow leopards identified.
In November 2021, the Qinghai administration bureau of Qilian Mountain National Park and Wang's team from Peking University formed a working group to carry out satellite tracking of snow leopards in Suli township, Tianjun county.
The process lasted 45 days, with 11 capture points set up and three snow leopards successfully caught.
Before putting on the tracking collars of the three snow leopards, Wang saw one of them huddled in its cage and thought that it was too small and not yet an adult, thus wearing a collar might affect its predation and growth, so he made the decision to set it free.
However, as it leapt out of the cage and fully stretched its body, Wang realized that it was already an adult.
Most Popular