Xi's vision of shared future taking shape
Share - WeChat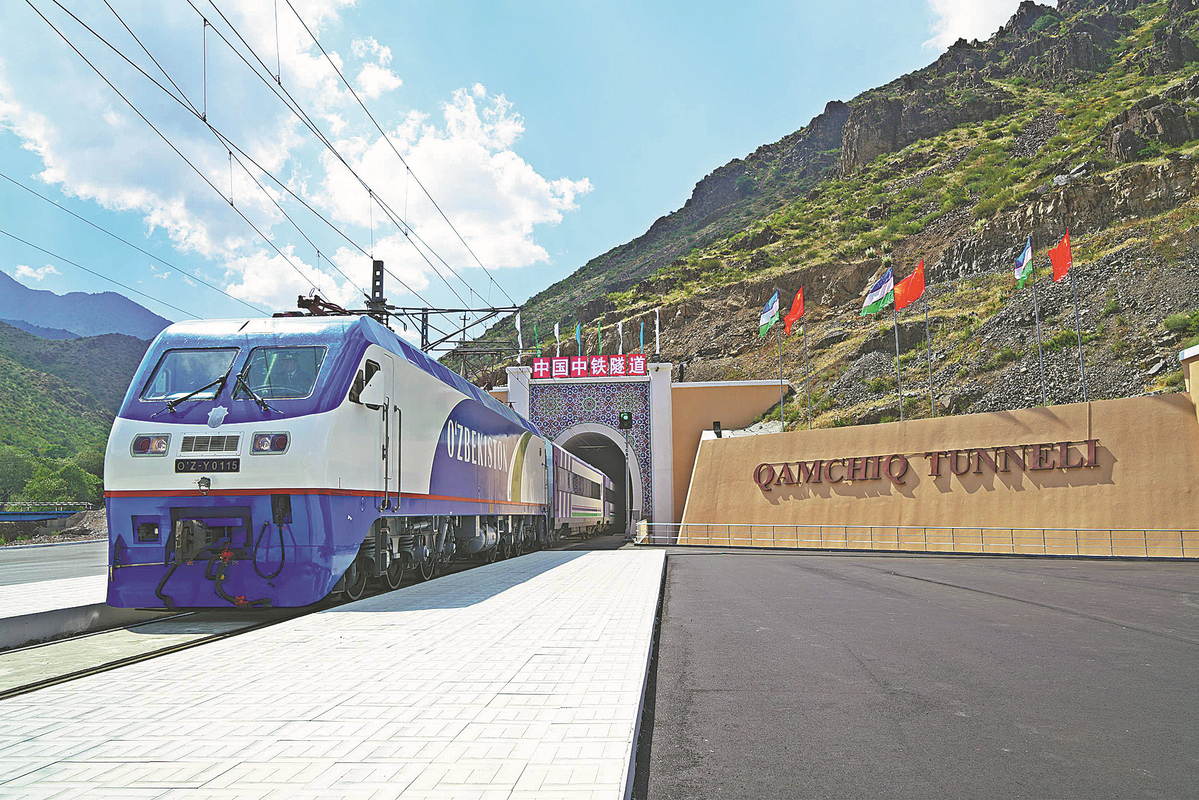 Countries in Central Asia among those that embrace common community, development
Thousands of years ago, China envisaged a world where people would live in perfect harmony and be as dear to one another as family. Today, President Xi Jinping has given the world such a vision in the concept of a community with a shared future for mankind.
Since Xi proposed the concept in 2013, it has gone on to shape China's approach to global governance, giving rise to proposals and measures to support growth for all.
Guo Changchao, CEO of the Chinese logistics company WinExpress, said that he can feel the increasing mutual understanding and respect between the people of China and Central Asia, along with wide acceptance of Xi's proposals around the world.
Guo, whose company provides truck delivery services from China to Kazakhstan, said the better relations between China and Kazakhstan and the implementation of the concept of a community with a shared future benefit companies like his.
"What I understand about a common community is closer people-to-people ties and better mutual understanding," Guo said. As there are more goods delivered between China and Kazakhstan, as well as from China to Europe through the Central Asian country, more Kazakh people know about China and want to visit China.
Guo hailed the cooperation between China and Kazakhstan in multilateral organizations. "China joined the Customs Convention on the International Transport of Goods ... in 2016, and since the first truck crossed the Sino-Kazakh border in 2018, the new logistics route has become a new bridge connecting China and Central Asia," he said.
WinExpress has sent more than 100 trucks each month, a number that is expected to double or triple in the coming year, Guo added. "Due to the COVID-19 pandemic and some regional issues, most of the traditional means of logistics from China to Europe, including shipping, railway and road transportation, have been seriously affected," he said.
Compared with decades ago, when Guo visited Central Asia for the first time, more people have shown friendship to and interest in China, he said.
According to Yang Lei, director of Eurasian National University's Confucius Institute in Nur-Sultan, Kazakhstan, the study of Chinese language is more popular than ever in the region.
"Even the COVID-19 pandemic did not dampen enthusiasm for the institute's programs," Yang said.
From 2021 to 2022, the institute continued to offer 11 classes attended by about 240 local students. In addition, over 2,300 Kazakhs participated in about three dozen cultural activities that the institute organized in Nur-Sultan, Yang said.
Tazhmurat Alinaai, 14, who gave herself the Chinese name Ai Li, has been learning Chinese for over a year. "My dream is to go to China and know more about the country," she said, adding that she has also started practicing Chinese calligraphy.
During the 20th National Congress of the Communist Party of China in October, Xi, who is also general secretary of the CPC Central Committee, reiterated China's commitment to work with people of all other countries to champion humanity's shared values of peace, development, fairness, justice, democracy and freedom, in order to safeguard global peace and promote global development and to continue promoting the building of a community with a shared future for mankind.
Noting that the world is grappling with unprecedented challenges, Xi said the CPC has consistently called on the people of the world to shape the future of humanity.
"When all countries pursue the cause of common good, we can live in harmony, engage in cooperation for mutual benefit and join hands to create a brighter future for the world," he said.
In September, while visiting Kazakhstan and Uzbekistan on his first trip abroad since the onset of the COVID-19 pandemic, Xi emphasized to the two countries' respective presidents the unbreakable friendship and the will to jointly build a community with a shared future for mankind.
During talks with Kazakh President Kassym-Jomart Tokayev, Xi said that China is ready to work with Kazakhstan in firmly supporting each other's development and rejuvenation, and that the unbreakable friendship between the two countries will contribute to the growth of positive and progressive forces in the world as well as the building of a community with a shared future for mankind.
When talking with Uzbek President Shavkat Mirziyoyev, Xi said China and Uzbekistan have always respected each other, enjoyed good-neighborliness and worked together for mutual benefits. China is ready to work with Uzbekistan to implement the vision of a China-Uzbekistan community with a shared future and deepen all-around cooperation for mutual benefit, he added.
Pramod Jaiswal, research director at the Nepal Institute for International Cooperation and Engagement, said that in a highly interconnected world where nontraditional threats are on the rise, countries can promote peace and preserve the gains of development only through common development and cooperation.
Therefore, China's vision of building a community with a shared future for mankind is particularly worth appreciating, Jaiswal said, adding that he believes China has played a crucial role in the pursuit of the vision and will encourage more participation in implementing it.
People in Uzbekistan also said they believe the concept of a community with a shared future has changed people's lives.
Dinadana, 29, from Uzbekistan's Namangan region, said the construction of the Kamchiq Tunnel, which was built along the Pap-Angren Railway by a Chinese company, ended the long tradition of Uzbeks having to make a detour through another country while traveling domestically.
With a total length of 19.2 kilometers, the Kamchiq Tunnel was designed and constructed by China Railway Tunnel Group in a project that began in September 2013.
Construction of the tunnel was highly challenging, as more than 3,000 rock bursts — the violent expulsion of rock resulting from heavy pressure on brittle rock — occurred, the most serious of which caused a partial collapse of the tunnel.
CRTG organized a meeting of multinational experts for consultation on rock bursts and to draw up special plans, jointly conduct scientific research and formulate scientific methods for dealing with such bursts.
After construction of the tunnel was completed in 2016, stations and maintenance work stations were set up along the line. Many people have become railway workers, and their income is very good, Dinadana said.
As local transportation conditions have vastly improved thanks to the tunnel, the business potential of the Namangan region has increased, with a high volume of Chinese goods being sold or transferred to other regions from Namangan in the past six years.
Following construction of the Kamchiq Tunnel, the Uzbek government has turned to the Chinese company for another important infrastructure construction project — modernization of the Shargun coal mine.
Dinadana said she married a Chinese technician working on the project.
"We know each other from the Shargun coal mine and established a family in the common community with our shared future, and our love will last as long as the Sino-Uzbek friendship," Dinadana said.