Young generations seek self-healing
Share - WeChat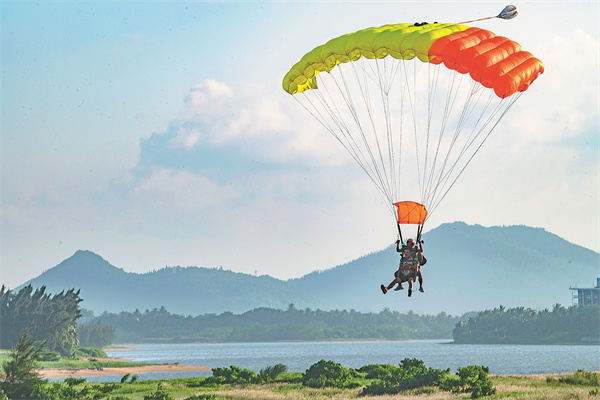 Amid Covid-19 and self-isolation, people look within to lower anxiety, ease depression.
On a recent Sunday afternoon, 15 young people laid cozily on colorful rugs and throw pillows arranged in a circle. Their eyes were closed, some with their legs stretched forward and others curled up, looking as if they were asleep.
Kong Yi sat cross-legged before them, using a special mallet to gently hit metal bowls in front of her, arousing a sound that reverberated long inside the quiet room in downtown Shenzhen, a fast-paced southern city in Guangdong province.
Following Kong's instructions, they participated in a two-hour sound healing and meditation session. Listening to the slowly fading sounds of ancient musical instruments such as singing bowls and gongs, participants reached a deeper center and a semi-conscious state.
After, they were guided into imagining that they were talking to a wise man dressed in white, during which they could ask questions and get answers from the wise man in half an hour. In the final section, they were encouraged to share their inner conversations with other participants.
"In that session, many people asked the meaning of life at the end but everyone gave different answers from the wise man — actually themselves," said Kong, who runs a studio offering healing courses incorporated with art forms like painting, music and dance.
Such spiritual, meditative experiences that can lower stress and anxiety and ease depression have become the latest option for the country's stressed-out younger generation seeking relaxation and inward exploration.
Among Kong's client groups are those who are interested in art and psychological healing — educated young white-collar workers who need to relax and full-time mothers who are eager to learn and talk.
Kong said: "The sleep-like phase, though only lasting half an hour, is very decompressing and relaxing, and many people wake up feeling like they've slept for a long time."
Through meditation and expression, the potential for self-healing in each individual has been brought out, which is a powerful process, she said. "They get rid of some thoughts that are not beneficial to life and feel relaxed at the end," she said.
The 37-year-old former university staff turned to studying art healing in recent years after being inspired on her first try in 2016. She observed that young Chinese who are open-minded are now willing to try art healing, which had little market a few years ago.
Kong attributed part of the reason to the frequent quarantine and social distancing practiced in the past three years for COVID-19 epidemic prevention which has changed people's way of dealing with stress.
"People used to go to the cinema, KTV, shop, eat and drink but now they tend to spend more time with themselves, which is a kind of ability that needs training, so sound healing and meditation that offer inner exploration is now welcomed by the public," she said.
Art therapy remains a niche in China, but Kong believes the market is expanding. In the post-pandemic era, people have growing stress relief and spiritual life needs.
Most Popular