Common endeavor
Share - WeChat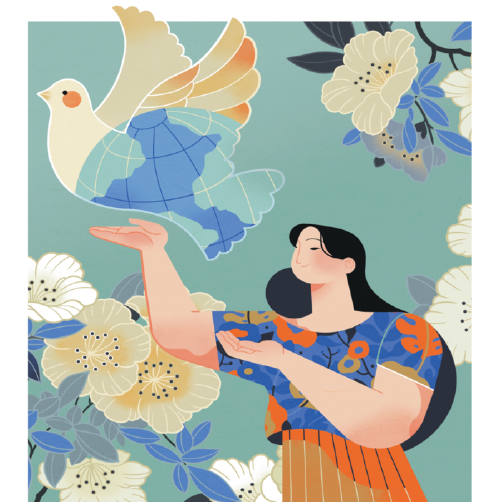 The Global Development Initiative is the most viable way to ensure peace and people-oriented growth
The world today is inundated with many problems and challenges, with the most pressing issues related to the question of world peace. This has been brought home forcefully to us by what is happening with the conflict between Russia and Ukraine.
Adding to this dangerous situation is the fact that the world is confronted with the devastation that is being visited on many countries due to climate change. This is causing an increase in natural disasters such as droughts and floods that cause loss of life and destruction of property. In many countries people are unable to eke out a living since farms are destroyed and so too are cities where homes and factories are damaged and destroyed by devastating floods or ferocious wildfires.
While we describe the destruction as being caused by the changing climate and natural disasters, they are actually caused by the overexploitation of the world's natural resources and the poisoning of the atmosphere by us humans. These lead to conflicts within and between countries which only compound the dangers.
To deal with these global problems, two approaches have emerged.
Developed capitalist states are particularly hostile to countries that take their sovereignty seriously and refuse to become neo-colonies. Countries that opt for a different socioeconomic path of development are particularly hated. We see this with the social and economic war launched against Cuba for more than six decades. The economic blockade and sanctions have made life particularly difficult for working people on that island, where people are forced and make great sacrifices to uphold their freedom.
The same has happened with Venezuela in more recent times. Many ruling parties in developing countries have become afraid of being destabilized and removed from office by the US and its NATO client states. They prefer to remain quiet in the face of grave injustice and security threats, to preserve their position in office. This attitude of many leaders is a result of decades of experience of how the imperial powers react to countries that try to assert their independence. This is seen often by the voting patterns at the United Nations on issues that the US feels strongly on.
Fortunately, there is an alternative path that is being pursued. This has become known as the Global Development Initiative, advocated by China.
Underpinning this initiative is an approach that China has been pursuing for quite some time in its relations with the developing world.
This initiative is rooted in the belief that these global problems can be solved not through competition or conflicts, but via cooperation and peaceful coexistence. China is of the view that at the root of many global problems is the issue of poverty and inequality.
China's relations with other countries are aimed at helping them to extricate their peoples from poverty and increasing wealth that can be shared.
If all or most countries adopt this position, then it will engender cooperation and better relations among people. It would reduce tensions and prevent wars.
This is at the heart of China's Belt and Road Initiative.
Real and sustainable development must be people-oriented; it has to be aimed at eliminating poverty, ignorance and other social ills.
Development must lift poor countries out of their misery. It should help them build industries in which not just jobs are created, but the toiling masses have a stake and a say in their progress. It must enhance non-material things such as culture.
The Global Development Initiative envisages not a transfer of old and dirty industries to the developing world, but a leapfrog transition to the use of clean technologies and being able to produce high-end goods and services while protecting the environment.
To this end, China is advocating the enhancement of human capital. It puts much emphasis on education and health. The world would certainly be a much safer place if people are educated and healthy. The aim is to produce a sound mind in a healthy body.
A population that is enlightened and healthy would be able to innovate and become much more creative in their daily lives. This is a population that would abhor wars and conflicts between and among peoples.
In light of the dangers posed by climate change, development has to progress in genuine harmony with nature. This is indispensable since the world is confronting an ecological catastrophe. Therefore, we have to work to repair the damage done by previous generations as well as ourselves.
The Global Development Initiative is designed not just to halt the degradation of the environment but to reverse the damage done and restore nature. We as a species and nature must advance in a harmonious way in which the two elements enhance each other by respectively providing protection and services.
This initiative has been well thought out. China does not seek to have the leading role. It sees itself working with the rest of the world in a multilateral effort. International bodies, such as the United Nations, are being urged to play a more prominent role.
In this way mankind can build a world where all its peoples feel safe and poverty is eliminated completely from all corners of the world.
This Global Development Initiative deserves support from all progressive and democratic forces. It is the most realistic plan in place to ensure peace and prosperity for mankind.
The author is the former president of Guyana. The author contributed this article to China Watch, a think tank powered by China Daily. The views do not necessarily reflect those of China Daily.
Contact the editor at editor@chinawatch.cn.
Most Viewed in 24 Hours
China Views