Wuhan's Yangtze bridge good for decades to come
Share - WeChat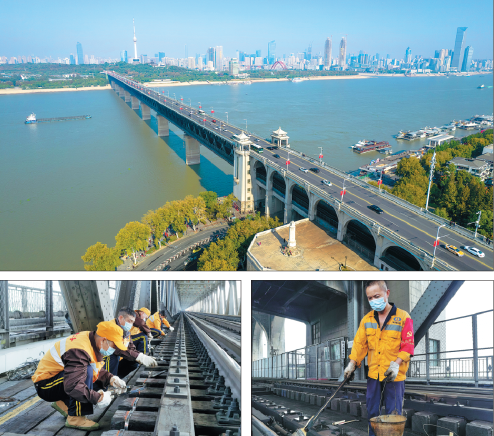 Clockwise from top: The Wuhan Yangtze River Bridge is a landmark in the capital of Hubei province. A maintenance worker cleans a section of the railway running through the bridge. A team of maintenance workers works together on the bridge. CHINA DAILY
The Wuhan Yangtze River Bridge, originally built to last 100 years, should now survive for more than a century and a half, maintenance workers recently claimed confidently.
The bridge celebrated its 65th anniversary in October but is still young and could safely be used for many more years, according to Huang Wei, a workshop director with the bridge's administration.
The main structure and associated adjuncts remain intact after six decades of traffic, Huang said, adding that this was the result of generations of maintenance workers protecting and caring for the bridge, which was the first to span the Yangtze.
Huang Zhiguo, a young maintenance worker, patrols the bridge every day. He removes rust, polishes and paints the structure and replaces screws. "It needs to be carefully taken care of to remain safe to use," he said.
Particularly talented at painting steel beams, Huang is a self-taught maintenance expert.
He likes to study technology and has developed seven bridge-related machines and tools, improving operation efficiency and reducing the need for labor.
Nie Yalin, another maintenance worker, said the extension of the bridge's life will require not only sophisticated maintenance, but also a spirit of excellence and responsibility.
"The bridge is 1,670 meters in length. Its construction involved over a million rivets, 224 large pipe columns and 126,300 cubic meters of reinforced concrete," the 52-year-old said, adding that the figures are etched into his memory.
He has worked on the bridge for over 30 years.
"Back when we were starting out, we had to do all the maintenance by hand, but now many tasks have been mechanized, and bridge maintenance has qualitatively improved," he said.
Nie's workshop has begun to use advanced technology and equipment to help accelerate the construction of an "intelligent" bridge in recent years.
Surveillance cameras have been installed at key locations, allowing workers to fully monitor real-time conditions around the clock from the safety command center.
As a second-generation maintenance worker, Nie said that many of his colleagues are also second-and third-generation maintenance workers and that he has a strong attachment to the bridge.
Zhang Zhigao, a third-generation maintenance worker, has a reputation for being an inventor among his peers.
He and his team have developed a multifunctional trolley that can run on railway tracks, walking boards beside the beams, earthen roads outside the safety net and other parts of the bridge.
It is easy to operate and can carry loads of up to 500 kilograms, making it 16 times more efficient than doing things manually, Zhang said. His invention not only reduces costs and improves labor efficiency, but also greatly extends the working life of bridge equipment, helping to ensure the bridge is always in good condition.
Since it opened, the bridge has had no structural problems thanks to the care given by generations of maintenance workers.
Located in Wuhan, Hubei province, the bridge is a major north-south artery. It was opened to traffic in 1957 as one of the first great construction achievements of New China, and helped turn Wuhan into a railway transportation hub.
Since opening, the designated speed of trains crossing the bridge has increased from 35 to 300 kilometers per hour, and the travel time from Wuhan to Guangzhou, Guangdong province, has been reduced from 44 hours to less than four.