Vaccination drive targets elderly in Guangzhou
Share - WeChat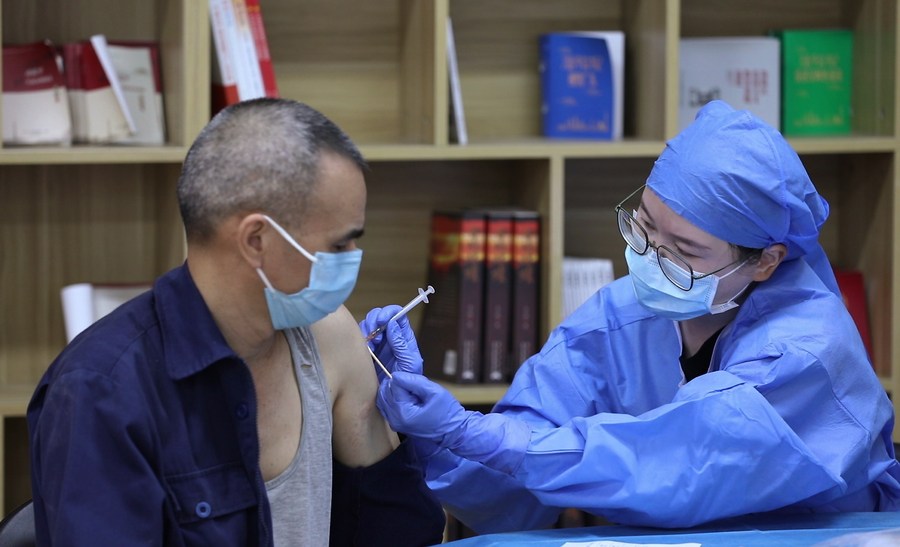 "It is very convenient and I am OK, don't worry."
Gu Qiongzhi, 75, reassured her family members over the phone after she had received her third dose of COVID-19 vaccine at a vaccination site for elderly people in Guangzhou's Huangpu district on Tuesday.
It took only minutes for Gu to complete her vaccination against the novel coronavirus, she said.
Gu was one of many at the elderly care center where she lives to get vaccinated on Tuesday.
According to Zhang Zhijin, deputy Party chief of Changling subdistrict, special vaccination events are being held across the subdistrict aimed at getting the elderly inoculated against COVID-19.
"Many senior residents have now been vaccinated against the novel coronavirus in the subdistrict," he said.
To ensure the safety of vaccination for the elderly, the vaccination sites include waiting, evaluation, vaccination and observation areas, and are equipped with medical facilities, an ambulance and first-aid medicines, Zhang said.
Three doctors are available to provide medical services to the elderly on-site and answer their questions, he said.
Before an elderly person is vaccinated, the doctors carefully ask them about their medical history and drug allergy history, remind them of the contraindications of vaccination and precautions to ensure maximum safety.
Huangpu district, hit hard by a recent outbreak of COVID-19, has 24 vaccination centers, covering 17 subdistricts and townships.
Each vaccination center offers free shuttle buses for the elderly, according to a statement released by Huangpu district government on Wednesday.
Medical workers are also providing door-to-door vaccination services for the disabled and those with mobility issues, the statement said.
Research shows the risk of severe illness and death is higher among elderly people infected with COVID-19, and that vaccination can greatly reduce the risk of severe illness and death after infection, it said.
More than 1.46 million people in Huangpu have been vaccinated against COVID-19 as of Monday, it said.
Of them, 99,853 people aged 60 and above have been vaccinated with at least the first dose, representing 93.9 percent of the total. And 93,867 of them have been fully vaccinated with three doses, accounting for 88.3 percent of the total, it said.
Inhaled COVID-19 vaccination will be made available to residents in Huangpu district starting this week, the statement said.
Inhaled vaccine can produce mucosal immunity and inhibit virus colonization and propagation in the respiratory tract, local immunization experts said.
In addition to Huangpu, the districts of Baiyun, Huadu and Zengcheng have also opened green channels for the elderly to get vaccinated.
Yang Yanze, executive deputy head of Baiyun, said the district government has required all the hospitals and community health centers to open vaccination sites.
Special working teams have been established to provide door-to-door vaccination services for the elderly, he said.