Bird mimic masters the tricks of his trade to help conserve species
Share - WeChat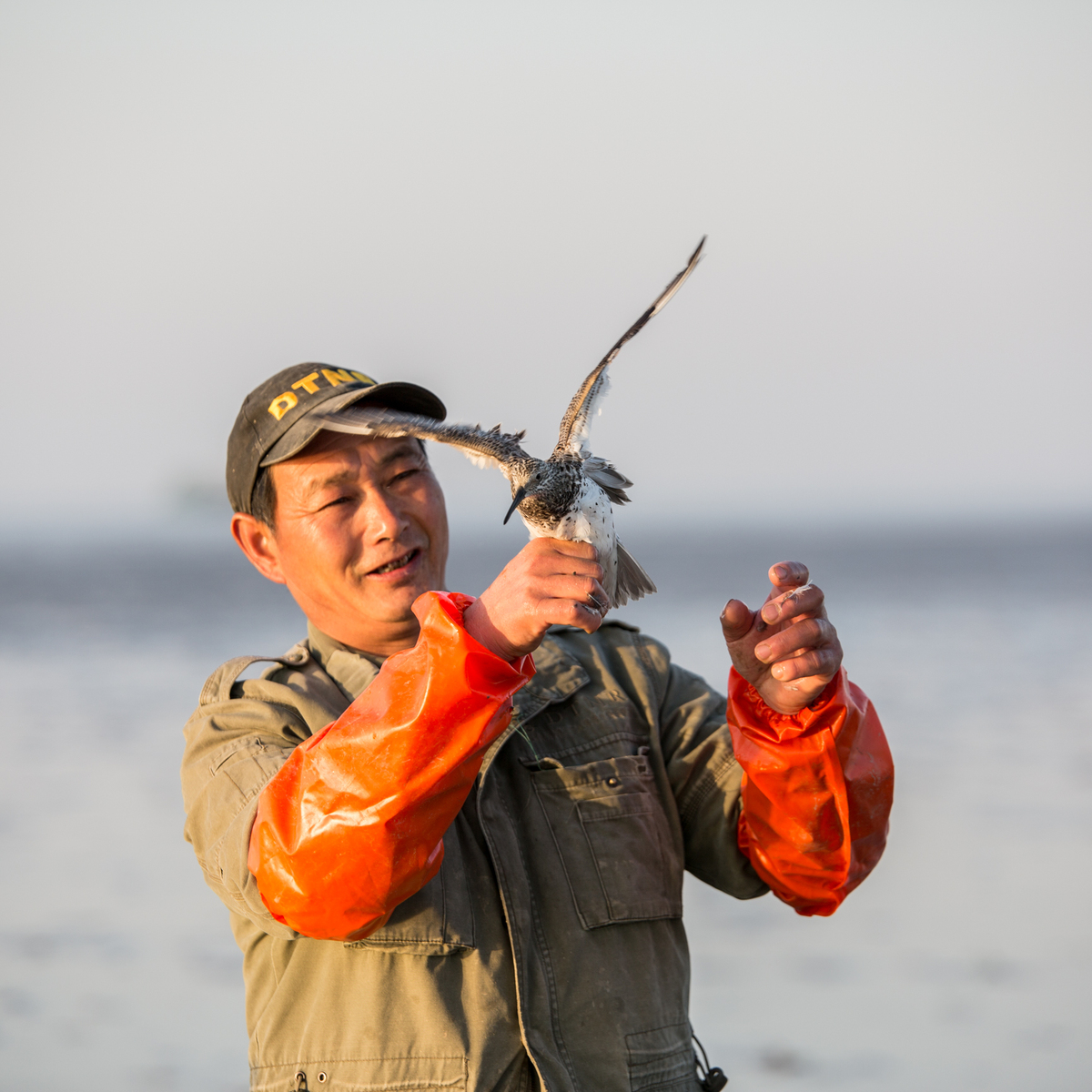 Jin Weiguo has used his ability to mimic the sounds of 60 types of birds to good effect.
He first turned to such trickery to catch birds more than two decades ago, and has since become fully skilled in this work.
This year, Jin's efforts to conserve avian species saw him selected as one of China's 100 model environmental protection volunteers.
A native of Baxiao village, Chongming Island, Shanghai — China's third-largest island after Taiwan and Hainan — the 62-year-old started learning to mimic bird calls from his father at the age of 8.
"At a time when people had little awareness of the need to protect birds, some locals depended on this skill to make a living," he said.
When he was 12, Jin captured his first bird. As he grew up, his increasingly proficient skills in mimicry made him well-known locally as someone who could understand the language of birds.
Living close to Dongtan Wetland, which lies on the East Asia-Australia route for migratory shorebirds — one of eight major avian migration routes globally — Jin was able to catch many birds. With favorable weather conditions, he captured more than 100 in just one day, and sometimes earned several hundred yuan or even 1,000 yuan.
In spring, Dongtan is the first stopover for many birds heading north. When they fly back to their wintering grounds in the southern hemisphere in the fall, it is their last food supply station.
Since Dongtan National Nature Reserve was established in 1998 to enhance the conservation of birds and the local wetland ecosystem, researchers have visited it to carry out surveys and research. Attracted by Jin's achievements, many of them often turned to him for help in capturing birds for scientific research, without causing the birds harm.
In spring 2002, workers at the reserve started to place bands on birds to chart their migratory patterns. Invited by the reserve to support this work, Jin had no hesitation in accepting the offer.
That year, he captured about 2,000 shorebirds. To date, Jin has caught nearly 40,000 such birds for researchers from the reserve and other institutions.
His work at the reserve is never easy. For at least two months of the year, Jin rises at about 3 am. After setting his snare, he takes out a bamboo whistle and starts to mimic calls about 40 meters from the snare to attract the birds.
His trickery works because he places a specimen bird in the trap, which makes other birds think there may be something to eat on the ground. Once a bird enters the trap, Jin pulls a rope to close it.
His work has resulted in him being invited to attend international events. For example, in 2018, he was asked to take part in a seminar on bird conservation in Australia.
Thanks to the efforts of Jin and his colleagues at the reserve, the number of bird species seeking shelter on Chongming Island is rising.
In 2015, the reserve recorded 290 species, but the figure has since climbed to 300, with 77 species under first- or second-class national protection.
For some time, however, one issue has been giving Jin cause for concern.
Many of those such as his father who mastered the skill of mimicry have either died or are too old to continue the practice. Among Jin's generation, few are as adept in the art as he is, and he has found it difficult to pass on his skills.
"The work is laborious, tiring, and the salary is low. Few people nowadays are willing to learn this job," he said.
Jin should have retired two years ago, but he has remained in his job at the reserve to help capture birds. He finally accepted two apprentices a couple of years ago, but stressed that years of arduous and consistent efforts are needed to master the skill of mimicking birds.
"At least one of my apprentices is making satisfactory progress," he added.