Sales on rails as farmers livestream
Share - WeChat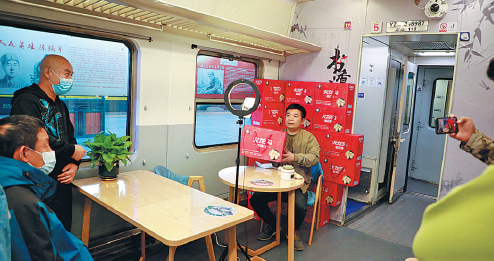 High-speed trains in China often impress people, but some of its older, slower trains are finding ways to serve passengers with different needs.
An online livestream recently conducted on a train between Changting town and Mudanjiang city in Heilongjiang province attracted viewers across the country.
Jia Mingxuan, a farmer from Huolonggou village in Changting, hosted the livestream to promote his doubao, a sticky steamed bun stuffed with sweetened bean paste. It's a popular snack in Northeast China.
"We have received another harvest of quality corn this autumn," said the 39-year-old, who runs a doubao factory. "In our village, every family makes doubao, which is also a way to keep family bonds tight as everyone sits together to make and sample the delicacy."
Before starting his own business with his father in 2012, Jia made money in Qingdao, Shandong province, as a barber. "I was forced to live far from my parents and had few chances to return home each year. During a trip on the slow train to my village during Spring Festival in 2012, a notice board in the carriage with information about local agricultural products caught my attention," he said.
Back then, Jia said, the local farmers weren't good at marketing their high-quality products, and it was difficult for them to travel to big cities to make sales.
"At the time, residents began to try to find other ways to get their produce out," he said. "The railway department was also helping more, so I thought about returning to my hometown."
In the spring of 2012, he opened a small family workshop in the village with his parents, who have a talent for making doubao. To promote their products, Jia traveled to different parts of Mudanjiang.
"The old-fashioned slow trains, which are painted green, became my preferred choice of travel," he said. "Information about our products was also featured on the carriage notice board, which greatly helped increase their popularity."
The 74-kilometer rail line makes 11 stops, most of which are in mountainous areas with underdeveloped roads, according to the China Railway Harbin Group.
Gradually, the family's doubao became a well-known brand in the surrounding areas, and their annual income rose to over 100,000 yuan ($14,043).
In 2017, they expanded their workshop into a 3,000-square-meter factory and began large-scale production.
Their doubao gained even greater popularity and are now sold to people in 10 provincial-level regions, including Beijing, Shanghai, Tianjin and the provinces of Liaoning, Hebei, Shandong and Hainan.
Last year, annual sales topped 1.8 million yuan.
The factory employs 50 villagers as well as residents of three nearby villages.
The train, which has served those along the route for over 60 years, was given air conditioning in July and repainted in October, and now offers a more comfortable travel experience.
"We've created three themed carriages to help farmers and migrant workers, as well as to show different cultures," said Liu Xudong, a conductor who has worked on the train for 12 years. "To better serve residents along the route, we also set up a WeChat group for them to exchange information on marketing agricultural produce, employment and even medical consultations."
That was when Jia had a new idea.
"The train has become distinctive," he said. "And livestreaming is a good way to promote local products."
Railway workers on the train have been very supportive. They have set up a special area in the themed carriage for farmers to do livestreams, with Jia being the first host.
During the course of the journey, Jia introduced his products to customers and pointed out beautiful landscapes along the way.
"During the autumn, viewers were able to see the golden harvest landscapes as the train passed through vast farmlands," he said. "Now I have begun to look forward to winter so I can show them spectacular views of snow and ice."
In addition to doubao, Jia has also helped villagers sell goods such as honey and chicken.
"It works well, and I have received a warm response," he said. "Thanks to the new method, there has been an obvious increase in sales. I hope more farmers will join us in this unique livestreaming room and improve their lives."