Smart tech beats industry woes
Share - WeChat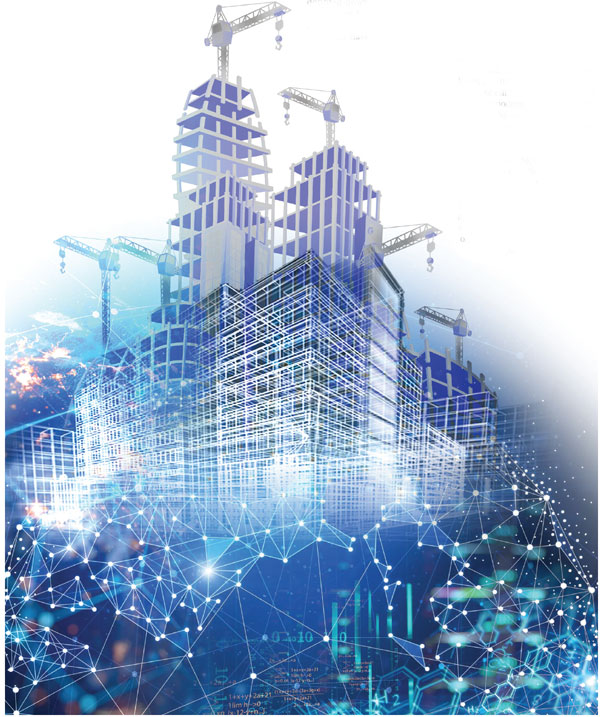 Hong Kong's construction industry is among the key beneficiaries of advanced technologies amid a workforce crunch. Liu Yifan reports from Hong Kong.
Hong Kong architectural engineering company So Li Ah has witnessed the local construction industry's long boom. With more than two decades of experience in steel reinforcement engineering, the company has undertaken a number of large-scale building projects in the city.
But, like many traditional industries, So Li Ah and its peers are facing pressing problems arising from an aging workforce. As more young people see jobs in the construction sector as a career meant only for the older generation, bringing new blood into the trade has become increasingly difficult.
Together with the huge workload that relies mainly on on-site manpower, there are also problems concerning the structural safety of buildings, as well as work-related accidents to contend with.
In light of such challenges, So Li Ah felt the urgency for change, and found technological applications a good bet. In February, it launched Hong Kong's first intelligent factory project for prefabricating construction components. The new plant and workshop, expected to cover an area of more than 30,000 square feet (2,787 square meters) on completion by early 2024, can flexibly weld different types of rebar couplers.
By leveraging advanced technologies, such as the industrial internet of things, machine automation and real-time logistics tracking, the facility can increase production capacity by eight or ninefold, with an estimated daily output of up to 4,200 pieces, said Kwok Mok-shui, director of So Li Ah.
"The real-time data can also support predictive maintenance of machines, avoiding the risk of unexpected downtime and relevant financial losses, thus reducing overall production costs by 30 percent," he said.
Increasing incentives
So Li Ah's smart transformation project binds well with the Hong Kong Special Administrative Region government's growing investments in infrastructure and housing projects that offer immense opportunities in the construction sector.
A string of mega projects, including Kai Tak Development and the Northern Metropolis, are being rolled out in phases. Several public transportation projects are also in the pipeline, such as the Hong KongShenzhen Western Rail Link, the Tseung Kwan O Line Southern Extension and the Central Rail Link.
In his maiden Policy Address, Chief Executive John Lee Ka-chiu doubled down on plans to alleviate Hong Kong's acute housing problem by building cheaper public rental flats and applying the Modular Integrated Construction method to increase public-housing supply.
"MIC is an innovative construction method," said Edmund Lo, economist at the Hong Kong Trade Development Council's Asian and emerging markets research team. "By adopting the concept of 'factory assembly followed by on-site installation', free-standing integrated modules are manufactured at the factory and assembled on the construction site."
He said it's critical for Hong Kong's construction industry to promote efficiency and innovation by using modern building methods and techniques, information technology, and automation technology in a competitive global environment.
To promote adopting technology with proven effectiveness in boosting productivity, the quality of buildings, as well as site safety, the HKSAR government has launched a HK$1-billion ($127-million) Construction Innovation and Technology Fund. The program will benefit companies using the MIC model, prefabricated steel rebars and other advanced technologies, such as automatic wall plastering machines.
As of last year, more than 2,200 CITF applications had been approved, with total grants exceeding HK$550 million, according to the HKTDC. Since January, the Development Bureau has raised the funding ceiling, expanded the scope of financing, and streamlined application procedures to give the construction sector a shot in the arm.
More intelligent lines
Smart Technology Global, another local construction firm, has also given technological transformation top priority with plans to build four smart production lines at Yuen Long InnoPark for prefabricated steel reinforcing bar parts.
With lean production as its goal, the production process for rebar precast parts will be optimized without affecting other processes and with minimal moving distance, to reduce the occurrence of crossover and reverse flow, according to the Hong Kong Productivity Council, which is offering technical consultancy services to STG in designing and building its new production site.
"Introducing intelligent production in the bar bending and fixing industry can further promote the large-scale development of MIC in Hong Kong, and serve as a model for other trades in the construction business," said HKPC Executive Director Mohamed Butt.
Besides real-time data management, a digital enterprise operating system will be launched, employing a digital order management system and an internal logistics tracking system to keep tabs on the production progress and delivery status of the orders.
"The output and quality of the products are expected to go up by 50 and 70 percent, respectively," said STG Director Joe Leung. "At the same time, it can save 30 percent in production costs, reduce rebar surplus material waste by 90 percent, and cut inventory and logistics costs by about one-fifth."
Leung believes the intelligent production line will also attract people of different ages and genders, increase the proportion of medium and high-tech talents, and further improve the working environment, occupational safety and the health of workers.
Contact the writer at evanliu@chinadailyhk.com