Policy targets product endorsements
Share - WeChat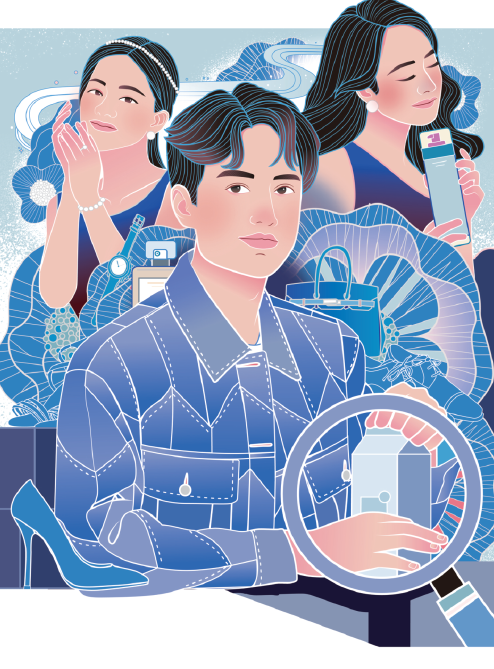 Guideline aims to boost governance over celebrities, companies to curb bad behavior
A guideline on further regulating celebrity endorsements was released to improve governance of China's entertainment industry and provide new institutional support.
It was released by seven central departments, including the State Administration for Market Regulation, the Cyberspace Administration of China, the National Radio and Television Administration and the China Film Administration.
In order to improve the governance of the industry, the guideline calls for all parties involved to strictly implement laws, regulations and requirements.
In recent years, China has launched a number of policies to address problems in the entertainment industry in an effort to curb bad behavior — including a nationwide campaign to purify the online environment, an order to limit the salaries of performers and a push for strict investigation of suspected tax evasion.
"Celebrity endorsements are a double-edged sword. Businesses can use the 'star effect' to attract customers, but on the other hand, if a celebrity gets into trouble, it may not only damage the brand but also lower the celebrity's social status," said Jiang Heting, a partner of the East& Concord law firm's Shanghai office. "More importantly, it will directly damage the interests of customers."
She added that in recent years, some products endorsed by celebrities haven't been as good as advertised, "which has affected the normal market order and caused widespread social concern. Rectification is urgently needed."
In May, the market regulation department in the Tianhe district of Guangzhou, capital of Guangdong province, confiscated about 2.6 million yuan ($358,000) from actress Jing Tian, money that she had earned from endorsing a poor product, and fined her an additional 4.6 million yuan for her involvement in the advertising.
Jing endorsed a candy made out of fruit and vegetables that claimed it could "prevent the absorption of fats, oils and sugars".
It was later discovered that it was an ordinary sweet and had no such ability.
Authorities determined that the actress was aware of the laws and regulations prohibiting the marketing of ordinary foods as health products, and she had not properly verified the efficacy of the candy she endorsed. As such, she violated the Advertising Law and is barred from endorsing any products for three years.
The law is supported by local compliance guidelines that have been issued by various provincial-level regions around China.
Shanghai, for example, issued a compliance guideline for commercial advertising endorsement activities in February, and Zhejiang province released a similar document in November last year.
"The Advertising Law only clarifies the basic rules of advertising publication and content, without specific supporting guidelines," Jiang said, adding that the various guidelines issued are only applicable within their jurisdictions, so their influence is limited.
"The new guideline is meant to be fully integrated with existing laws, regulations and policies, which target market competition, industry management, regulatory enforcement, industry self-regulation, social supervision more comprehensively," she said.
According to Jiang, the main appeal of celebrity endorsements is that they work for many different products and have widespread influence.
The new guideline creates a system of multiparty governance that fully enables the roles played by joint departmental education and guidance, industry management and post-event supervision.
As the guideline meticulously stipulates the standards of conduct for celebrities endorsing products and for businesses in choosing celebrities, Jiang believes it will effectively help "rein in a wild horse".
Celebrities and companies now have a clear understanding of what they can and cannot do and will be able to behave in a manner appropriate to the guideline, Jiang said.
The guideline emphasized that the celebrity in question — not their agency — will be punished for making false or illegal endorsements.
It also clarifies the responsibilities of celebrities.
"Before making an endorsement, a celebrity should conduct a background check of the company, to determine whether it meets all production and operation qualification standards, and whether the products or services in question meet quality standards and regulatory requirements. They should also review advertising scripts," Jiang said.
The guideline also explicitly highlights what behavior is not allowed. For example, celebrities must not recommend products or services they themselves haven't used and are not allowed to exaggerate the efficacy of a product.
According to Jiang, the guideline also clarified behavior that constitutes endorsement, such as recommending products during entertainment programs, talk shows or livestreaming shows or when playing a role in film or on television.
Xiao Yingying, associate professor at the School of Cultural Industries Management at the Communication University of China, believes that as celebrities are high profile and have fans, their endorsements are more influential, especially through today's assorted channels of communication.
"In the internet era, fans are able to interact with celebrities, and their connection is stronger than before," Xiao said, adding that the internet also extends and deepens a celebrity's exposure, which also strengthens their influence on fans.
Meanwhile, with the emergence of virtual communities, fans can create groups, further amplifying their love and admiration of their idols.
"Celebrities have advantages that ordinary people don't have in promoting product exposure, shaping brand image and encouraging purchasing," Xiao said.
As public figures, they often set the tone when it comes to culture and values, so they should not only respect and abide by the rules of society — making endorsements in accordance with the law, paying their taxes and accepting reasonable wages — but also serve as role models and behave properly, she said.
The guideline covers the entire endorsement process, from consultation and negotiations between advertisers and spokespersons, to the release of the ads.
Besides outlining rules for celebrities, it provides guidance for both companies and publishing platforms, stating that they should take care when selecting an endorser, and that platforms should strengthen content management, improve their reviews of ads and set up a strict mechanism for handling those that are misleading.
"This guideline draws a red line under celebrity endorsements," Xiao said. "It aims to regulate the market order, protect consumer rights and interests and promote the healthy development of the industry."
liyingxue@chinadaily.com.cn