US House set to block rail strike
Share - WeChat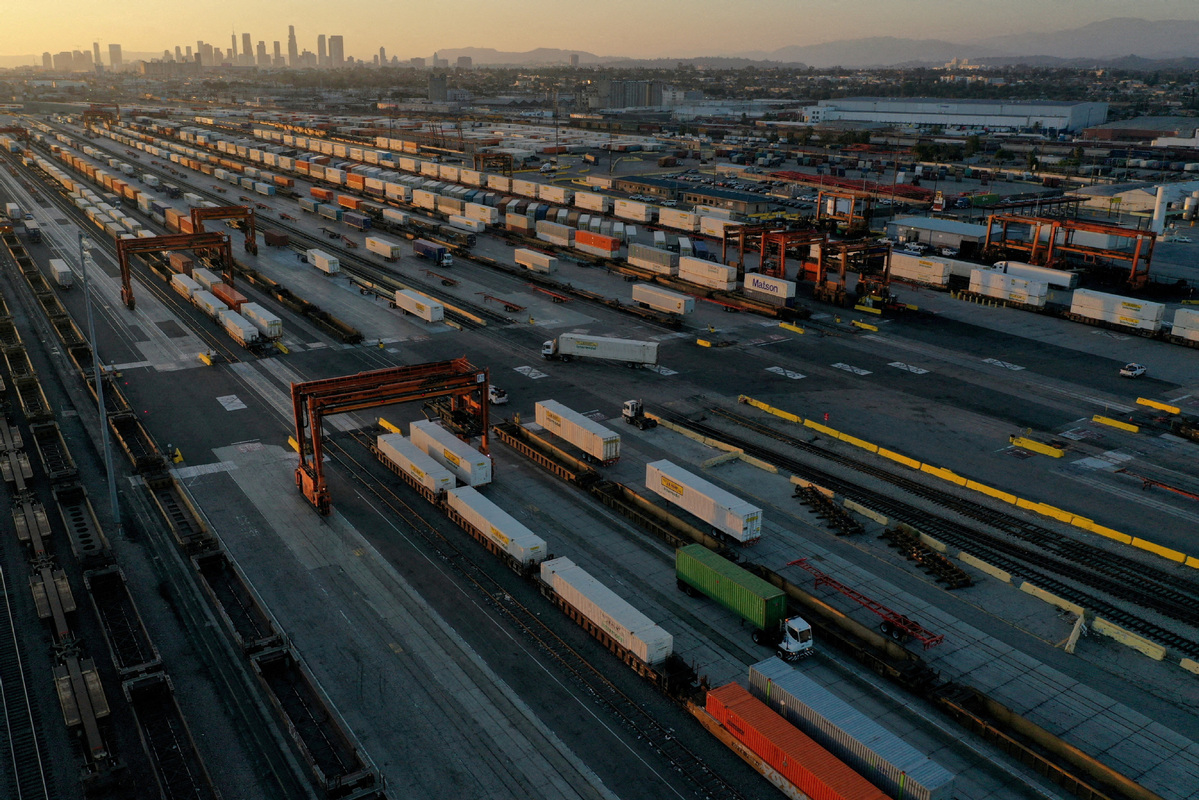 The US House of Representatives plans to vote Wednesday to block a potential rail strike next week, which President Joe Biden warned would be "catastrophic"' to the economy.
The Democratic-controlled House will impose a tentative White House-brokered compromise struck in September on a dozen unions representing 115,000 workers, Speaker Nancy Pelosi said. "I don't like going against the ability of unions to strike, but weighing the equities, we must avoid a strike. Jobs will be lost. Even union jobs will be lost," she said.
Biden on Monday urged Congress to act, saying up to 765,000 Americans could lose their jobs in the first two weeks of a strike.
"Congress, I think, has to act to prevent it. It's not an easy call, but I think we have to do it. The economy is at risk," Biden said.
The impact of a possible strike on Dec 9 is already being felt. Chemical companies and essential product manufacturers have been making plans to avoid rail shipments. Nonworking train lines would halt supply chains for commodities like lumber and coal and delay deliveries of automobiles, produce and other consumer goods, driving up prices.
The US Chamber of Commerce and some 400 business groups representing a wide range of industries from meatpackers to jewelers sent a letter to Congress on Monday saying the looming rail strike is of "grave urgency" and called for Congress to intervene.
House-approved legislation would go to the Senate. But it isn't clear that the evenly divided upper chamber could act quickly. There could be divisions among Democrats who are pro-union and those whose top priority is heading off a strike.
Senate Minority Leader Mitch McConnell of Kentucky told reporters that "we're going to need to pass a bill" to avert a railway strike, suggesting that Republicans didn't intend to try to block such a move.
In a statement Monday, Biden himself expressed sympathy with the workers: "As a proud pro-labor president, I am reluctant to override the ratification procedures and the views of those who voted against the agreement. But in this case — where the economic impact of a shutdown would hurt millions of other working people and families — I believe Congress must use its powers to adopt this deal."
The Brotherhood of Maintenance of Way Employees, one of four unions that voted against the contract, objected to Biden's call to Congress to intervene, saying "the railroad is not a place to work while you're sick. It's dangerous ... it is unreasonable and unjust to insist a person perform critical work when they are unwell."
There are no paid sick days under the tentative deal after unions asked for 15, and railroads settled on one personal day.
Railroad companies have been negotiating with the unions for the past three years. In August, a presidential emergency board established by Biden recommended a compromise. The two sides reached a tentative agreement in September that would raise wages and give workers an additional paid day off but doesn't meet their demands for paid sick leave.
Most of the 12 unions that must ratify a new contract have voted to approve it, but four of them voted to reject it.
Congress has intervened at least 18 times since the passage of the Railway Labor Act in 1926 to prevent crippling strikes and it has acted rapidly at times. Lawmakers halted a 1991 strike in less than 24 hours.
The last time that Congress intervened to settle a nationwide rail dispute was in 1992, when the International Association of Machinists launched a nationwide strike. Congress stepped in to stop the strike two days later and it was signed by President George Bush the same day.
Agencies contributed to this story.