Food banks also feeling inflation's pressure
Share - WeChat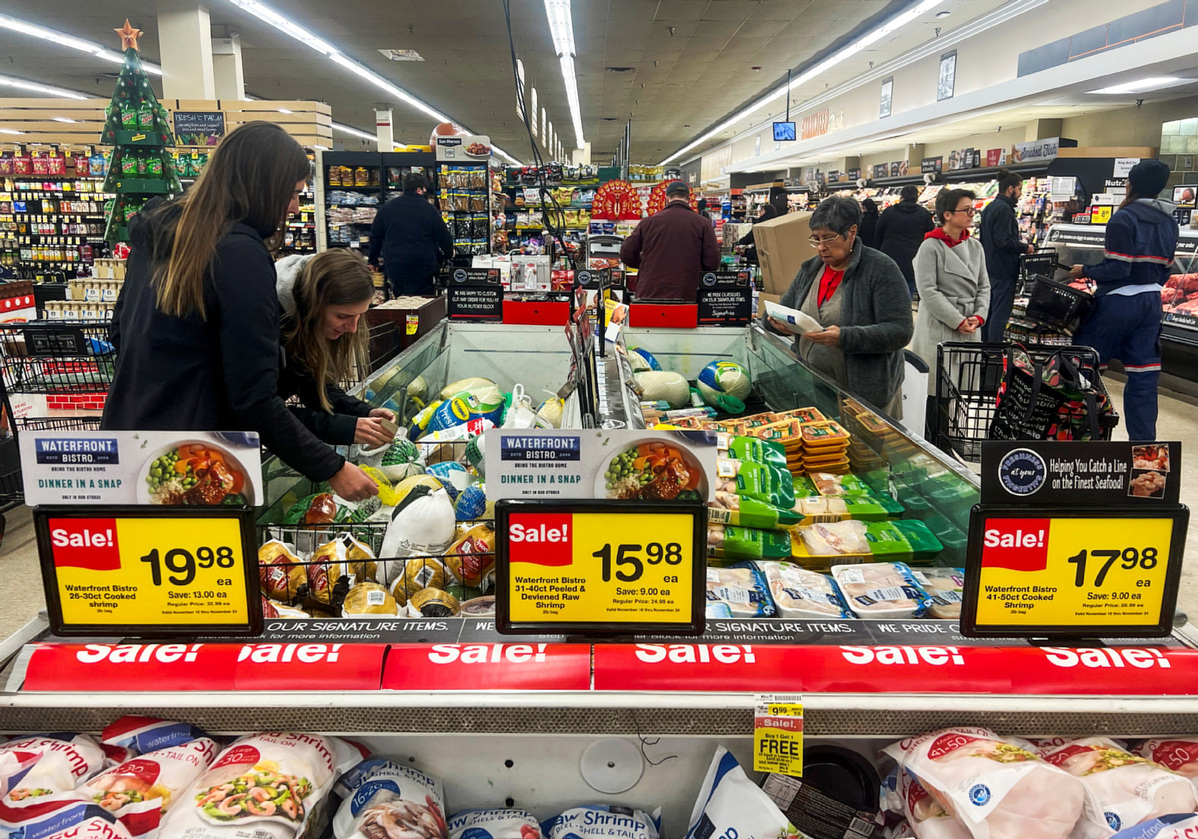 The rising price of food is being felt not only by US households but at food banks across the country looking to help the less fortunate.
"The story of 2022 is inflation, the inflationary food prices," Katie Fitzgerald, chief operating officer at Feeding America, a nonprofit overseeing more than 200 food banks across the country, told USA Today.
Among Feeding America's food banks, more than 40 percent are running a deficit trying to supply enough food.
"And that is just not sustainable," she said.
In New Jersey, people are having to cope with high food prices while also dealing with soaring housing and fuel costs.
Carlos Rodriguez, president and CEO of Community FoodBank of New Jersey, said he's seen at least a 15 percent increase in demand over the last year, with a 40 percent rise in early summer, nj.com reported.
"Unfortunately, the truth is that for many of the households that are at risk of being food insecure, or (are) food insecure, rent eats first," Rodriguez said, adding that he's seen "exorbitant" three-digit rental increases.
"You have to pay (for) your house, otherwise your life gets even more complicated than having to sacrifice the nutritional value of your food, or as a parent, go without food so you can feed your children," he said.
In New Jersey, an estimated 657,000 people — including more than 175,000 children — were food insecure in 2020, according to state data, nj.com reported.
Fred Wasiak, president and CEO of the Food Bank of South Jersey, said that before the pandemic, the nonprofit served about 47,000 people monthly — now it is about 100,000.
"When the food prices and the gas prices jump, the people at the lowest levels obviously have no extra wiggle room in their budget to cover that kind of expense," he told nj.com. "So I think that coming in for food, for a hot meal, coming in for food bags is where people make it."
For the last 25 years, Liz Gomez has worked at the Alameda County Community Food Bank in Oakland, California.
"Back when I started, it was known that Thanksgiving month was the busiest time for food banks," she told CBS Bay Area. "Now every month is busy for food banks."
Before the pandemic, her food bank distributed about 2.5 million pounds of food each month; it's now 4.5 million.
"When anybody goes to the grocery store, they're feeling that pinch that their grocery bill is $20 higher, $40 higher, and imagine that when you're already working paycheck to paycheck," Northwest Harvest Chief Advancement Officer Laura Perez Hamilton told KSTW, a CBS affiliate in Seattle.
"Food that, typically, we would have (had) donated from a large food distributor, for example, we are now having to pay for, and we're seeing those prices going up, and we're competing with grocery stores who are also needing to keep their shelves stocked," she said.
Lisa Davis is the director of the Helpful Harvest Food Bank in the small town of Speedway, West Virginia.
"We do get some government-allocated food, but it's not enough to keep up with our numbers, so we've been purchasing food," Davis told West Virginia Public Broadcasting. "And some weeks our food purchases are $1,300 for two weeks' supply, and our shelves are empty, sometimes before the end of the second week.
"Some of these people walk two and three miles to get this food and they walk back with it," Davis said. "I have no idea how they carry it that far."
She said it's not just lower-income families seeking help.
"We have lower-income college students who utilize our services, and quite a few of them," Davis told the broadcaster. "We have seniors who can't quite make it off of their fixed income. There seems to be less stigma around the food banks now."
Eric Peyatt, vice-president of operations at Mountaineer Food Bank, said, "We've been able to really work with a lot of farmers lately and get some perishable items (donated), such as our produce."
The Rhode Island Community Food Bank released its annual report on hunger to coincide with Thanksgiving week, The Associated Press reported. The food bank found that food insecurity is three times more prevalent than before the pandemic, with 31 percent of Rhode Island households surveyed saying they were unable to afford adequate food, up from 18.4 percent in 2021.
In Texas, San Antonio Food Bank President Eric Cooper told USA Today: "With the demand being so great, the supply being so short, and inflation being high, it's just a perfect storm for long lines at the (food) bank."
The Tarrant Area Food Bank's (TAFB) mega mobile markets recently fed over 15,000 Texas families, about 5,000 more than the same time last year, the Fort Worth Star-Telegram reported.
The TAFB will have distributed 68 million pounds of food this year, up from 36 million pounds pre-pandemic.
"You've got people who need help because they're feeling the impacts of inflation, and it's affecting their household budgets, and they can't get that dollar to stretch as much as they'd like," said Julie Butner, TAFB president and CEO.
The Tarrant food bank is spending $1.5 million more monthly on food compared with last year. Inflation, hovering around 40-year highs, also had an impact on operations — the utilities bill is twice as much as it was last year for three buildings, and fuel costs have increased for the 18 long-haul vehicles used to transport food across 13 counties.
"We're giving, but we're not able to give as much as we gave last year because we don't have the surplus, and it's kind of a perfect storm," Butner said.