Strike hits UK universities
Share - WeChat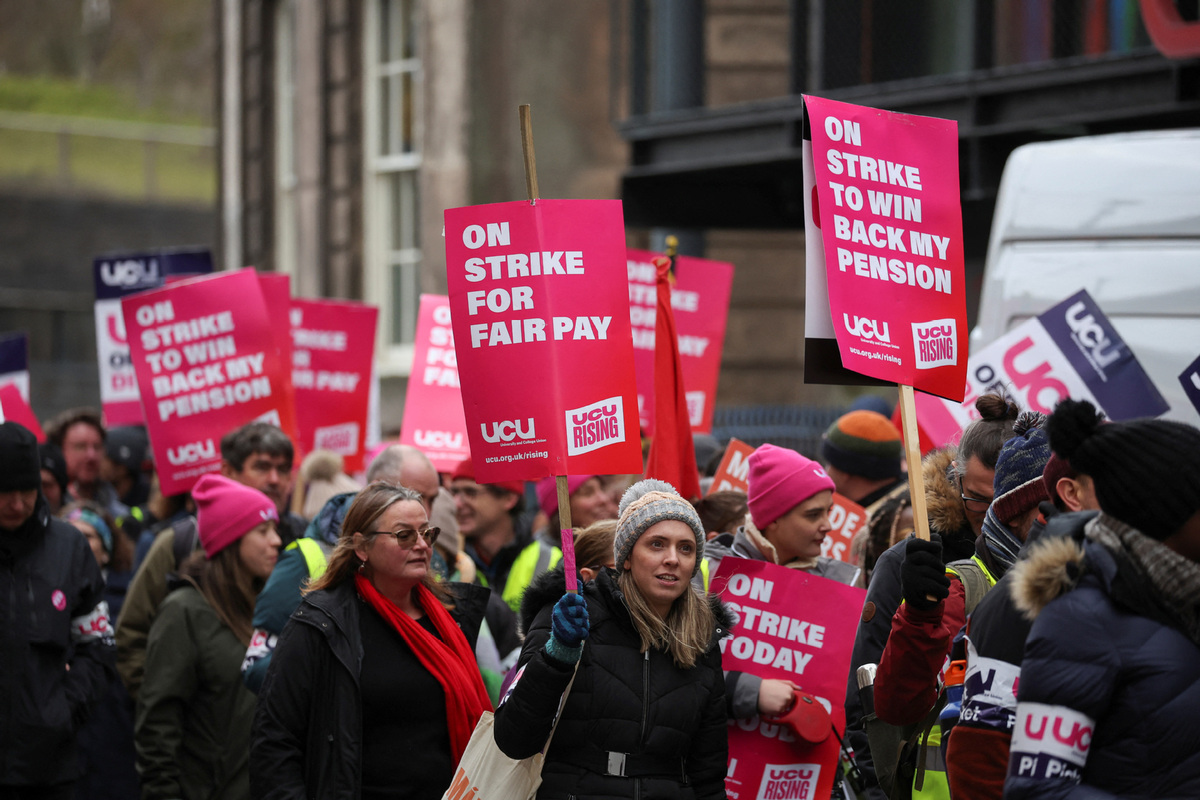 Higher education has not seen action on such large scale, trade unions say
Thousands of students across the United Kingdom had their education disrupted on Thursday as workers at around 150 universities staged the first of three planned days of strike action over pay, working conditions, and pensions.
The University and College Union, or UCU, claims more than 70,000 workers took part in the action, which will be repeated on Friday and next Wednesday, and the National Union of Students, or NUS, has expressed its support for the strikes.
UCU general secretary Jo Grady told the BBC it was "the biggest strike action in the history of higher education", with as many as 2.5 million students potentially affected, but her members had been driven to take radical measures.
"University staff ... have had enough of falling pay, pension cuts and gig-economy working conditions — all whilst vice-chancellors enjoy lottery-win salaries," she said, adding that there could be "even bigger action" next year if her members' concerns were not dealt with.
Chloe Field, vice-president for higher education at the NUS, said students backed the action.
"We have always been clear that staff working conditions are students' learning conditions, and for more than a decade both have come under attack from a sector that puts profits above education," she told The Guardian newspaper.
But Raj Jethwa, chief executive of the Universities and Colleges Employers' Association, was more skeptical about what strike action could actually achieve.
"Union leaders must provide their members with a realistic and fair assessment of what is achievable because strike action does not create new money for the sector," he said.
"Any threats of industrial action will do nothing to support students, staff or the many HE (higher education) institutions working hard to avoid redundancies or maintain staffing levels … all institutions face significant cost increases, with most enduring falling income in real terms. HE institutions want to do more for their valuable staff, but any increase in pay puts jobs at risk."
Speaking for the government, Robert Halfon, the minister for skills, apprenticeships and higher education, called the disruption to students' education, coming as it does after the earlier upheaval of the pandemic, "hugely disappointing".
"I urge all sides to work together so that students do not suffer with further learning loss, and I encourage any student worried about the impact of strikes on their education to raise this with their university," he said.
Billie Early, a master's student at the University of Sussex, told the BBC she sympathized but was concerned at how her education was suffering.
"We are paying customers. We're not getting what we paid for," she said, adding that it had revived the feeling of missing out on contact hours of teaching during the pandemic.
"I just feel that, maybe, lecturers should reach out to students, and emphasize and reassure us that they do want to be there for us, because I'm just not get getting that from them," she said.