Walmart shooter described as 'weird'
Share - WeChat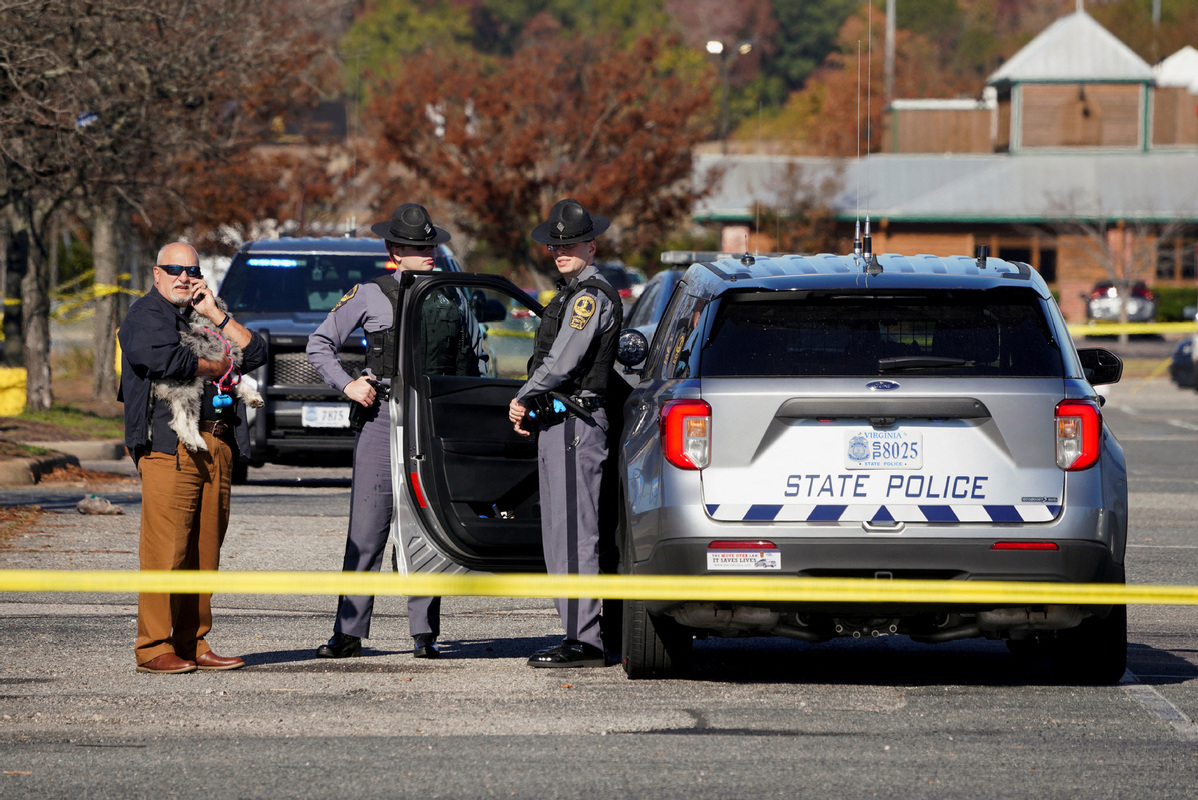 A Walmart supervisor who opened fire on his co-workers in the break room of a store in Virginia killing six people and himself "feared government surveillance" and was described as "weird" by former employees.
Andre Bing, 31, was a Walmart overnight team leader in Chesapeake and had been employed since 2010, the nation's largest retailer said in a statement Wednesday. President and CEO of Walmart US John Furner said the shooting was a "tragic event".
Bing opened fire with a pistol at 10 pm Tuesday. Chesapeake Police Chief Mark Solesky said police arrived on the scene minutes later. Bing's body was found with multiple rounds of ammunition. He had no body armor.
The city of Chesapeake confirmed: "Three individuals, including the shooter, were located deceased in the break room of the store. One victim was located deceased toward the front of the store. Three other victims were transported to local hospitals for further treatment but succumbed to their injuries.
"At least six additional victims were transported to local hospitals for further medical treatment. One of these individuals is currently in critical condition."
Former co-workers described Bing as "weird". At least two employees said that he had covered up the camera of his phone with tape because he feared that the government was watching him.
Shaundrayia Reese, 27, who worked on the store's overnight crew from 2015 to 2018, told The New York Times: "Everyone called him weird. That was all anyone could say about Andre." She added that he sometimes had a "nasty attitude" leading to complaints.
Bing, who began work at 10 pm each night was in charge of employees as they unloaded pallets of groceries, cleaned the store and stocked shelves.
Nathan Sinclair, 21, a former manager on the shift before Bing's told the Times: "He had an attitude. He was kind of aggressive. There were moments where he was okay, but he was definitely hard to work with and a little hostile."
Briana Tyler, a current Walmart employee who worked with Bing, said that she had been told to "look out for him as he always had a problem with someone", CNN reported.
"It was all happening so fast. I thought it was like a test type of thing. Like, if you do have an active shooter, this is how you respond," Tyler told CNN.
She described how the overnight stocking team of about 15 or 20 people had just gotten together in the break room to go over the morning plan.
As soon as the team was set to start, she said she looked up, and her manager turned around and opened fire on the staff.
"It is by the grace of God that a bullet missed me," Tyler said. "I saw the smoke leaving the gun, and I literally watched bodies drop. It was crazy."
Tyler said Bing didn't aim at anyone specific. "He was just shooting all throughout the room. It didn't matter who he hit. He didn't say anything, he didn't look at anybody in any specific type of way."
Authorities said Bing had no criminal record. He also appeared to have no social media.
Solesky said police served a search warrant on Bing's house early Wednesday.
The shooting came just two days before Thanksgiving. Police said the store had 50 shoppers.
Jessie Wilczewski, another Walmart employee, told Norfolk television station WAVY that she hid under a table. The gunman looked at her with his gun pointed at her but told her to go home and she left.
"It didn't even look real until you could feel the 'pow-pow-pow,' you can feel it," Wilczewski said. "I couldn't hear it at first because I guess it was so loud, I could feel it."
Virginia Governor Glenn Youngkin tweeted Wednesday: "Our hearts break with the community of Chesapeake this morning. Heinous acts of violence have no place in our communities."
Chesapeake Mayor Rick West thanked first responders for their quick response.
In 2022, the US has had 606 mass shootings so far, according to the Gun Violence Archive, a non-profit that tracks shootings. Out of those, 20 involved five or more deaths.
The Walmart shooting was the second in just a week in Virginia, after three University of Virginia football players were killed by another player as they travelled back to campus from a field trip on a charter bus on Nov 13.
It also occurred three days after a gunman, 22, opened fire at a gay club in Colorado, killing five people and wounding 17 people.
Camille Buggs, a former Walmart employee, told local newspaper The Virginian-Pilot that she went to a conference center desperately seeking information after the Walmart shooting.
She said: "You always say you don't think it would happen in your town, in your neighborhood, in your store - in your favorite store, and that's the thing that has me shocked."