Fans enjoy Chinese room service
Share - WeChat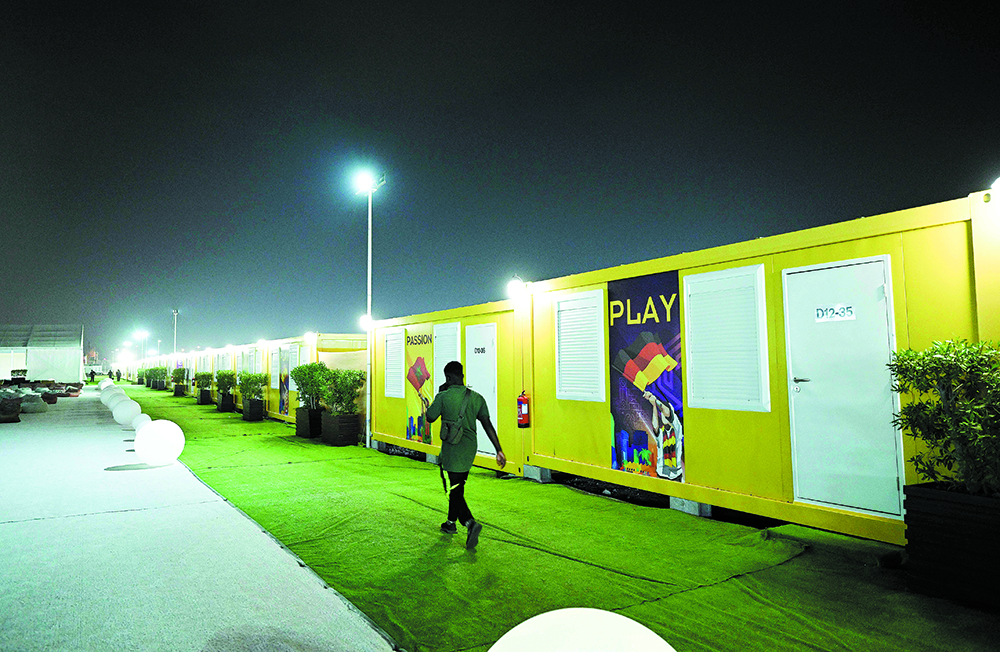 Domestically produced container-style cabins proving a popular accommodation solution at World Cup
Chinese-made shipping container-style rooms are helping alleviate the pressure on World Cup organizers in Qatar by offering fans a budget accommodation choice.
A fan village comprising 6,000 such cabins is welcoming guests in Doha. Targeting customers on a lower budget, the 3.1 square-kilometer site can house up to 12,000 people, and features facilities such as a metro station, bus stop, temporary restaurant and a convenience store, according to Associated Press.
Each cabin is designed to accommodate one or two people, and contains basic furniture including twin beds, nightstands, a small table and chair, air conditioning, a toilet and a shower. Compared with Qatar's hotels, the fan village is a relatively cheap option, with each cabin costing around $200 a night.
AP also reports that some rooms are priced at $80, but these are located at a smaller site further out from central Doha.
The commute between the fan village with the $200 cabins and the nearest World Cup venue, Al Thumama Stadium, takes approximately 20 minutes by car.
According to China Central Television, the container-style cabins are made in China, mostly by factories in Guangdong and Zhejiang provinces.
Chinese companies have provided about 10,000 such cabins to Qatar World Cup organizers.
"The components of the cabins were shipped to Qatar, after which the local workers assembled the cabins like building Lego houses. It only takes about four hours for two or three experienced workers to finish assembling each cabin," explained CCTV reporter Zhao Yuanfang.
Like many World Cup fans who have traveled to Qatar, Chinese fans have had to search hard for the ideal room in Qatar.
One of those is He Sheng, who traveled to Doha from Guangzhou. He ultimately decided against staying in a cabin.
"It's pretty hard to book a hotel room in Qatar. Many of the rooms were booked even a year before, most of which are occupied by the players, officials and volunteers. I also heard about the $200 cabin. But my final choice was an apartment, which is more convenient for me as I will stay here until the end of the tournament," He told media after arriving in Doha.
Omar al-Jaber, the head of accommodation at Qatar's Supreme Committee for Delivery and Legacy for the tournament, told AP that most fans still preferred hotels, apartments or villas, but those seeking budget accommodation will come to the fan village.
The high cost and scarcity of hotel rooms have been major concerns for fans planning to attend the World Cup in Qatar, which is estimated to be offering 130,000 rooms per day for the tournament.