Education brings village girl wave of success
Share - WeChat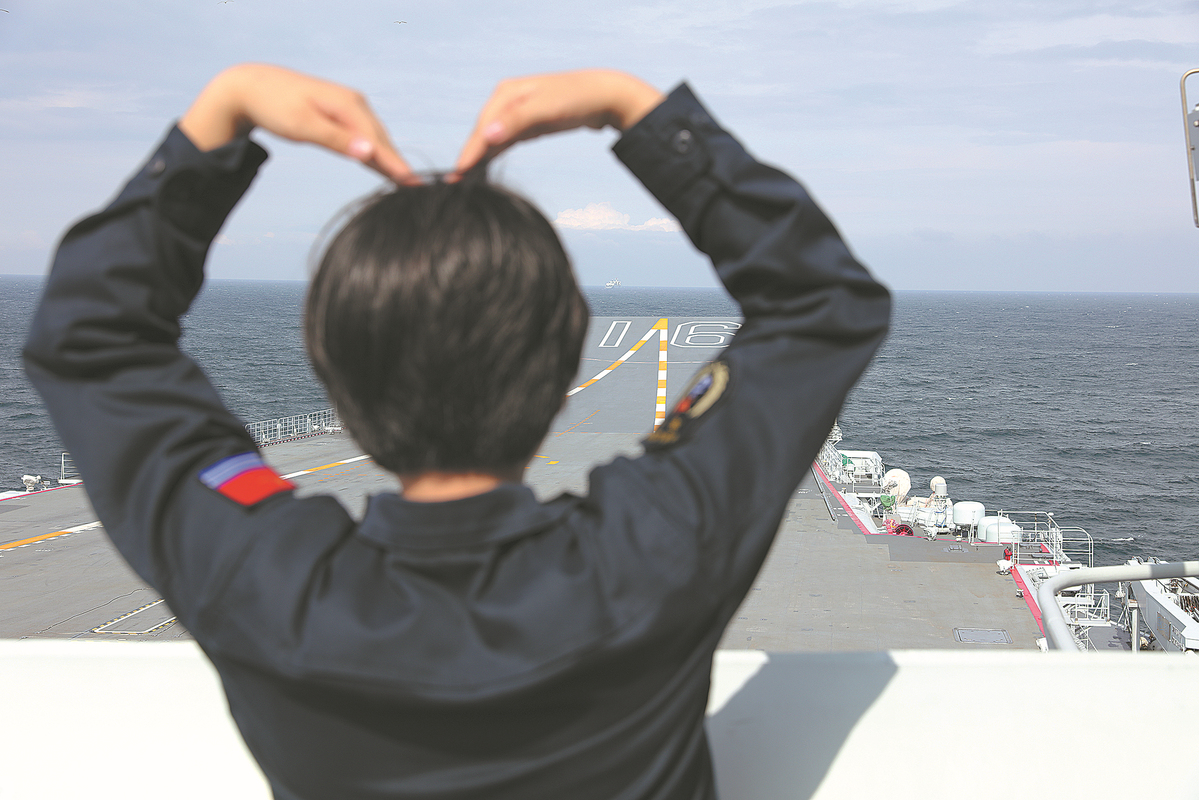 A young woman from a poor background has excelled at a prestigious school and the PLA Navy. Zou Shuo reports.
Editor's note: To mark the 20th National Congress of the Communist Party of China, China Daily is producing 10 profile stories to show the changes in the subjects' fields in the past decade. This is the ninth in the series.
When Wang Xinyi was 8 years old, her grandmother was diagnosed with breast cancer. Although the family scraped together every possible penny, she could not be saved. That was the first time Wang experienced the plight of being poverty-stricken.
Born in Zaoqiang, a county in the northern province of Hebei, the 21-year-old is the oldest of three children. To support the family, her father had to work odd jobs in nearby cities, while her mother, a farmer who was also ill, took care of the children and Wang's grandfather, who has high blood pressure and asthma.
"In her last days, my grandmother still thought about the livestock and crops. I remember my mother's helpless tears when she tried to find more money to give grandma better treatment," Wang said.
"Is it poor taste to talk about money? No. Money gives us a basic guarantee of living and helps us keep our beloved people and possessions."
During primary and middle school, Wang wore old clothes donated by relatives, which led some of her schoolmates to make fun of her worn-out shoes, outdated attire and "weird" sense of style.
She often went home with tears in her eyes, but her mother told her to ignore the other students and focus on her studies.
Poverty reinforced Wang's determination to study hard and change her destiny through education. As a result, she always ranked among the top students in middle and high school.
In 2018, she scored 707 points in the national college entrance exam, or gaokao, out of a possible 750. Her high score resulted in her being enrolled in the Department of Chinese Language and Literature at Peking University, one of the country's most prestigious schools.
Her admission letter to PKU titled Be Grateful to Poverty attracted widespread praise from netizens who were impressed by Wang's tenacity and perseverance.
"Thank you, poverty, for enabling me to hold a resolute belief in the power of education and knowledge. A lack of material wealth produces only two outcomes: barrenness of the spirit or richness of the mind. I choose the latter," Wang wrote. "My childhood lacked toys, snacks and video games, but I caught worms with my mother to feed our chickens, climbed trees with my brothers to eat mulberries and played in the rye field."
Career nudge
In 2018, during a career-sharing event Wang heard Song Xi, a PKU alumna and former marine in the People's Liberation Army, recount her experiences of serving on an aircraft carrier.
The experience sowed the seeds of Wang's decision to join the PLA. So, a year later she deferred her university studies and registered for recruitment.
She did not qualify because she failed one of the physical fitness tests. Undaunted, she tried again in September 2020, and this time she succeeded in donning the blue uniform of the marines.
In May last year, Wang was assigned to the aircraft carrier CNS Liaoning as a helmsperson. Being the helmsperson of an aircraft carrier is a challenging role as it requires perpetual perseverance, not just momentary passion, she said, adding that she had to start from scratch and try not to drag the team down.
Being a student at the prestigious PKU did not win her any special treatment on the career, either — in fact, people held her to a far higher standard.
"After you join the army, the PKU title becomes less important and you are just one link to make sure the team functions well," she said.
As a crucial role, being a helmsperson places a high demand on skills, so Wang studied hard to learn all the necessary knowledge.
"For a long time, I was very nervous and would occasionally suddenly sit up in bed while still fast asleep," she said, citing her roommate who witnessed several such events. "I knew that I needed to do better and study more to learn how to navigate the carrier."
She vividly remembers the first time her supervisors allowed her to take the helm by herself.
"It was like holding a newborn baby. The helm is not big (physically), but it is critical for the whole carrier. Having it in my hand made me realize the significance of my job," she said.
In the 400-plus days she spent on the carrier, she came to know the steel giant well, and eventually she considered it a close battle companion in the force.
Wider perspective
Wang's two years in the army allow her to view both PKU and herself through a different lens, with a better understanding of the relationship between the two.
In September, she returned to campus. As she continues her studies, she said she will forge ahead with the key values of the Liaoning in her heart — always striving for the best, always loyal.
She and her older brother, a senior at Beijing University of Chinese Medicine, both received subsidies and grants in secondary school, which eased the family's financial stress. Her younger brother attends a local primary school.
In the past 10 years, such assistance was provided for students with financial difficulties almost 1.3 billion times, covering people at all stages of education, according to the Ministry of Education,
As the country has become richer over the past decade, life has also improved for Wang's family.
Although her mother still works in the fields and her father still works in nearby cities, the family's income has risen in tandem with the country's overall economic development, she said.
Thanks to the country's poverty alleviation efforts, concrete roads have replaced dirt tracks in Wang's village and the residents use natural gas for cooking and heating, rather than burning wood and coal like before, which has greatly improved the air quality, she said.
Local farmers have more access to machinery, which has greatly increased efficiency. Villagers have access to clean tap water, while all the dry toilets have been upgraded to flush ones. Village squares and reading rooms have also been fitted with exercise equipment, she said, adding that living standards in the countryside have risen and the gap between the urban and rural areas have narrowed gradually.
"From a small village to one of the best universities in China, education has given me more opportunities to see the wider world. A down-to-earth spirit and constant self-improvement are what make our lives better," she said.
"Making sure that people have access to good education is the one of the most fundamental ways to ensure that poverty can be eradicated for good."
Contact the writer at zoushuo@chinadaily.com.cn