Author who gave culture a new plot
Share - WeChat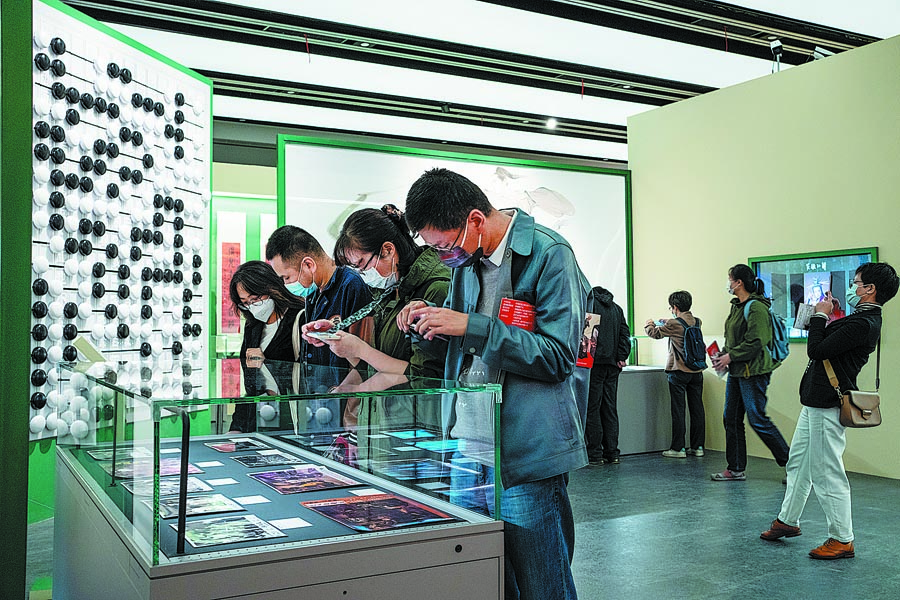 Exhibition showcases the work and life of prolific Chinese wuxia writer who turned tales of martial arts into literary classics, reports Zhang Kun in Shanghai.
An exhibition at the Pudong branch of the Shanghai Library features the life and work of Louis Cha Leung-yung (1924-2018), the most celebrated martial arts writer in Chinese, better known by his pen name Jin Yong.
Organized by the Hong Kong Economic and Trade Office in Shanghai, Jin Yong Exhibition Shanghai, opened on Oct 28 and will run through to Dec 11.
Cha wrote wuxia novels. Wuxia, or "martial heroes", is a genre of fiction about the adventures of martial arts practitioners in ancient China.
Occupying around 1,000 square meters, the exhibition showcases more than 300 exhibits, including manuscripts, early editions of Cha's novels, newsletters, magazines, photos, film posters, and some of Cha's personal items that were loaned by his family, such as seals, stationery, glasses and chessboards, which had not been publicly exhibited in Hong Kong, says Kelvin Lo Yat-man, acting director of the Hong Kong Economic and Trade Office in Shanghai.
"There is a saying that goes 'wherever you find Chinese, you'll find Jin Yong's novels'. Louis Cha, the renowned writer and journalist, has made a distinctive contribution to the development of popular culture and even Chinese literature," says Lo.
"With his in-depth knowledge and elegant writing, he succeeded in advancing martial arts novels from leisure reading to the level of literary classics. He also inspired the production of different kinds of classic movies, TV series, and various cultural and creative products over the past decades. This common language generated for Chinese readers around the world has influenced generations after generations of readers."
Cha was born into a well-educated family in Haining, Zhejiang province. On show in the first chapter of the exhibition are his grandfather's imperial examination papers, which have been collected by the Shanghai Library.