COP27 negotiators seek consensus
Share - WeChat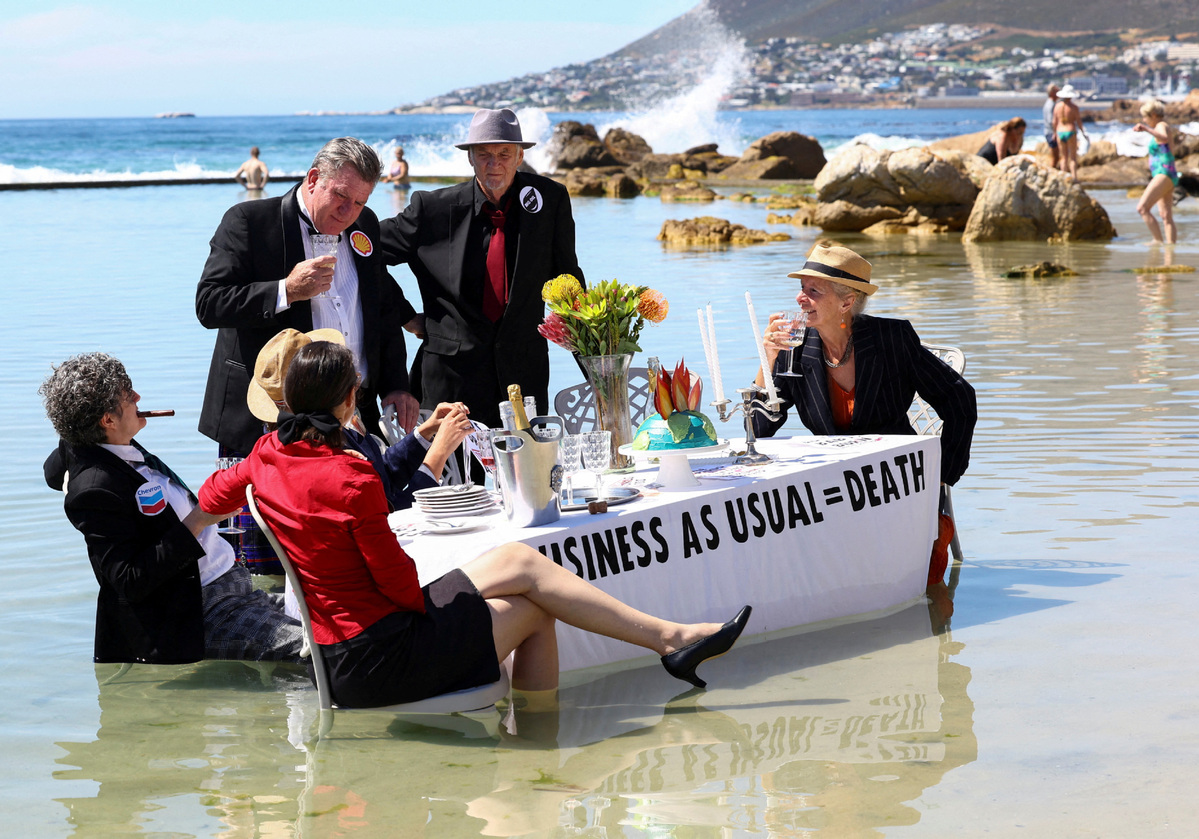 Analysts say negotiators face a difficult task as they aim for a breakthrough on key issues at the COP27 climate conference being held in the Red Sea resort of Sharm el-Sheikh, Egypt.
With government ministers flying in for the second, final week of the summit, focus turns to the formulation of a document that establishes a consensus reached, or not.
At the center of debates are greenhouse gas emissions reductions, how to end the use of fossil fuels, and finance for the most vulnerable countries suffering the worst climate effects.
Egypt's COP27 President Sameh Shoukry told the climate summit on Monday that he sought a climate deal with "meaningful outcomes" agreed by Friday, reported the Reuters news agency.
"Our common objective is to adopt consensus decisions and conclusions on Friday that will constitute comprehensive, ambitious and balanced outcomes of the Sharm el-Sheikh conference," he told delegates.
"It is now up to us all here to rise to the occasion and respond to the demands and calls from our communities around the world. We will accept no less than meaningful outcomes at COP27.
"Time is not on our side and the world is watching. Let us come together and deliver now."
A report released at COP27 showed carbon emissions, which according to the Paris Agreement must decline nearly 50 percent by 2030, are on course to reach record levels this year.
Rich countries and developing nations have so far been unable to come to any agreement on how to fund reductions in carbon pollution.
At last year's COP26 summit in Glasgow, nearly 200 countries vowed to "keep alive" the 2015 Paris Agreement's goal of capping global warming at 1.5 degrees Celsius above preindustrial levels.
Analysts say few nations have taken the required action, and the world remains on track to warm up by about 2.5 C, which scientists say is the dangerous tipping point for Earth's climate system.
At the midway point of the COP27 summit, little progress has been made, reported the Agence France-Presse.
"Parties are basically staring each other down, thinking they have done their part and waiting for the other side to move," said the head of WWF France, Pierre Canet.
Stakeholders and negotiating blocs all have their own concerns and interests, which makes reaching consensus a daunting challenge, said Reuters.
It is hoped that the arrival of government ministers to the conference will help to push beyond some of the political discord.
"All the big political crunch issues are unresolved," said Alden Meyer, a senior analyst at climate think tank E3G.
Reports say no plans have yet emerged from the conference to improve on the agreement reached at COP26 to "phase down" the use of coal.
On climate finance, the key issue on the agenda is that of "loss and damage", which covers climate impacts that cannot be "mitigated or adapted to", such as when land is so frequently flooded it is no longer habitable. This is a concern for the United States and others that fear costs imposed for their historic pollution.