Climate COP for cooperation
Share - WeChat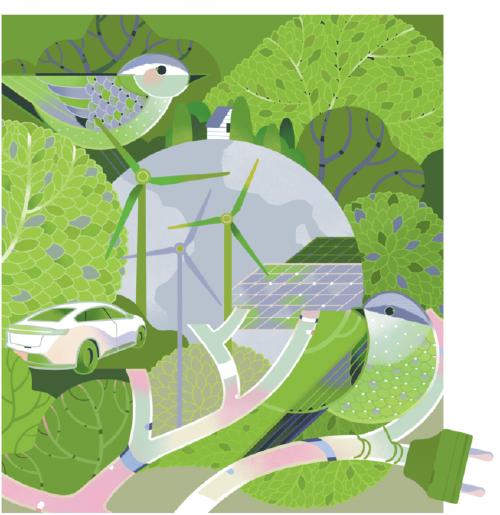 Enhanced cooperation on low-carbon energy transition will help to address multiple crises
The 27th Conference of the Parties to the United Nations Framework Convention on Climate Change is underway in Sharm el-Sheikh, Egypt. Top policymakers and negotiators from nearly 200 contracting parties, as well as NGOs and business people, have gathered again to discuss ways to curb the global temperature rise.
As every host country has done before, Egypt announced "this might be the most challenging COP ever in the history of the UNFCCC", and given the whole world is also struggling to cope with other crises at the same time from the COVID-19 pandemic to the energy crisis and food shortages, there are certainly additional obstacles to the usual.
But in the face of the multiple crisis, we cannot pick and choose. We need to handle them all well. The good news is that transitioning to a low-carbon renewable energy structure helps address energy security in a fundamental way.
The world needs to work together to accelerate actions to control and reduce greenhouse gas emissions. There is no luxury of time to delay. Global warming has been showing its threat in a visible way across the world, from the devastating floods in Pakistan and the deadly drought in Africa to the hurricanes in North American and the heat waves in Europe and Asia. The World Meteorological Organization revealed that we are racing at an ever-faster speed toward the tipping point of 1.5 C, when more natural disasters will no longer be avoidable, environmental damage irremediable and economic loss unbearable.
At the same time, the energy crisis has raised alarms in many countries and most people in the world have suffered, whether directly or indirectly, from the rising cost of energy. Last winter the heating bill doubled in most European countries because the natural gas price rose nine-fold. This summer, Sichuan province, lying along the upper Yangtze River of China, was acutely affected by a severe power shortage during a heat wave. The power shortage by large was exactly the consequence of climate crisis which in turns is caused by the burning of fossil fuels. The world has been left with little choice but to go back to fossil fuels again which led to a rocketing consumption of coal and oil in 2021.
This is why the mission in Egypt is particularly tough as it has to strike a delicate balance on the near-term arrangement for the fossil fuel transition, make sure energy security is enhanced and energy can be accessed by every region, especially the most fragile ones, improve resilience to avoid further damages, and at the same time, accelerate the low-carbon transition.
We need wisdom and more confidence to help us solve this puzzle. But more importantly we need to work together. The COP 27 is a platform for these joint efforts.
As evidenced by both its policy statements and direction, China is a strong believer in international cooperation.
China's "1+N" policy framework is a carefully designed matrix to guide its way to carbon peaking and carbon neutrality. With this model, China is achieving great success in its own energy transition. In 2020, China's total new energy installation made a breakthrough, with about 120 million kilowatts newly installed capacity throughout the year. By the end of 2020 new energy capacity installation reached 530 million kilowatts, accounting for more than 24 percent of the total installed capacity. By 2030, projections indicate that the proportion of non-water renewable energy power generation will reach 25.9 percent, and the total renewable energy power generation will reach 40 percent.
China continues to be a leading investor in clean energy, investing about $380 billion in 2021, according to a recent report released by the International Energy Agency. Although the biggest coal producer, China is also the biggest new energy vehicle market and manufacturer. China State Grid, the biggest energy company in the country, has spent 10 years piloting all renewable-favorable grid technologies, including the world leading flexible HVDC electricity grid, which lays a solid foundation for establishing a zero-carbon electricity system.
Successful business models are even more important for driving market changes than investment. And China's comprehensive supply chain in renewable energy production can provide not only products but also energy planning, management, and cost-effectiveness control. China and other countries of the Global South are facing similar headaches due to their unfinished industrialization and urbanization processes; therefore China's experience can act as a reference for other developing economies.
With the most critical COP holding in Africa, the equity in energy transition and climate change should be put at the center of discussions, which means enhanced access to energy and resilience to natural disasters, as well as economic downturns, and public health, which are all critical aspects of the energy transition. In the face of all these challenges and tasks, working together, learning from each other, and supporting each other are the only option. North-South and South-South cooperation needs to be given a big push so we continue to move the low-carbon transition forward. It is to be hoped that a renewed consensus on cooperation can be forged at the COP 27.
The author is a managing director and chief representative of the RMI China. The author contributed this article to China Watch, a think tank powered by China Daily.
The views do not necessarily reflect those of China Daily.
Contact the editor at editor@chinawatch.cn
Most Viewed in 24 Hours
China Views