ASEAN countries upgrade ties with global partners
Share - WeChat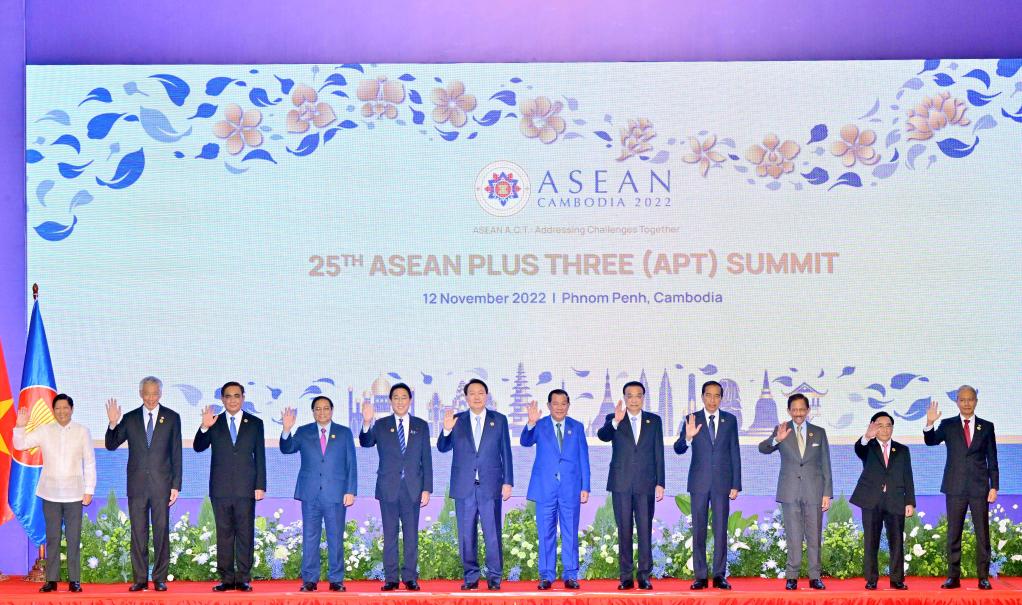 The Association of Southeast Asian Nations, now in its 55th year, continues to enhance collaboration with its global partners as the bloc's leaders work to promote cooperation for economic recovery and tackle challenges together while giving priority to its centrality.
With Cambodia as the bloc's chair this year, ASEAN held its 40th and 41st summits and related summits in Phnom Penh from Wednesday to Sunday, the group's first in-person official gathering since the pandemic broke out nearly three years ago.
During the summits, ASEAN formally upgraded its ties with India and the United States to comprehensive strategic partnerships, one year after its first two such partnerships were formed with China and Australia.
Speaking at the ASEAN-India Summit on Saturday, India's Vice-President Jagdeep Dhankhar hailed the deep cultural, economic and civilizational ties that have existed between India and Southeast Asia from time immemorial.
In a joint statement, ASEAN and India reiterated their commitment to enhancing their collaboration in areas such as maritime activities, counterterrorism, transnational crime, cybersecurity, digital economy, regional connectivity, smart agriculture, environment, science and technology and tourism.
ASEAN and the US said the elevated partnership reflects the outcomes of the ASEAN-US Summit last year and the ASEAN-US Special Summit this year. Attending the US-ASEAN Summit in Phnom Penh, US President Joe Biden announced new initiatives to support the pillars of the ASEAN Outlook on the "Indo-Pacific": maritime cooperation, connectivity, the UN sustainable development goals, and economic cooperation, the White House said.
At the ASEAN-UN Summit on Friday, the UN Secretary-General Antonio Guterres said ASEAN member states are well-placed to advance human rights, freedoms and a strong global economy.
Henry Chan, visiting senior research fellow at the Cambodian Institute for Cooperation and Peace, said it is good to see that tangible matters such as free trade and the digital economy were discussed at the ASEAN Plus Three Summit.
Crisis response capacity
Chan said China proposed that the ASEAN Plus Three members should improve crisis response capacity, including promoting the effectiveness of the multilateral currency swap arrangement Chiang Mai Initiative Multilateralism, and that the proposal is timely because many Southeast Asian countries face problems with depreciating currencies on the back of rising US interest rates.
It is also important that China and ASEAN have announced the official launch of negotiations on a new round to upgrade their free trade area because if it materialized it will be key for regional collaboration, Chan said.
Russian and Ukrainian foreign ministers also attended the ASEAN summit. ASEAN and Ukraine signed the Instrument of Accession to the Treaty of Amity and Cooperation in Southeast Asia on Thursday to promote peace and cooperation within the region. Ukraine's Foreign Minister Dmytro Kuleba said his country will enhance its collaboration with ASEAN countries and elevate their ties to a new level.
Leaders of the member states said on Friday that they agreed in principle to admit Timor-Leste as the 11th member. The 10-nation bloc now comprises Brunei, Cambodia, Indonesia, Laos, Malaysia, Myanmar, the Philippines, Singapore, Thailand and Vietnam.
Timor-Leste will be granted observer status and be allowed to take part in all ASEAN meetings.