Village in Xinzhou city hosts harvest festival
Share - WeChat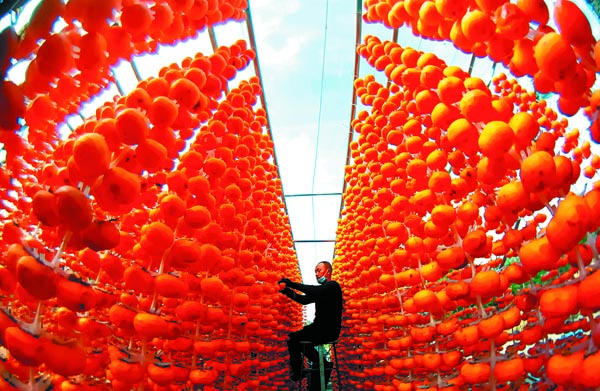 When farmers were celebrating the fifth Chinese Farmers' Harvest Festival with laborious harvesting work at the end of September, residents in the city of Xinzhou already had a taste of the new yields and finished food products.
The village of Xiaotan in Xinzhou city was the main venue for the Shanxi subevent of the national farmers' festival, which was held on Sept 23.
In Xiaotan, hundreds of agriculture-related companies from across Shanxi showed the products at an exhibition in the village.
Coarse cereals were highlighted at the exhibition. On display were more than 300 coarse cereal products made by 200-plus companies, which were shown in the forms of grains, beverages and healthy food.
Data from the exhibition's organizers showed that on-site retail sales amounted to 741,000 yuan ($102,400) and the value of agreements for wholesale deals totaled 216.44 million yuan.
There were also culinary shows on-site, allowing visitors to taste various foods from across Shanxi. The shows attracted more than 200,000 visits with sales value surpassing 3 million yuan.
There were also activities in various cities in Shanxi province for the farmers' harvest festival.
In front of the Desheng fortress gate of the Great Wall in the northern Shanxi city of Datong, a trade show was held to showcase specialty produce in the city. The trade show was accompanied by a tourist festival featuring a rich variety of folk performances to entertain visitors.
In the city of Jinzhong, a farm produce show was held alongside an exhibition of farming machines, with the latter attracting special attention from the farmers.
In Shanxi, modernization featuring the wide use of farming machines and new digital technologies is now seen as a major driving force for agricultural development and rural vitalization, according to local officials.
Branding was also highlighted during this year's harvest festival. At the main venue in Xinzhou, a total of 66 renowned Shanxi agricultural brands were unveiled, with products ranging from cereals, meats, fruits, meals and beverages to medical herbs.
Wang Xiujuan contributed to this story.