Africa hopeful as COP27 starts
Share - WeChat Continent a minimal polluter but hugely impacted by warming and wants action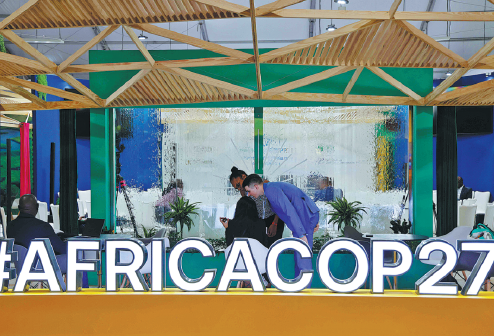 African climate change campaigners are optimistic that the United Nations climate change conference, or COP27, being held in Sharm el-Sheikh, Egypt, will discuss issues pertinent to the continent.
They expressed concerns that despite emitting the lowest greenhouse gas emissions, an estimated 2-3 percent of the global figure, Africa has been the worst impacted of the continents.
According to the African Development Bank, the continent loses $7 billion to $15 billion a year to climate change, and the figure is expected to hit $50 billion a year by 2030 if the situation doesn't change.
The World Meteorological Organization estimates that stress over freshwater supplies due to climate change is affecting 250 million people in Africa and is expected to displace up to 700 million people by 2030.
However, experts are hopeful that this year's climate conference, which they describe as Africa's COP, will shape the continent's future, considering it as an opportunity to spotlight Africa's special needs and circumstances.
Mithika Mwenda, executive director of the Pan African Climate Justice Alliance, a consortium of more than 1,000 organizations from 48 African countries, said Africa has high hopes about COP27 as it is the fifth COP held in Africa.
While it's being called the African COP for "African civil society we are qualifying it to be the African people's COP, because we want the issues pertinent to Africa to be articulated during the conference," he added.
Mwenda hopes that some of the issues that have been part of the international dialogue on climate change at previous COPs will be addressed during COP27.
Key issues include recognition that Africa requires support, as the continent has special needs and circumstances and is more impacted than other regions.
"Right now we are facing enormous challenges in terms of drought, floods and hurricanes. All that puts Africa into a very precarious position in terms of achieving its development objectives," he said.
"We are calling for loss and damage to be acknowledged and for money to be put in."
Other activists have also called for developed countries, which are responsible for the majority of carbon emissions, to compensate developing countries for the loss and damage caused to them by climate change.
Delegates agreed on Sunday, when COP27 opened, to put the "loss and damage" issue on the agenda. Heated debate and discussions are expected on the topic during the two-week conference.
Mwenda said the continent is in need of more climate finance, noting that implementation of the Nationally Determined Contributions to tackle climate change in African countries is conditional on receiving financial support from industrialized countries.
He also said genuine conversations were needed on what constitutes climate finance and whether it should be considered private or public money.
He added that climate financing should be additional to official development assistance from industrialized countries. Mwenda added there is enough money to address climate change to build the resilience of people at the front line. However, the problem has been a lack of political commitment, which is being demanded at COP27.
Civil society has put in place platforms for climate governance to hold African governments at both national and subnational levels accountable on how climate financing is spent.
Unlike mitigation of climate problems, Mwenda said adaptation is not popular with donors because it does not show a return on investment.
In a statement released by the African Development Bank in October, experts called for strengthening collaboration on climate adaptation across the continent.
Anthony Nyong, senior director and Africa regional director at the Global Center on Adaptation, estimated climate change would cost $579 billion by 2030, with global finance skewed toward mitigation. He said only 7.2 percent of global finance goes to climate adaptation.
Al-Hamndou Dorsouma, acting director of Climate Change and Green Growth Department at the ADB, underscored the urgent need for accelerated action on adaptation coupled with rapid and deep cuts in greenhouse gas emissions to avoid a mounting loss of life, biodiversity and infrastructure.
Tanguy Gahouma-Bekale, special adviser to the president of Gabon and permanent secretary of the National Climate Council, endorsed the Africa Adaptation Acceleration Program as a primary vehicle for implementing the Africa Adaptation Initiative's mandate.
The program seeks to mobilize $25 billion to accelerate action on climate change adaptation across Africa.