Country upholds common values amid challenges
Share - WeChat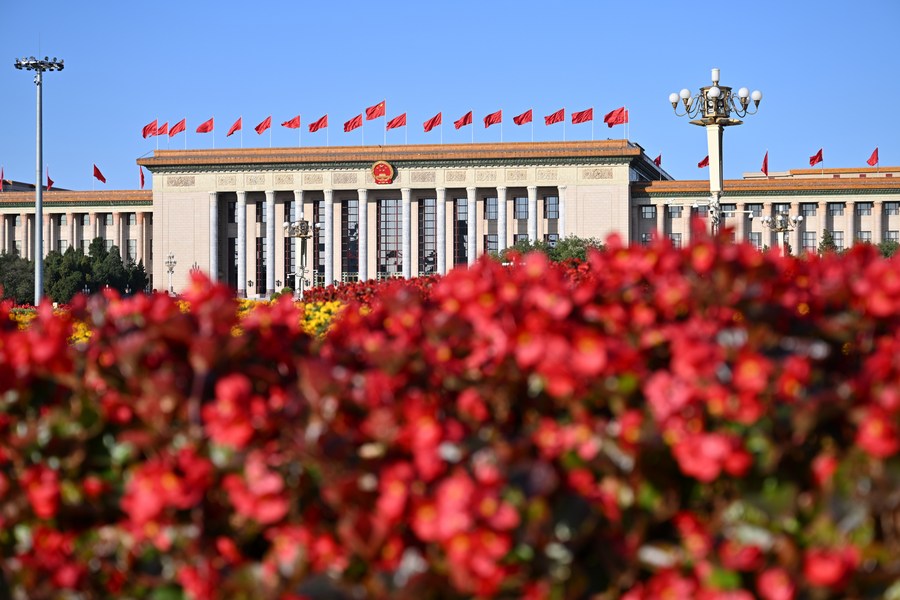 Humanity is confronted with a variety of challenges, including poverty, the COVID-19 pandemic, climate change, species extinction and conflicts and instability, as well as the regulation of cyberspace and artificial intelligence.
On its journey toward modernization, China has been pursuing the common values of humanity and created development approaches suitable to its national conditions and enriching the ideas and practices of human civilization.
The 20th National Congress of the Communist Party of China has won praise from the international community for advancing the common values of peace, development, fairness, justice, democracy and freedom, promoting communication and mutual understanding among civilizations, and working together to deal with global challenges.
Peace and development are the foundation of human survival and progress. China focuses on development as the top priority and attaches great importance to social stability that creates favorable conditions for reform and development. It carefully balances the speed of development, the pace of reforms and people's ability to accommodate the fast economic and social changes. Within four decades, China has transformed itself from a low-income country to an upper-middle-income country.
Internationally, China has become a strong defender of peace and a promoter of shared development, and its path to modernization is characterized by inclusiveness and cooperation. Since 1990, China has dispatched more than 50,000 peacekeepers to nearly 30 United Nations' peacekeeping operations, and it has become the second-largest contributor to UN peacekeeping operations in the world. For many years since 2006, China has contributed more than 30 percent of the growth of the world economy and become the engine for global economic growth.
Fairness and justice are the prerequisites for social stability, development opportunities and human dignity. China is pursuing common prosperity as its ultimate development goal. From achieving a moderately prosperous society to working toward common prosperity, China has set specific priorities at different development stages, balancing between fairness and efficiency. People's lives have been gradually but consistently improved, from securing access to adequate food, clothing and shelter to gaining moderate prosperity, and now they are marching on their roads to high-quality lives. In the past four decades, close to 800 million people have been lifted out of extreme poverty in China, contributing around 75 percent of the global poverty reduction in this period.
As a developing country in the community of the United Nations, China supports reform of the existing international system within the UN framework so that its rules and mechanisms keep up with the times and ensure developing countries are treated on equal-footing with developed countries. China advocates developing countries' rights in global and regional multilateral mechanisms, such as the Asia-Pacific Economic Cooperation, BRICS, G20 and the World Trade Organization.
Democracy is the way to ensure fairness and justice, and freedom is essential to keep social vitality and enable people's all-around development. China's whole-process people's democracy has not only a complete set of institutions and procedures, but also full participation and practices, encompassing the whole process of election, consultation, decision-making and management and supervision to safeguard people's rights to secure access to information, participation, expression and supervision. Chinese people have gained the freedom and capability to pursue their own dreams.
Facing the challenges confronting humanity, China has put forward the idea of a community with a shared future and proposed a series of initiatives, such as the Belt and Road Initiative, the Global Development Initiative and the Global Security Initiative, to enhance mutual understanding, economic integration and cultural inclusiveness among different civilizations. By July 2022, China had signed over 200 cooperation agreements under the framework of the Belt and Road Initiative with more than 140 countries and more than 30 international organizations. By October, China had provided 2.2 billion doses of vaccines to more than 120 countries and international organizations around the world.
China's staunch upholding of the common values of humanity has deep roots in its rich cultural heritage and a solid practical foundation.
First, China passionately respects its long and rich cultural heritage, drawing inspiration from the ethical thought and governing practices from Chinese history and adapting them to the contemporary context. It also integrates Marxism with the Chinese traditional culture in theory and practice. It promotes the application of fine traditional principles, such as "do not do unto others what you would not want done unto you", "put the people first" and "harmony between humanity and nature", to governance and development in the new era.
Second, China continuously innovates in theory and practice based on its own national conditions and the global environment. It adapts Marxism to the Chinese context and the needs of the times, providing philosophical and methodological guidance to deal with numerous development issues on its way to modernization. It respects the pioneering spirit of the people and combines top-down reforms with bottom-up experiments, creating effective and pragmatic solutions to overcome problems.
Third, China actively promotes civilizational exchanges and draws lessons from the experience of other civilizations. From the ancient commercial Silk Road across the Eurasian continent and Zheng He's seven voyages to the West for trade and cultural exchanges, to the contemporary Belt and Road Initiative for stronger economic, social and cultural connectivity, China is open to sharing its experience and pursuing mutual understanding and mutual learning with other civilizations.
China's development benefits from civilizational exchanges and mutual learning across the world. It also contributes wisdom and new approaches to the world by advancing the common values of humanity. Furthermore, China is building a collective consensus and international cooperation to realize a community with a shared future.
Zhang Jin is vice-president of the Center for International Knowledge on Development. Chen Xiao is an associate research fellow at the Center for International Knowledge on Development. The views do not necessarily reflect those of China Daily.