Uygur teacher inspired by Party's vision gives confidence to students
Share - WeChat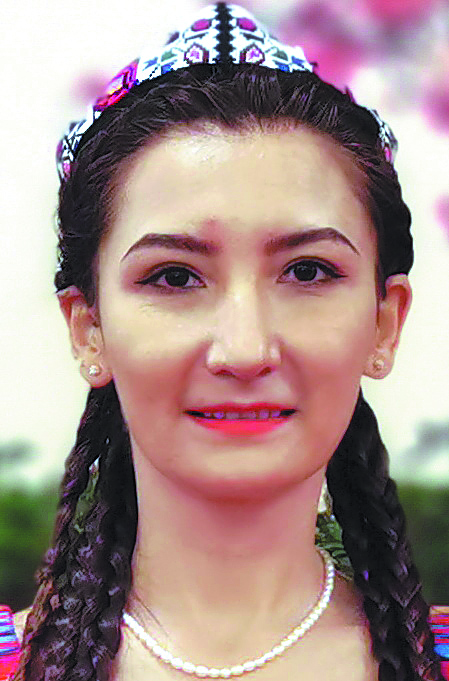 Meryemgul Obulkasim, a member of the Uygur ethnic group who teaches at the vocational education school of Tianjin University of Technology and Education, expresses her determination to be a role model in life.
A delegate to the 20th National Congress of the Communist Party of China, she was inspired by the report of the congress.
Meryemgul is deputy Party chief of the vocational education school and works as a tutor of ethnic students.
Her efforts as a tutor and volunteer in the fight against COVID-19 have won wide support, resulting in her being elected as a delegate to the congress.
She said the report was inspired by the vision that "from this day forward the central task of the CPC will be to lead the Chinese people of all ethnic groups in a concerted effort to realize the second centenary goal of building China into a great modern socialist country in all respects and to advance the rejuvenation of the Chinese nation on all fronts through a Chinese path to modernization".
"I should work as an intimate friend of the students, leading them forward, fostering their growth and helping the country educate more young people in the new era. I want to inspire the younger generation to contribute more to the modern socialist country," she said.
Born in Kashgar prefecture of the Xinjiang Uygur autonomous region, Meryemgul graduated from South Central Minzu University in 2012. She became a teacher at the university and then transferred to Xinjiang University in 2015.
She was honored as a National Ethnic Unity Advancement Model and a May 4th Youth Model thanks to her outstanding achievements in tutoring ethnic students.
In 2019, she started working in Tianjin.
In 2020, she helped collect 905,000 yuan ($125,700) and urgent medical materials to help fight the COVID-19 epidemic in Wuhan.
Thanks to her efforts, she was awarded a series of titles including the Country's Most Beautiful Volunteer and the Role Model in the Ethnic Unity in Tianjin.
At her university, she is responsible for tutoring some 160 students of the Uygur and Tibetan ethnic groups in four schools, assisting their studies and lives, and helping them look for job opportunities.
Among her students, a Uygur student whose given name is Tajigul had difficulties speaking Mandarin, and so was not confident in looking for a job.
Knowing this, Meryemgul spent an hour each day for two months teaching her Mandarin in a bid to boost her confidence until she found an ideal job in 2021.
For Tibetan student Tsering Tsomo, who was shy in communicating with schoolmates, Meryemgul led her to join volunteer teams formed by ethnic group students and encouraged her to do more presentations on the ethnic group's history for local students.
Tsering Tsomo said she felt "enormous changes" in herself after becoming "a friend with Meryemgul".
"She is not only a teacher, but my true sister," Tsering Tsomo said.
But for Meryemgul, the glory belongs to the past. "The future will be accomplished by strong responsibility in my daily work. Protecting ethnic unity is my sacred duty. I will make committed efforts as a Party member," she said.
She added that she will accompany more young students as they grow up, and educate more youth with high ideals, strong responsibility and strength to bear hardship in the new era.