Drawing inspiration
Share - WeChat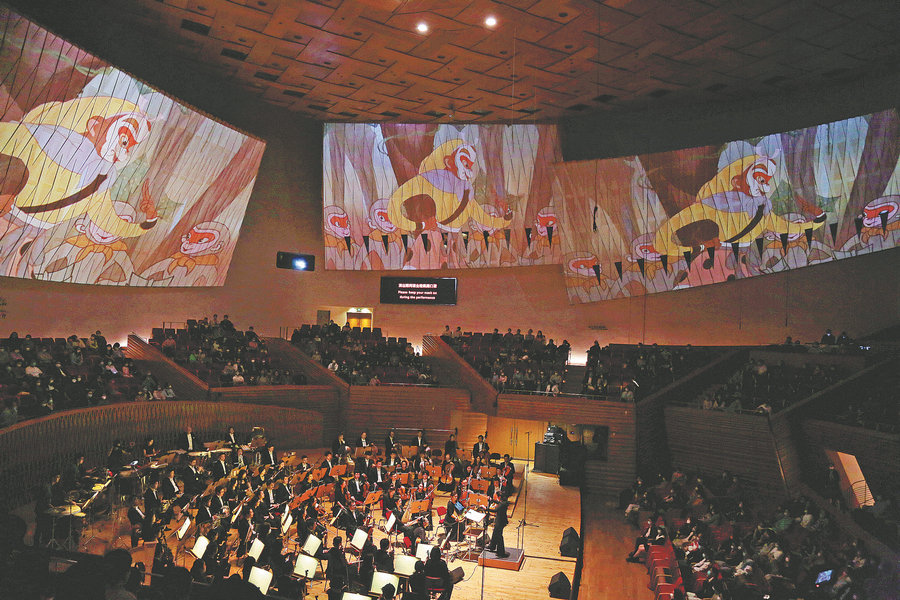 Accomplished composer produces a musical homage to 100 years of Chinese animation, Chen Nan reports.
She looks skinny and fragile. A large floral wrap is pulled up around her neat short hair. Gazing at the man standing in front of her as she walks out of her room, she gives him a big smile and a warm hug.
She is Liu Sola, an internationally renowned, pioneering composer, vocalist, writer and artist. The man is her longtime friend, Tu Song, the senior program director of the Beijing Music Festival, the capital's largest annual music event which falls every October.
During the 18th iteration of the festival, back in 2015, Liu and her band, Liu Sola & Friends, performed in a concert titled The Heaven and Earth Totem. Instead of performing at one of the city's venerable concert halls, Liu and her band took their music to The Orange, a trendy venue located in the popular lifestyle hub Taikoo Li Sanlitun, in downtown Beijing.
"It was a memorable and exciting performance", Tu recalls.
It was therefore natural that the Beijing Music Festival invited Liu to perform again when the festival and the Shanghai Symphony Orchestra co-commissioned a new piece several years ago, which is dedicated to the centenary of Chinese animation.
The new piece, Symphonic Dances The Legend of Monkey King, was scheduled to make its global debut during the Beijing Music Festival, which was set to celebrate its 25th anniversary. However, due to the ongoing pandemic, the festival was postponed. The premiere was therefore staged by the Shanghai Symphony Orchestra and the Liu Sola & Friends band, under the baton of conductor Zhang Jiemin, in Shanghai on Oct 6.
"It was a joyous concert," says Liu, who watched the performance on video. "My band and the orchestra worked together very well. I could feel their strong, explosive energy."
At 67, Liu remains cool and sharp. She lives in her studio located in Beijing's eastern suburbs. Her band also does rehearsals there, in a high-ceilinged room, which enjoys natural sunlight that streams through a window in the roof.
Liu didn't go to Shanghai with her band because she is recovering from a severe illness that has kept her bedridden for about four years.
"I was not able to compose or write. Thanks to my doctors — they pulled me back from the edge of despair," says Liu.
She was told by her doctors that her brain functions are as good as somebody in their 20s, which would aid her recovery.
When she was invited to compose for the new piece, Symphonic Dances The Legend of Monkey King, Liu agreed.