'Actions louder than words' for hardworking model soldier
Share - WeChat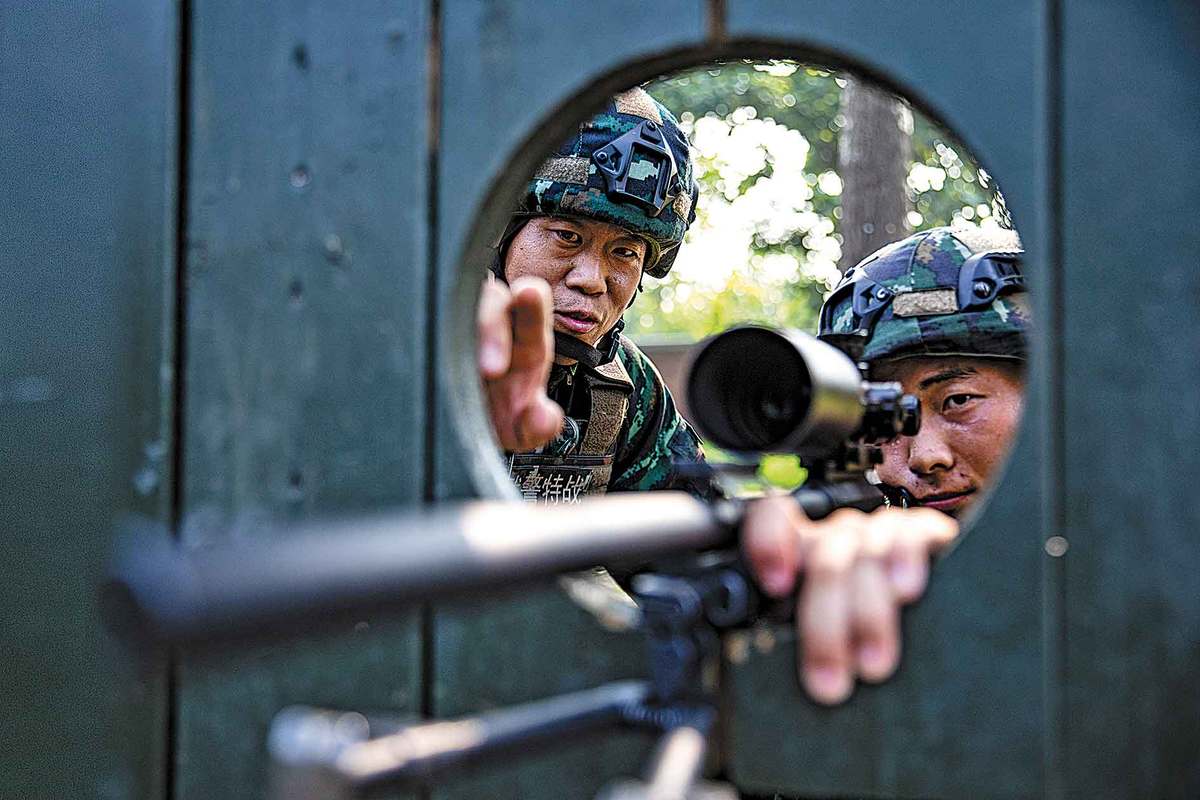 To Li Chuang, being the commander of a special force of the People's Armed Police Force means he not only has the authority to give orders but also the responsibility of setting an example for his soldiers.
"Actions speak louder than words. Achieving what you ask others to achieve is the best way to gain respect and support from your soldiers," said Li, commander of a special operations battalion under the PAPF Hebei Provincial Corps' Mobile Task Brigade.
Each time soldiers in Li's battalion start to learn a new combat maneuver or tactical operation, the commander always appears on the training ground and personally shows his young men how to do it, telling them to observe and follow his moves.
In training for difficult skills, Li would often stay with the soldiers on the field and would train harder himself.
For instance, Li, 38, requires himself to be able to run 5 kilometers in fewer than 19 minutes and hit 95 percent of his targets on the shooting range — two standards not easy for even younger soldiers to achieve.
The reason behind Li's insistence on dedicated training can be found in his own experience.
In the winter of 2003, the native of Hebei joined the PAPF at 19. In his first days at a PAPF training base, Li performed pretty well and so was picked for a special operations company.
At the company, the young soldier was soon frustrated by the fact that he was often among the last to finish in long-distance running and other physical tests.
With determination to overcome the difficulties, he chose to become an "early bird" — woke up earlier than his fellow soldiers, and used rest times to take further physical exercises. He also put extra loads on his body to build up strength.
After lengthy training, Li became a model soldier and was promoted to the posts of platoon and then company commander.
In the summer of 2017, Li was named leader of the Sky Sword team, the top special operations unit under the PAPF Hebei Provincial Corps, and led several members of the team to Jordan to compete with elite commandos from foreign nations at the 9th Annual Warrior Competition.
The competition, held by the Jordanian Armed Forces, invites members from special operations forces and law enforcement units to test their skills and endurance in a series of challenging events. The competition in 2017 had 31 teams representing 17 nations.
After rounds of fierce contests, the Chinese team won in three skills events and finally became the champion of the competition.
In the following years, Li led his soldiers to a host of honors and medals, and was recognized as one of the best special operations commanders in the PAPF.
Li was elected by members of the PAPF as a deputy to the 20th National Congress of the Communist Party of China.