Pioneer proud of role in high-speed history
Share - WeChat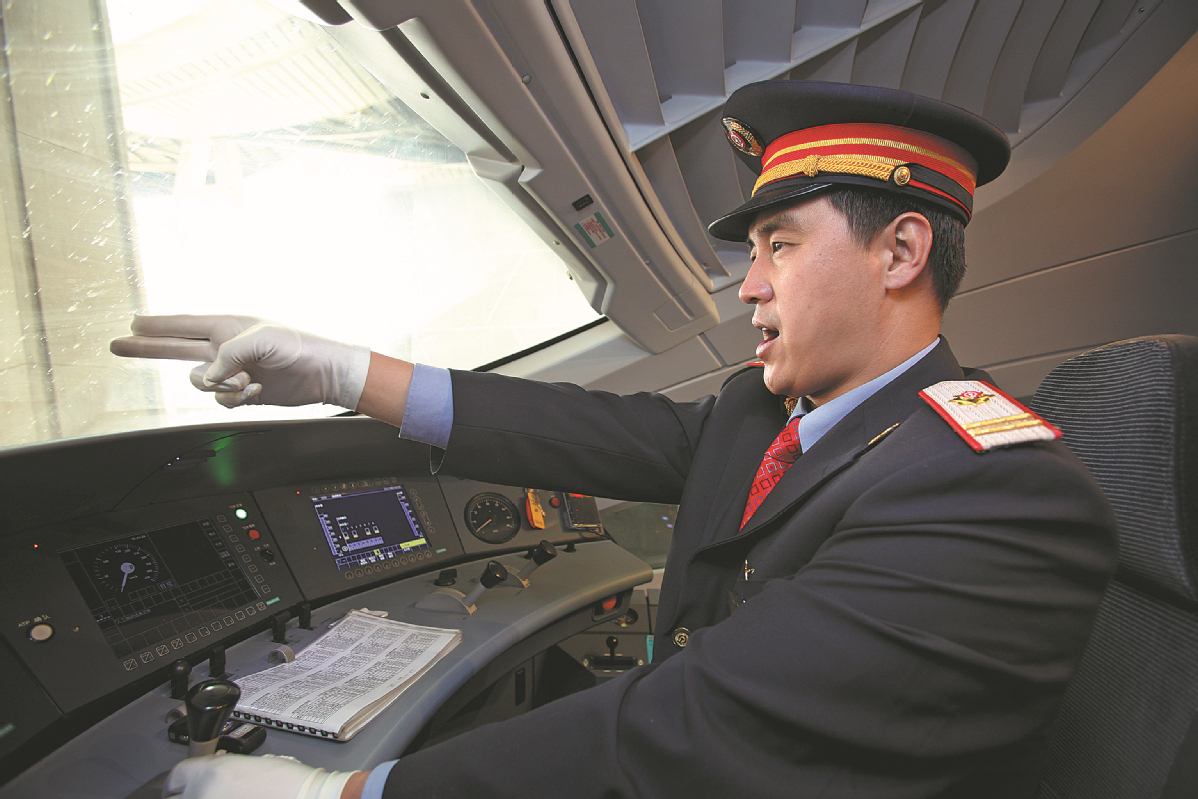 Veteran bullet train driver Li Dongxiao holds license number 0001. Luo Wangshu reports.
Editor's note: To mark the 20th National Congress of the Communist Party of China, China Daily is producing 10 profile stories to show the changes in the subjects' fields in the past decade. This is the fifth in the series.
As a pioneer bullet train driver, Li Dongxiao, 52, is part of the history of China's high-speed railway network. He has many proud moments that he can brag about to his grandchildren in the future.
For example, in 2008, he drove China's first high-speed train, reaching 350 kilometers per hour, between Beijing and Tianjin. The journey heralded the beginning of the development of the nation's high-speed rail system.
Li also drove the first bullet train to run on the Beijing-Shanghai High-speed Railway, which opened in 2011. His passengers have included many State leaders from China and overseas, top-level athletes and millions of regular travelers.
The number on Li's bullet train driver's license is 0001, which led the media to dub him China's "first" bullet train driver.
Rapid development
"From Hexie, or "Harmony", to Fuxing, or "Rejuvenation",(the two types of bullet trains in operation in China), I have witnessed the country's high-speed railway grow from a follower to a global leader. Over 14 years, I have seen the historic changes in China's high-speed railway. The length of the network has grown from zero to more than 40,000 kilometers, and more types of Fuxing bullet trains have been developed and adopted," he said.
However, all those achievements came from the ground up. In March 2008, Li, along with some of China's best train drivers, was selected to undergo training to operate bullet trains at the manufacturer, China CNR Corp. In 2015, the company merged with CSR Corp to form CRRC Corp.
"Back then, the development of China's high-speed railway had just begun. For me, everything started from zero, there was no model to apply and no experience to follow. The only thing I relied on was practicing repeatedly day and night," Li recalled.
During test runs of the Beijing-Tianjin High-speed Railway, he practiced on the train during the day and collected data and analyzed test results at night.
The bullet train journey from Beijing to Tianjin takes 30 minutes. However, Li saw it as 1,800 seconds and made operating plans accordingly.
He participated in more than 200 test runs, and created a guidebook for bullet train drivers, which was named after him as the Dongxiao Manual. Thanks to the guidelines he developed, drivers can operate bullet trains precisely, quickly and smoothly.
Li likes to study operations and help more of his peers. In 2011, he proposed the establishment of China's first platform to collect information about emergencies and abnormal situations related to bullet train operations. Li and his colleagues offered "treatment plans" for these irregularities and established a compendium for train drivers to review the plans. The move improved the drivers' ability to handle such abnormal situations and strengthened operational safety.
Li's professional development has been intertwined with the evolution of China's high-speed railway system. He no longer operates bullet trains himself, but is head of the Huairou North locomotive depot in Beijing, which is the center of train operations, repair and maintenance — more importantly, it is where all the drivers receive their training.
During the 2022 Beijing Winter Olympic and Paralympic Games, drivers from Li's depot operated bullet trains to carry athletes and other participants to several venues. The Games were hosted in three zones — downtown Beijing, Yanqing district in the northwest of the capital, and Zhangjiakou, the co-host city in Hebei province.
The participants rode bullet trains between the three zones on the Beijing-Zhangjiakou High-speed Railway.
To offer a safe, fast and smooth service, the team used advanced technology to simulate hundreds of emergency scenarios to improve the drivers' ability to handle emergencies. Li has inspired and trained many drivers, who are the pillars of the fast-growing industry.
He is proud of being a part of the growing network and has had some profound insights.
"In 2008, Beijing had just one high-speed railway line, the Beijing-Tianjin High-speed Railway. Now, the city links many places across the country via the high-speed rail network, including Shanghai, Guangzhou in Guangdong province, and Harbin in Heilongjiang province," he said.
He said Beijing has built a number of stations to cater for the growing demand, such as Beijing South, Beijing Chaoyang, Qinghe, Yanqing and Daxing railway stations.
"It has developed from a single line connecting two cities (Beijing and Tianjin) into a network connecting many cities nationwide," he said. "In the past, it was a 12-hour train ride from Beijing to Shanghai, now it is four."
In addition to the expanding network, Li has witnessed the improvement in services.
"It is much easier to buy tickets and other services. In the past, passengers lined up to buy hard-copy tickets at stations. Now, most people buy tickets online. The ticket reservation system also provides services such as facial recognition technology so people can enter railway stations, order food online while onboard and also select their seats," he said.
Titles, awards
As a bullet train driver, Li won many awards and titles, such as "The Capital's Model Worker and Citizen" in 2018 and "National Outstanding Party Member" last year.
China's high-speed rail network has seen rapid development in the past 20 years.
The country ranks first in the world in the scale of its high-speed rail network, both in terms of operation and facilities under construction. Meanwhile, by the end of last year, the network stretched 40,000 km, more than two-thirds the total length of the world's high-speed railway network.
In addition to its scale, a complete technological system has been established for high-speed railways in China, including surveying and design, engineering and construction, high-speed electric multiple units, traction power supply, operational management and safety management.
"China has developed world-class high-speed railway technologies and even leads the world in some fields," according to China State Railway Group.
The growing network has offered opportunities to many ordinary people like Li, and made their lives extraordinary.
Contact the writer at luowangshu@chinadaily.com.cn