Fisherman's efforts lead to sea change in his Hainan village
Share - WeChat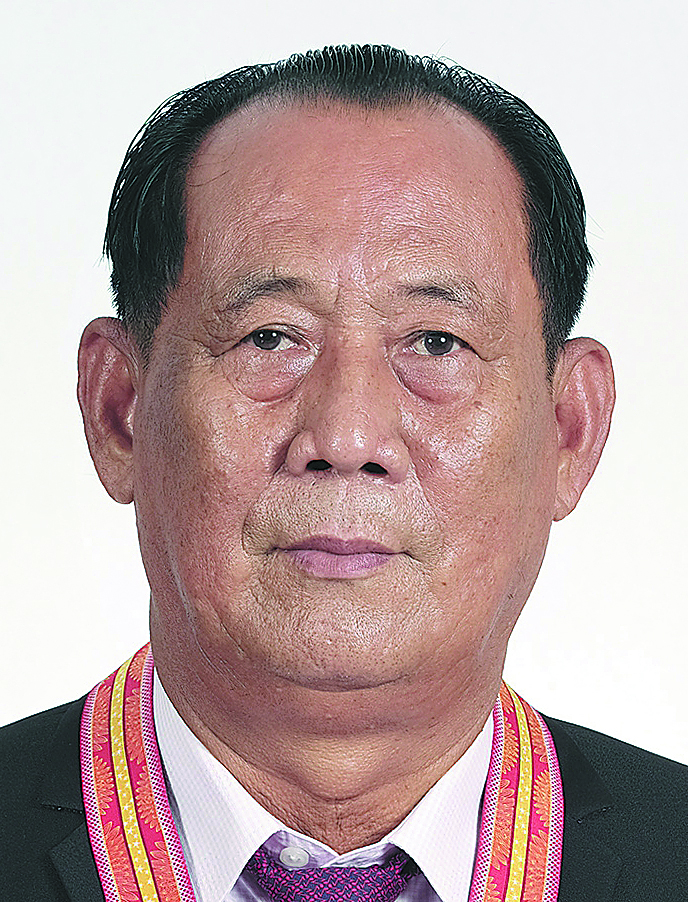 Wang Shumao, secretary of the Communist Party of China Tanmen village committee in South China's Hainan province, made sure he collected ideas on how to bring more innovation to the local leisure fishing industry, drafting suggestions on behalf of his fellow fishermen for the recently concluded 20th CPC National Congress.
"Backed by stronger consumption power, leisure fishing is becoming a basic need and lifestyle for both island residents and incoming tourists," said Wang, who was a delegate to the congress.
"To better protect Tanmen's marine resources and increase the incomes of the local fishermen, we have explored new approaches such as mariculture, leisure fishery and homestay tourism in recent years to transform the traditional sea fishing business."
Located on the east coast of Hainan, Wang's village is part of the historical Tanmen town, now a popular fishing port good for berthing about 1,000 fishing boats and a major distribution base for deep-sea fish products in the country.
From the age of 18, Wang has followed in his father's footsteps, making a living fishing in the rippling South China Sea, which the villagers call their ancestral sea. Now, the 66-year-old veteran captain has become a man loved by all in the local community for having devoted himself to exploring new ways to vitalize the fishing village.
Wang and his fellow villagers had the most unforgettable day of their lives on April 8, 2013, when President Xi Jinping came to Tanmen on an inspection tour and encouraged the local fishermen to build bigger boats for deep-sea fishing.
Wang actively responded and took out loans to build a steel fishing trawler, becoming the first owner of an 850-tonnage boat in Tanmen.
The boats the fishermen typically used before 2013 were mostly wooden vessels weighing 80 to 100 metric tons, with poor wind resistance, limited fishing capacity and shabby income.
"Brother Wang always enjoys sharing his successful experiences and the joy of his harvests from deep sea fishing with his big boat. His enthusiasm has inspired some fishermen in the town to build trawlers and go deep into the sea to fish," said Wang Zhenfu, himself a captain.
In turn, Wang Shumao has praised the fishermen's efforts.
"Supported by stronger and more comprehensive national policies, Tanmen fishermen have built about 100 large steel trawlers capable of deep-sea operations," he said.
"Equipped with weather-resistant facilities for navigation, life-saving, fire protection and security supervision, and possessing modern means of telecommunications and spacious storage for deep-sea catches, the ships ensure a more comfortable living environment for life at sea."
Wang has also spared no effort to find technicians, funds and even land plots to help his fellow villagers, especially those who cannot afford deep-sea fishing operations, to explore diversified leisure fishery and mariculture businesses.
He and other village leaders have organized more than 400 fishermen to establish five leisure fishery cooperatives to develop offshore fishing, homestays and diving activities.
Around 160 restaurants have sprung up in Tanmen in recent years. Now a famous fishing culture and tourism destination in Hainan, it attracts 1.6 million tourists a year, according to local authorities.
Wang, who was also a deputy to the 13th National People's Congress, said he was happy that the suggestions on regulating marine fishing and promoting recreational fishery that he put forward in 2018 received immediate responses from national agriculture authorities, and relevant progress has been made.
"We have more tall buildings, more cement roads, more cars, more new boats and more tourists in the village. More importantly, the villagers are earning more money and have more aspirations," he said. "The changes are spectacular."
Wang won the July 1 Medal — the Party's highest honor — last year in recognition of his outstanding contributions to safeguarding the country's rights and interests in the South China Sea, as well as to the country and the Party's cause to serve the people.
"The sea is where I live and grew up," he said. "It is my lifelong pursuit to lead the fishermen of Tanmen to make good use of and guard our ancestral South China Sea to seek a happy life."
According to incomplete statistics, Wang Shumao has organized fishermen to fight against typhoons more than 120 times, and rescued more than 600 fishermen over the past 50 years.
Over the next three years, Hainan plans to build eight high-quality leisure fishery demonstration bases, four sea fishing competition bases, 12 leisure marine ranches and seven pilot recreational fishing towns, provincial government officials said.
"Tanmen fishermen will make good use of their experiences and skills to be a model for these new development programs, and contribute more to the creation of new prosperity for the rural communities and more joyful experiences for people touring Hainan," Wang said.