Leading scientist revels in challenges
Share - WeChat Editor's note: To mark the 20th National Congress of the Communist Party of China, China Daily is producing 10 profile stories to show the changes in the subjects' fields in the past decade. This is the fourth of the series.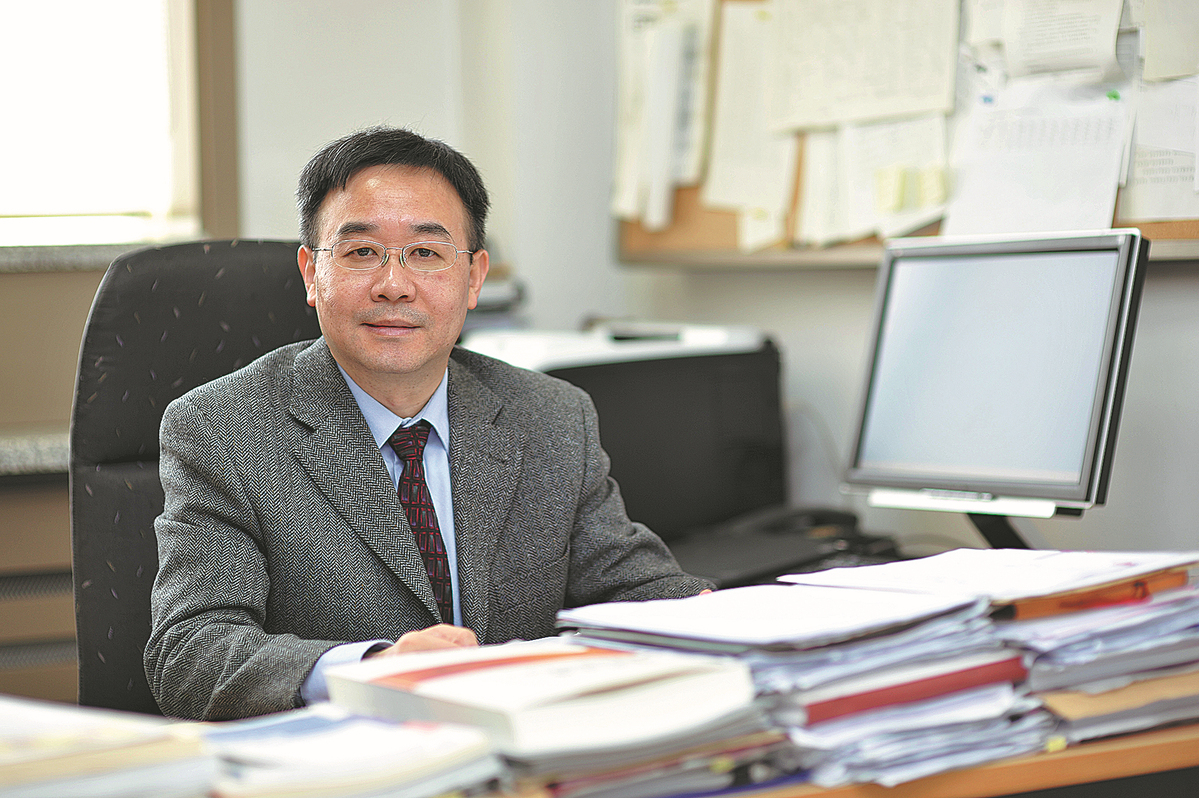 Expert has contributed to some of China's extraordinary breakthroughs. Zhang Zhihao reports.
Within China's materials science community, colleagues often humorously refer to Yang Rui as the "hardest man" in the field. This is both a reference to his groundbreaking work on high-performance titanium alloys and an allusion to the extremely difficult missions that he and his team often undertake.
Over the past decade, the 57-year-old researcher from the Institute of Metal Research at the Chinese Academy of Sciences has provided critical components for many of China's most ambitious engineering feats.
These have included the cryogenic engines that lifted the Long March 5, China's most powerful carrier rocket that is used to build the nation's new space station; the deep-sea manned submersible Fendouzhe (Striver in English), which set the national diving depth record of 10,909 meters in 2020.
Seeing his work being used in so many instruments of national significance, Yang said a single phrase best captures his feelings about these accomplishments: "At least I did not live my life in vain."
In fact, Yang is immensely proud.
"Doing materials science and engineering is very difficult work, punctuated by constant challenges and failures," he said. "But when the materials you have worked so hard on finally get put into good use, the joy at the end is incredible."
Critical materials
After completing his doctorate at the University of Cambridge in the United Kingdom in 1992 and undertaking a three-year postdoctoral fellowship at the university's St John's College, Yang returned home in 1995 to become a researcher at the Institute of Metal Research at the Chinese Academy of Sciences.
"My area of expertise is novel titanium alloys. But when I first returned home, China had no equipment, industrial capacity or applications for such an advanced material," he said.
Despite the significant technical gap between China and the UK, Yang said his decision to return was correct because he witnessed how the reform and opening-up policy unleashed China's economic and industrial potential.
"China is very rich in titanium, holding around 41 percent of the world's total reserves," he said. "China's high-end industries, such as aerospace and aviation, were also taking off, so I knew that there would be a demand for advanced materials eventually."
Titanium alloys are high in strength, light and have excellent resistance to heat and corrosion. They have been used in aerospace engines, rockets, transportation, power generation, medical implants and chemical industries.
Despite being the ninth most abundant element in the Earth's crust, titanium is a very costly material compared with aluminum and steel due to the metal being notoriously difficult to refine and machine, Yang said.
One of his biggest scientific achievements was the creation of a metal casting mold with a special yttrium oxide coating that can effectively produce titanium-aluminum alloy turbine blades for aero engines without the need for additional machining, which translates to lower manufacturing costs.
The new blades are also lighter than their nickel alloy counterparts, and thus more fuel efficient.
"Scientists discover new materials in labs all the time, but turning them into useful products that can be mass-produced can take a long time," he said, adding that it typically takes about 30 years to create a new generation of aero engines, 20 of which are used to find and develop the right materials.
"This is because we have to make sure these critical materials are absolutely safe and reliable, as even a minor flaw can be catastrophic."